Awards
2022 Science New Zealand National Awards
Scion's leadership in forestry science, bioplastics research and biotechnology has been celebrated by Scion and its peers at the Science New Zealand Awards. Scion awardees in the three categories were:
Scion's awardee for Individual/Lifetime Achievement is Principal Researcher Dr Mike Watt for his leadership in forest science and for his distinguished scientific career spanning more than two decades. During this time, he has made significant contributions to several research areas with notable influence within the areas of forest science, weed management, forest growth modelling and, most recently, remote sensing. He has produced 173 peer-reviewed publications across a range of topics connected to forestry, making him one of our country's most prolific and trusted forest researchers. His scientific explorations have advanced knowledge of our nation's forest estates, providing opportunities for industry to translate his research into practice – adding enormously to the health and economic value of plantation forests across Aotearoa. A globally recognised expert in his field, Dr Watt's expertise and research leadership will continue to be sought-after by forest managers needing a competitive edge. Watch the video
Scion's awardee for Early Career Researcher is biopolymer scientist Dr Angelique Greene, one of Scion's most creative and productive emerging scientists since joining Scion's Biopolymers and Chemicals team four years ago. Angelique received her PhD in chemistry in 2016 and is already leading several major research projects and making important contributions to others. Her keen sense for immediate commercial impact has been demonstrated through the success of her Innovation Jumpstart project that developed into a collaboration with Auckland-based filament manufacturer Imagin Plastics. Together with Scion, and with very significant input from Angelique, they have developed an innovative new product targeting users of home 3D printers. Watch the video
Our awardee for the Team Award is the CVC Vaccine Biotechnology Team that collaborated with a company in 2021 to support work that explored an experimental Covid-19 vaccine. The interdisciplinary team partnered with CVC (Covid-19 Vaccine Corporation Ltd) to contribute to the global fight against SARS-CoV-2 by helping to develop and manufacture an experimental Covid-19 vaccine. The team worked through early stages of the pandemic with CVC to fast-track the production of vaccine prototypes that CVC took into pre-clinical testing. Scion's team designed fermentation techniques to produce vaccine material, cultivating it in fermenters before purifying it for further testing offshore. Scion's resources and expertise working with PHA-producing bacteria, combined with the ability to work flexibly in the face of a global health challenge, was critical to CVC achieving proof of concept for their strategy. Scion team members included Taryn Saggese, Mark West, Alyesha Candy, David Hooks, Diahanna O'Callahan, Christophe Collet, Sumanth Ranganathan, and Gareth Lloyd-Jones. Watch the video
Scion and AgriSea partnership – KuDos Primary Industries Award
Scion's collaboration with AgriSea has been recognised with a Primary Industries Award at the KuDos Awards in Hamilton.
After two postponements due to the pandemic, the 2021 Awards were held on 14 September 2022, with scientists from the Waikato/Bay of Plenty region celebrated for their creativity, passion, innovation and results.
Scion and AgriSea were congratulated for their work building on Scion's pulping expertise and AgriSea's 26 years in seaweed processing, resulting in a novel seaweed hydrogel.
The accolade quickly follows AgriSea's success at the NZ Hi-Tech Awards in 2022 where they were judged Kamupene Māori o te Tau – Māori Company of the Year. The award, sponsored by Callaghan Innovation, highlighted the company's collaborative work with Scion in developing the hydrogel as part of its mission to create a high-value and sustainable seaweed industry in Aotearoa.
2021 Science New Zealand National Awards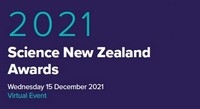 These awards show the depth of talent across Crown scientists including Scion, which is recognised nation-wide and internationally. Awards were given in three categories and Scion awardees were:
Lloyd Donaldson - Lifetime Achievement Award. Doctor of Science, Lloyd Donaldson was acknowledged for his microscopist work and his influence as an internationally recognised microscopist specialising in plant anatomy and ultrastructure over his 40 years at Scion. He has pioneered techniques in confocal fluorescence imaging of wood and biomaterials, with his methods forming a part of researcher toolboxes globally. With an h-index of 42 (Google Scholar), he has over 100 publications including sixteen books and book chapters, with his images selected four times as journal covers. Watch the video
Dr Qiliang Fu - Early Career Researcher. Qiliang is a leading scientist in wood nanotechnology and functionalisation who specialises in wood nanotechnologies, including various chemical treatment and functional approaches, applied to tailor and modify the nanostructure of bulk wood. Qiliang has contributed strongly to developing this field globally. Qiliang did the original research on transparent wood and transparent wood film, novel designs and multifunctionalities of sustainable materials. This work has led to breakthroughs in transparent, fire-retardant, hydrophobic/lipophilic and opto-electronic applications. Watch the video
Agrisea NZ and Scion collaboration - Team Award. The Scion and Agrisea NZ collaboration team together are accelerating new nanocellulose-based business opportunities. Scion's wood pulping expertise and AgriSea's 25 years in seaweed processing has resulted in a novel seaweed gel product. The team developed a method to produce nanocellulose from AgriSea's seaweed waste stream without disrupting current products and processing. Their innovative approach enables the extraction, isolation and manufacture of high-value nanocellulose hydrogel and nanocellulose. Applications for these materials include performance biocomposites, biomedical engineering applications, wound care, cosmetics and drug delivery. The Scion technology to produce seaweed nanocellulose was licensed and transferred to AgriSea at the start of 2021. Manufacture of nanocellulose was successfully trialled at pilot scale (funded through the Bioresource Processing Alliance). An intergenerational whānau business, AgriSea is now upgrading its factory to include an industrial nanocellulose production plant in its hometown of Paeroa and employs local people in coastal regions to collect beach cast seaweed. The Scion team members involved are Dr Stefan Hill, Sean Taylor, Dr Yi Chen, Rob Whitton, Dr Marie-Joo Le Guen, working with AgriSea team members: Clare and Tane Bradley, Dr Melodie Lindsay. Watch the video
2020 Science New Zealand National Awards
These awards highlight the cutting-edge work of New Zealand's government-owned science and research organisations. Awards were given in three categories. Scion awardees were:
Greg Steward - Lifetime Achievement Award. Greg was acknowledged for his career in indigenous forestry research. He started as a woodsman trainee with the NZ Forest Service and became the driving force for indigenous forestry at Scion for 44 years. Greg has authored many papers on indigenous tree species with specific emphasis on managing kauri, tōtara and indigenous hardwoods in plantations. His research on the growth and yield of New Zealand kauri showed that planted kauri stands aged 20 to 60 years were 20 times more productive than natural stands. His work has blown the estimated kauri crop rotations of hundreds of years out of the water.
Dr Kelly Wade - Early Career Researcher Award. Kelly has brought a fresh perspective to packaging innovation by applying his knowledge of biomechanics to packaging materials. This novel approach has also been recognised by the Australian Institute of Packaging when Kelly was named the 2020 Australasian Young Packaging Professional of the Year. Kelly runs Scion's internationally unique box testing facility, and he leads a National Science Challenge Science for Technological Innovation project creating biobased materials that can be applied to develop sustainable packaging.
Scion's Geomatics Team – Team Award. Scion's geomatics team has significantly developed the use of cutting-edge remote sensing technologies to help foresters improve the health and productivity of their trees. This includes the first known trial of scanning lidar from beneath the forest canopy using a self-guiding Hovermap SLAM laser scanner.
2020 New Zealand Wood Resene Timber Design Awards
A novel transparent wood film developed at Scion was highly commended in the Wood and Fibre Products Technology and Innovation category.
2020 Young Packaging Professional of the Year Award - Winner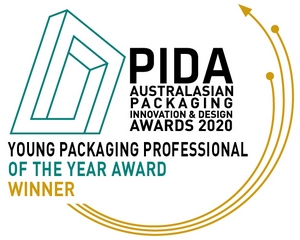 Scion's Dr Kelly Wade won the Young Packaging Professional of the Year Award at the 2020 Australasian Packaging Innovation Design Awards.
Kelly is a materials scientist from Scion's packaging research team and was nominated for his work on biomimicry and nature inspired sustainable packaging solutions. Using his knowledge of biomaterials, he is exploring biomimetic solutions to redesign and strengthen corrugated board boxes.
The Awards, announced virtually over 6-7 May, are designed to recognise companies and individuals who are making a significant difference in their field, across Australia and New Zealand. The awards are run by the Australian Institute of Packaging, and winners qualify for entry into the prestigious WorldStar Packaging Awards.
More information can be found on the Australian Institute of Packaging website.
2019 Science New Zealand Awards - Awardees
Awardees from New Zealand's seven Crown Research Institutes (CRIs) gathered at Parliament Buildings in November to celebrate the outstanding science undertaken by CRI researchers in their fields. Scion scientists were presented awards in three categories on the night.
Dr Brian Richardson was acknowledged with a Lifetime Achievement Award for his 36 years in biosecurity research. Brian's stellar career has featured domestic and internationally significant work as well as pest-, vegetation- and sustainable forest-management.
At the other end of the career spectrum – Dr Roya Rezanavaz won an Early Career Researcher Award for her leadership on a project working with Kai Rotorua and Rotorua Boys High School to bring kūmara history to life with 3D printing.
The Team Award was bestowed on Scion's Extrusion Plus team, who have developed a technology platform to convert biomass from primary industries into renewable natural materials to replace fossil fuel-based ingredients.
2019 Forest Growers Research Awards
Winner of the Communication and Sector Engagement Award - Dr Amanda Matson for her great ability to communicate the research she's doing on what's going on under the ground in a pine forest, particularly the movement of soil nutrients.
Winner of the Innovation for Sector Value Award - Dr Graham Coker for his work on foliar fertiliser applications to see what works to enhance tree growth and when it's best to apply those nutrients.
Winner of the Collaboration in a Science Team Award - Loretta Garrett - the scientist everyone wants on their team according to her colleagues. Her work has varied from productivity trails to measuring nitrogen transfer in forest soils.
Award for Young Scientist - Dr Stuart Fraser for his work on combatting forest tree diseases, such as the threat of myrtle rust and dothistroma needle blight.
Winner of the Science of International Quality Award - The Phenotyping Team - this award was shared by our Phenotyping Platform Team and the University of Canterbury School of Forestry. The Phenotyping Platform Team have worked together to produce a world-leading Forest Phenotyping Platform that uses a big-data machine-learning approach to model forest productivity.
2019 New Zealand National Fieldays - Best Agribusiness Indoor Site and Fieldays 2019 Supreme Site
Scion teamed up with Manaaki Whenua Landcare Research, ESR and AgResearch to create a 'science alley' at Fieldays, the largest agricultural event in the Southern Hemisphere. The collaboration was rewarded with the Best Agribusiness Indoor Site and Fieldays 2019 Supreme Site Awards. Judges said the site showcased a clean, bright, interactive design that attracted visitors of all ages to learn a little more about the research the institutes conduct.
2019 New Zealand Plastics Industry Design Awards – Winner and Highly Commended
Scion's ecofriendly bioadhesive technology, Ligate™, won the Research and New Innovation category at the NZ Plastics Industry Design Awards.
Our work and partnership with EPL on biodegradable vine net clips was also acknowledged, earning Highly Commended in the categories of Best Environmental Product and Best Supplier Partnership.
2018 Science New Zealand Awards - Awardees
Scion staff joined scientists from all seven Crown research institutes for the Science New Zealand awards. The awards were presented in three categories to awardees from each institute.
Acknowledged for his 40 years in science, Dr Ian Suckling was the Scion recipient of the Individual/Lifetime Achievement Award.

Andrea Stocchero received the Emerging Scientist or Engineering Award for Scion, in recognition of his significant contribution to the timber, building and design industries.
The Science Impact Award for Scion was presented to the Ligate™ Team.
2018 NZ Biosecurity Awards - Winner
A Scion team took home the Biological Heritage Challenge Science Award at the NZ Biosecurity Awards for their work around the development of novel approaches to increase the effectiveness of eradication programmes for insect pests of plants.
2018 Forest Growers Research Conference Awards
Winner of the Innovation that Enhances Sector Value Award – Dr Simeon Smaill for his work examining novel methods and nutrient models to improve the growth and vitality of radiata pine.
Winner of the Science of International Quality Award – Jessica Kerr, Brooke O'Connor and Dr Steve Pawson were recognised for their world-leading research in the Urban Battlefield Biosecurity programme.
Winner of the Contribution to a Science Team Award – Dr Rebecca McDougal for her part in revolutionising how diseases are diagnosed, using new molecular techniques.
2017 Forest Growers Research Conference Awards
Winner of the Enhancing Sector Value Award - Richard Yao - for his work in forest ecosystem services, such as erosion control, biodiversity and water filtering.
Winner of the Contribution to a Science Team Award - Carolyne Anderson - in recognition of her management of tree measurement data from permanent sample plots over many decades.
2017 Science New Zealand Awards - Awardees
New Zealand's Crown research institutes gathered to celebrate their own at the inaugural Science New Zealand Science Awards on 9 November 2017.
Scion's Dr Dave Cown received the Lifetime Achievement Award, the Team Award went to the Biosecurity Team and Dr Nari Williams was the recipient of the Early Career Researcher Award.
Finalist in 2017 KiwiNet Emerging Innovator Award
Scion scientist Dr Saad Hussain has been selected as a finalist in the KiwiNet Research Commercialisation Awards designed to celebrate commercialisation success within New Zealand's universities and Crown Research Institutes.
2016 NZBIO Biotechnology of the Year - Winner
Scion's environmentally-friendly bioadhesives "Ligate™" technology was awarded Biotechnology of the Year at NZBIO's annual conference in September.
Dr Will Barker, Chief Executive of NZBIO, said "the technology is a game changer for wood panel manufacturers".
2016 KiwiNet Research Commercialisation Award – Winner
Scion and licensing partner Sonae Indústria won a category award - the MinterEllisonRuddWatts Research and Business Partnership Award - for their partnership to commercialise a new wood reinforced plastic product that could be used in cars, appliances and a range of consumer products.
2016 NZI Sustainable Business Network Awards – Commendation
Our bioadhesives "Ligate™" technology received a commendation in the Renewable Innovations Category.
2016 NZ Innovators Awards – Finalist
Our bioadhesives "Ligate™" technology was a finalist in the Sustainability & Cleantech category.
2015 Forest Growers Research Conference Awards
Winner of the Communication and Sector Engagement Award – John Moore, for his work in identifying opportunities to improve productivity and the value of forests and engaging with large and small forest owners to communicate the key findings of his research.
Winner of the Science of International Standing Award – Eckehard Brockeroff, for the work he has done to raise the international profile of the importance of biosecurity to protect New Zealand from incursions that have the potential to inflict devastating harm to trade, the economy and the environment.
Winner of the Contribution to a Science Team Award – Annette Brockeroff, for the very strong management support she has provided to the industry's flagship research programme, Growing Confidence in Forestry's Future. This programme has the ambitious target of doubling forest productivity and forest value while maintaining the forest growing sector's strong focus on sustainability and minimising environmental impacts.