Sky's the limit for up and coming foresters
16 November 2023
If ForestTECH 2023 is anything to go by, the future of forestry is bright.
Three forestry students presented at the conference this week, marking the end of a student competition, organised by Scion and supported by Tools for Foresters.
The inaugural competition, funded by the Precision Silviculture Programme, led by Forest Growers Research through the Sustainable Food and Fibre Fund, aimed to address the lack of standard operational procedures for using UAVs to collect tree survival data.
As part of the competition, Toi Ohomai forestry students, Scion and Forest Protection Services staff captured data from two sites using three methods of UAV survival assessment. The collection methods were chosen based on industry trends and existing uses and analysed based on cost, accuracy, and ease of use.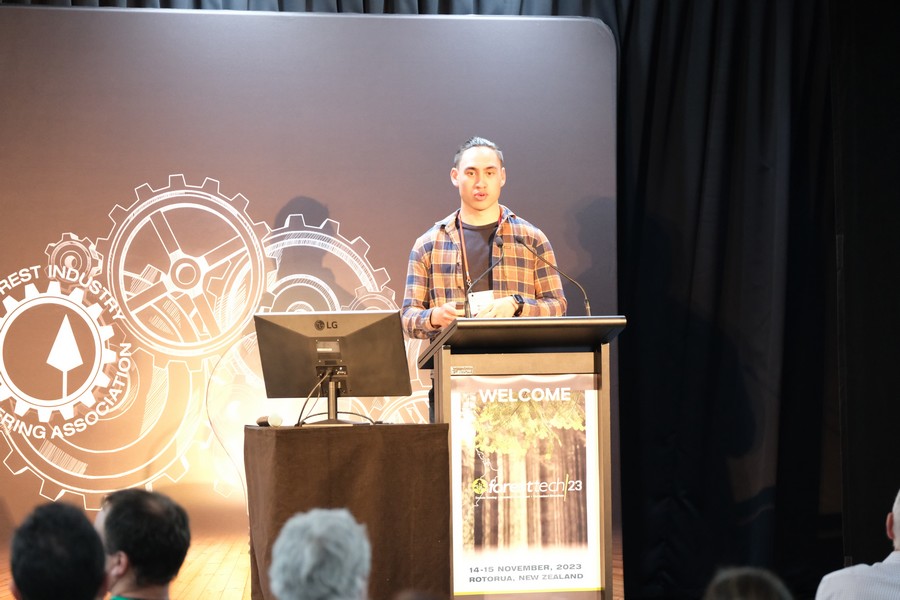 Three students were tasked with writing a report, a standard operational procedure (SOP) and making a presentation about one of the collection methods. The report and SOP were judged before the conference and will be shared with industry through the Forest Growers Research and Tools For Foresters websites. The presentation was judged on the day, with input from conference attendees.
University of Canterbury Bachelor of Forestry Science student Blake Singleton looked at survival assessments using multispectral orthoplotting, Toi Ohomai Forest Management Diploma student Jake Emmens assessed using RGB orthoplotting, and Toi Ohomai's Whanarua Edmonds looked at 100% site captures with high-resolution imagery.
Singleton determined multispectral orthoplotting provided improved detection and health classifications. Emmens found RGB orthoplotting was cost-effective but potentially site-specific. Edmonds found using high-resolution imagery could provide a higher level of detail but be time consuming initially.
Edmonds was named the winner and given the DJI Mavic 3 Enterprise care bundle valued at $7000. Edmonds said he descends from a long line of bushmen with him being the fifth generation to work in the forest industry. While the journey was challenging, he says he is stoked and grateful to take the win.
"I guess you could say it's in the blood. I've chosen to build on their hard work and take it to the next level with a different approach to the industry."
Edmonds says he's had a passion for new technologies from a young age and bought a small drone a few years ago.
"From flying that I was able to discover more areas where drones are applied, not just in photography or videography but in an industrial setting."
While pulling together the SOP and report was challenging, he says he jumped into the challenge and is stoked to take the win and continue his journey in forestry.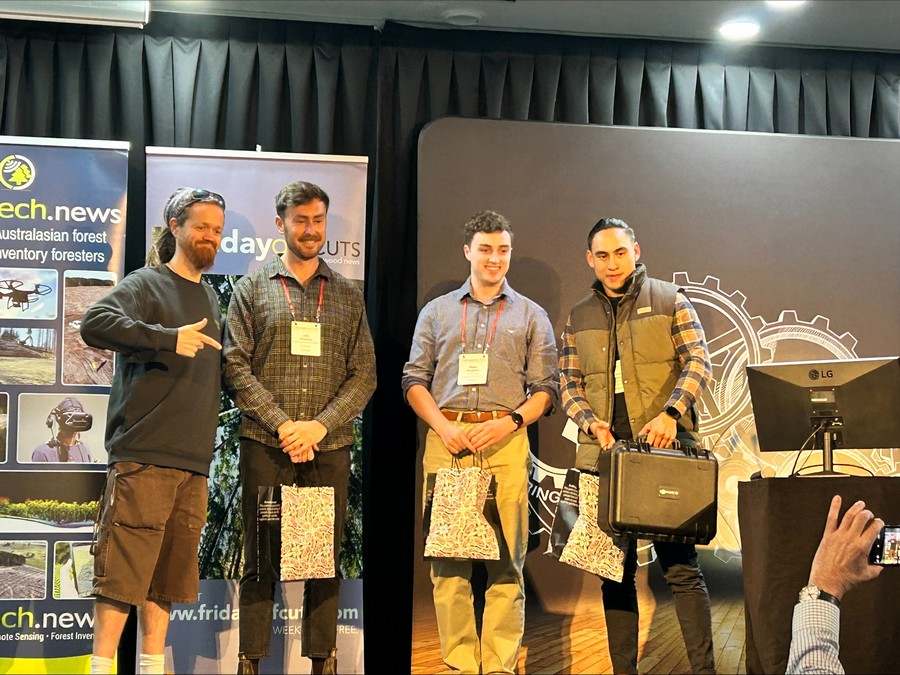 Scion Geospatial Scientist Robin Hartley says the idea for a student competition arose at ForestTECH in Melbourne last year and industry had been hugely supportive with Ferntech donating the prize, Manulife Forest Management (NZ) Ltd providing the surveying sites, and Indufor providing their seedling detection analysis services free of charge. Members of the TFF committee and Scion scientists also donated time to grade student outputs and help mentor the students.
Hartley says it is important to foster the next generation as forestry required outside the box thinking and was a "hot bed for testing technology and innovative solutions".
"Forestry has got a lot of benefits for our country. It's important we keep youth engaged and keep attracting people to a really cool industry, making sure we have new blood and new ideas coming in."
He says the students all had different and refreshing approaches and he hopes to host the competition again.
Claire Stewart, who runs the Forest Growers Research Precision Silviculture programme, says the competition feeds into the Tools For Foresters goal of building skills from the ground up.
"Working with the students is key to getting the workforce that we need for tomorrow. The quality of their work has been so good we look forward to seeing how we can continue this work."
The two-day ForestTECH conference brought together forest managers, technology providers and experts in the growing field of remote sensing and geospatial mapping from across Australasia. This year guest speakers travelled from as far as Germany and Singapore.
Tools for Foresters is a professional collective with committee representatives including forest managers and foresters, conservationists, government workers, lecturers and professors, contractors, surveyors and researchers.
For more visit toolsforforesters.co.nz.