Breeding technologies for the future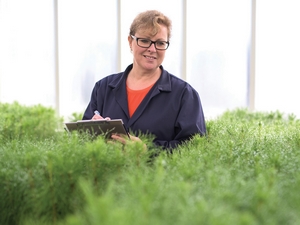 Scion's Biotransformation Team has been working with the University of Wisconsin-Madison to make radiata pine and other softwoods easier to process into such things as pulp and biofuel.
Easier to process softwood offers both economic and environmental benefits. Needing less energy, the pre-treatment will be faster, more efficient and less wasteful, yielding improved feedstock for pulp, paper and biofuel industries. Led by Dr Armin Wagner, the team published its work in the
Proceedings of the National Academy of Sciences
proving the concept that it is possible to change the makeup of lignin polymers in softwoods.
This is just one example of plant biotechnology being investigated by Scion in conjunction with other international and national research institutes.
Scion is the leading centre for pine biotechnology globally. For over 10 years we have been showcasing, to the forestry industry and other stakeholders, transgenic radiata pines that demonstrate measurable phenotypic improvements developed through genetic engineering.
Our research provides scientific and commercial evidence to industry, government, Māori and other stakeholders in readiness for the necessary regulatory changes that will give industry the freedom to adopt technologies already deployed by international competitors, and to meet climate change challenges.
Metabolic engineering allows a single, clearly identified desirable trait to be introduced where it is not normally present. Scion has demonstrated genetically improved radiata pine for a number of traits. Most recently, we have streamlined the production of improved trees and developed an efficient field trial testing platform. This has enhanced our ability to showcase proof-of-concept experiments with high scientific rigour.
A field trial of the lignin-modified radiata pines has been planted to demonstrate easier processing and pulp-ability. Also, some 3000 plants will be planted in Scion field trials in 2015-16, with traits including productivity and altered biochemical composition.
Business cases have been developed for a number of these traits. For example, infertile Douglas-fir to support the profitability of growing a species where the cost of wilding control inhibits planting. Also, the adoption of herbicide tolerant trees that will complement the use of environmentally sustainable and cost-effective herbicides.
Although several existing genetic engineering and emerging biotechnologies are ready to be deployed, the regulatory routes to release these biotechnologies are not yet available. Scion is continuing engagement with regulatory authorities, Crown entities and other stakeholders to define clear pathways for safe and environmentally responsible deployment of biotechnologies in the future, and the benefits they will offer New Zealand.
Collaborators / Partners: University of Wisconsin-Madison (US), University of British Columbia (Canada), University of Aachen (Germany), Plant & Food Research, University of Waikato
Investment: Scion Core, two post-doctoral researchers
Short url: www.scionresearch.com/ar15breedingtechnologies