No worker on the slope, no hand on the chainsaw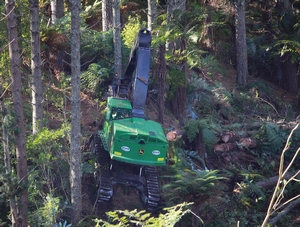 New harvesting technologies developed by Future Forests Research Ltd (FFR), as part of its Steepland Harvesting Primary Growth Partnership programme with the Ministry for Primary Industries, are paving the way for a step change in steep slope harvesting operations.
The Steepland Harvesting programme was initiated in 2010 with Scion engaged to carry out harvesting research projects. Scion's research team, led by Spencer Hill and Dr Paul Milliken, is looking at ways to improve the productivity and safety of steep slope harvesting.
Future Forests Research data indicate that approximately 44 per cent of the current harvested area in New Zealand is from steep terrain (slopes over 20 degrees). This is forecast to rise to 53 per cent by 2016 and to over 60 per cent by 2025. Felling and breaking out are the highest risk jobs in such conditions with workers constantly exposed to falling trees, swinging stems and dislodged debris. In 2013, eight of the 10 loggers who lost their lives that year were involved in either breaking out or tree felling.
The introduction of winch-assisted mechanical felling machines, matched with grapple extraction, has undoubtedly improved safety. Since the programme began, the proportion of operations mechanically felling on steep country has increased from less than one per cent to 16 per cent, which means 50 fewer tree fallers are exposed to felling hazards. However, while the machine operators are protected by a reinforced cab, they are now operating on slopes often over 50 degrees and as such, there is still a risk of machine rollover and harm to the operator.
One objective of the Steepland Harvesting Programme was to introduce remote control and then full teleoperation of a steep slope felling machine. In June this year, remote control with video feedback was successfully installed into a feller buncher and field tested by harvesting contractor Ross Wood, of Wood Contracting Nelson 2014 Ltd.
"At the start, I was a bit dubious about the advantage of remote controlling my machine," says Ross. "As a result of the work done by Paul and Spencer and the team, my mind has been opened to a whole raft of opportunities.
"There is no doubt in my mind this will improve safety of steep slope felling operations more than what we have already achieved with our winch-assist system, and I see it really expanding the pool of potential employees for logging."
The next step will be installing full teleoperation to Ross Wood's feller buncher, allowing his operator to successfully operate the machine outside the line of sight. The first fully teleoperated unit is expected to be completed and commercially available by June 2016. While the technology itself is unlikely to lower felling costs, it will lower the risk of steep slope tree felling even further and eventually remove the need for feller bunchers to be built with cabs.
The combination of steep country felling and bunching including FFR's remote controlled technology, matched with grapple yarders, could save the industry $10 million in harvesting costs by the end of this year, and this is just the beginning.
The remote controlled feller buncher has received excellent feedback from FFR's Technical Steering Team and has been presented to a supportive audience at the HarvestTECH 2015 conference.
Collaborators / Partners: Machine manufacturers, Wood Contracting Nelson 2014 Ltd, industry contractors
Investment: FFR, PGP
Short url: www.scionresearch.com/ar15ontheslope