Crucial insights from long-term productivity trials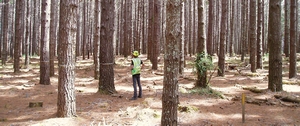 Scion's forest systems scientists are demonstrating the value of long-term research to the sustainable management of planted forests.
"A series of long-term productivity trials established some 30 years ago offer us a unique opportunity to assess changes in soil nutrient status over successive forest rotations," says soil scientist Loretta Garrett. "These data will help address the uncertainty around the ability of many planted forest soils to supply nutrients over multiple rotations."
Understanding how forest management practices affect a site's resources is critical to long-term sustainability. Given the rapid growth and short rotation times of our forests, this issue is of particular relevance to the New Zealand forest estate.
"A key goal of all forest growers is to maintain or increase productivity," says microbial ecologist Dr Simeon Smaill. "This becomes more important as some radiata pine plantings are now entering their third or fourth rotation.
"Information from the long-term trials will be used to refine the nutrient balance model NuBalM, improving the precision of nutrient management in existing and future forest rotations and providing for long-term nutritional sustainability."
The long-term productivity trials were established between 1986 and 1994 on sites across a range of climates, soils, and physiography to study the impacts of harvest and fertiliser activities on productivity of the second rotation of trees. As part of the Growing Confidence in Forestry's Future (GCFF) programme, our scientists are currently measuring nutrient pools in the forest ecosystem at the Woodhill and Tarawera trial sites. These tests were initially conducted prior to harvesting the first rotation at these sites. Comparing nutrient pools at the end of the first and second rotations will provide valuable data that can be implemented in NuBalM to better predict the effects of harvest removals and fertiliser application on productivity over single or multiple rotations.
The effect of fertiliser addition on wood quality is also being examined. The Woodhill trial site received large amounts of nitrogen fertiliser and will provide valuable end-of-rotation data linking wood properties to variations in nutritional factors. The results will be used to develop models relating wood formation to a wide range of environmental factors, and provide forest managers with new information on the wider impacts of manipulating site nutrition.
The GCFF programme has been running since October 2013. Early results are already addressing the knowledge gap that currently exists around what happens to soil resources over multiple rotations. Results from the Woodhill trial were presented at the GCFF annual conference in March this year, which was attended by industry and government representatives. Sampling of the Tarawera trial is also well underway.
"The programme is providing crucial insight into the future productive potential of our planted forests," says Loretta. "Early results from this programme are already raising the awareness of forest growers about the nutrients that are required to maintain the long-term sustainability of these planted forests.
"This is a globally important question that we are contributing to, while also ensuring that New Zealand forestry's licence to operate is maintained under new intensive management practices."
Collaborators / Partners: University of the South, Sewanee, Tennessee (US)
Investment: MBIE, NZFOA
Short url: www.scionresearch.com/ar15productivitytrials