A century of tree growth data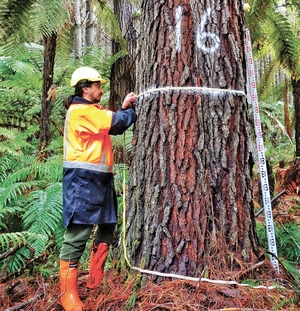 IO1: Commercial forestry and ecosystem services
Scion's Permanent Sample Plot (PSP) system is a comprehensive database of forest growth data that underpins New Zealand's commercial forest industry. The system contains information about the effect that factors such as environment, genetics and silviculture regimes have on the growth of stands and trees.
According to Research Leader Dr John Moore, the PSP system is arguably one of the most extensive data resources on tree growth, internationally.
"The PSP system supports much of Scion's forest growing research and we also store data for commercial forestry companies on contract. Our scientists and forest companies use this information to understand how our current forests are performing, and how future forests might grow under different conditions. These data support important forest management decisions."
The PSP system holds data dating from the 1920s, and has been in a digital format since the early 1960s. The current digital platform is a flexible relational database that holds different types of forest data for both experimental research and commercial growth plots. These data are sourced from permanent sample plots that have been established, and regularly measured, in different forest types throughout New Zealand. Today, the system holds data from 32,000 PSPs of which 11,500 are current and 20,500 historic records.
"Many of our research projects require large datasets from hundreds or thousands of PSPs," says John. "These data support one-off projects or large multi-year programmes, and can only be used in projects with the landowner and data controller's permission."
In 2015-16, Scion and Integral, with support from Wenita Forest Products, implemented the 300 and 500 Indices directly within the PSP system. The 300 Index is a measure of site productivity for radiata pine, and the 500 Index is the corresponding index for Douglas-fir. By integrating both indices within the PSP system, scientists and industry partners will be able to better understand the variation in site productivity, and the drivers of productivity.
"Having the 300 Index available for PSP reports is very useful, because it enables convenient comparison of growth potential across a range of sites using a more sophisticated measure than site index, and also allows for easy modelling of plot growth with Forecaster," says James McEwan, Technical Manager at Wenita Forest Products.
"We were particularly interested in testing sensitivity of final crop stocking to volume and grade mix, for instance, identifying how high the final stocking and volume per hectare can be, while still producing 20cm plus sawlogs and not defaulting the volume to pulp grades. This is very sensitive to having accurate 300 Index data."
Funding for the PSP system also supported the measurement of the Silviculture Traits trial series. These trials were established by the Plantation Management Cooperative between 2002 and 2004 at six sites across New Zealand. The trials contain seedlots representing three different traits: growth and form, wood stiffness and appearance managed under different silvicultural regimes. Results from these and other trials help forest managers to develop strategies to increase productivity and improve wood quality.
"In future, the PSP system will support research into climate change, new forestry systems and increasing forest productivity," says John. "In many cases data from the PSP system help us answer important questions we hadn't even considered when the plots and trials were established. And as we expand the database to cover more species, it will provide data to support potential new forestry opportunities, such as kauri and tōtara.
"This will be especially useful for Māori landowners when considering options for balancing profit and environmental guardianship over their land."
Collaborators / Partners: Atlas (Integral), Wenita Forest Products, forest industry
Investment: Scion Core