Working in new ways to create novel products from natural resources
General Manager of Manufacturing and Bioproducts Dr Elspeth MacRae is leading Portfolio 5 – Materials, Manufacturing and Applications – of the Science for Technological Innovation National Science Challenge (NSC).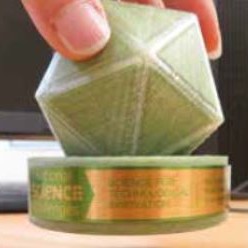 The aim of the NSC is to enhance New Zealand's capacity to use physical sciences and engineering for economic growth. The goal of Portfolio 5 is to see New Zealand selling new materials and products based on the country's biological resources and distributed manufacturing by 2025. Combining biomaterials with additive manufacturing methods such as 3D printing, electrospinning and layering will allow New Zealand to create a diverse range of new products in areas such as furniture, electronics, sensors, marine components, aerospace components, agritech and medical devices.

The spearhead project on 3D printing using New Zealand biomaterials has brought together eight organisations, some of whom have never worked together before. Scion's contribution includes leadership and its capability in manufacturing plastic-biomass composites. Other team members bring expertise in materials and process modelling, materials science, design, engineering, equipment and manufacturing.

The strengths of the collaboration, according to the team, include its cross-disciplinary nature, the opportunities to share equipment, and to maximise investment and funding. Among the benefits are building technical capability and relationships, mixing design and science, and exciting prospects of new science.

A recent outcome is a 3D version of the Science for Technological Innovation (SfTI) 20-sided-solid (icosahedron) logo. The first successful 'print' was presented to Science and Innovation Minister Paul Goldsmith at the All of SfTI Researchers' Workshop in July 2017.

The icosahedron was the product of close collaboration between design, biopolymer and object manufacture, and finishing touches. The development process used a design-led approach starting with an aspirational concept that was used to channel and inspire the science. The final object was manufactured at Scion using a biopolymer/harakeke composite. The creative process was captured on video.

Scion, in collaboration with major research partners, is building a future where wood fibres, cellulose from other plant sources and co-products from primary production can be combined in new plastic-like materials. New Zealand industries, using distributed manufacturing technologies to make new products from these materials, will increasingly become part of the growing local and global circular bioeconomy.