A collaboration building on Scion's pulping expertise and AgriSea's 25 years in seaweed processing and marketing has resulted in a novel seaweed gel product poised to take off.
The cellulose in seaweed differs from terrestrial plants. It forms chains up to four times wider, offering interesting functionalities such as heat conductance. Scion researchers have been testing the properties of cellulose extracted from local seaweeds for the last three years.
Drawing on years of wood pulping experience, seaweeds have been mechanically processed to extract (nano)cellulose. Nanocellulose can be used in products from new performance biocomposites and cosmetics to medical applications.
A conference encounter with Clare and Tane Bradley (Ngāti Maniapoto, Waikato-Tainui), who run AgriSea New Zealand Seaweed, which has 25 years of expertise in the overall seaweed industry, kickstarted a collaboration between Scion and AgriSea. Together, a concept of producing nanocellulose from AgriSea's seaweed waste stream was developed.
Hydrogels have been made from nanocellulose extracted from Undaria pinnatifida and the commercially harvested native species Ecklonia radiata. Hydrogels are polymers that can absorb up to 100 times their own weight in water, swelling to form a jelly-like substance (think disposable nappies). Seaweed nanocellulose can be used as a renewable replacement for petroleum-based polymers in a range of hydrogel products, including burn dressings, biomedical engineering applications, drug delivery, cosmetics, and in agriculture supporting plant health.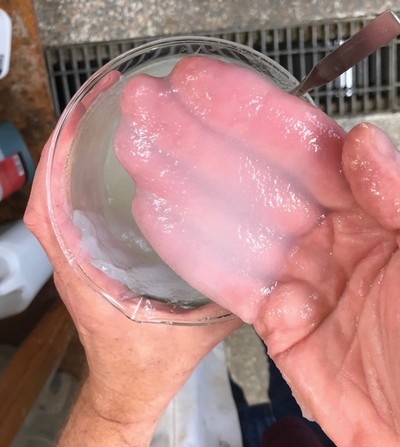 A successful scale-up trial has seen enough material made for further product development. A trial adding hydrogel during the tree-planting process has been shown to improve seedling survivability significantly. Additionally, other potential end users of nanocellulose, such as Fisher & Paykel Healthcare, are currently conducting initial material testing. The technology has been licenced to AgriSea, which is continuing the development of the nanocellulose hydrogels with technical services from Scion as needed. AgriSea already upgrading its factory to accommodate a full-scale nanocellulose production plant.
This project is an exciting example of developing renewable biobased products to replace petrochemical-based products and providing a path for industry uptake. Seaweeds are growing around New Zealand in sustainably harvestable quantities. The methods used to make the new nanocellulose hydrogels also require significantly less processing and treatment, resulting in an environmentally superior product. Using waste streams from the seaweed industry also adds economic value to the aquaculture industry via access to new high-value onshore and export markets. Our approach will accelerate new nanocellulose based business opportunities in New Zealand, which is a crucial part of the emerging high-value biomanufacturing sector.
"It's been an absolute pleasure to work with the Scion team. The entire journey from idea to outcome and everything in between has been brilliant. We see this as a long-term partnership and would highly recommend Scion to others wanting to turn an idea to success." - Tane Bradley, Managing Director, AgriSea New Zealand
---
Funder: Ministry of Business, Innovation & Employment
Collaborators: AgriSea New Zealand, Bioprocessing Alliance