Science New Zealand National Awards
These awards highlight the cutting-edge work of New Zealand's government-owned science and research organisations. At the ceremony in December 2020 awards were given in three categories. Scion awardees were:
Greg Steward - Lifetime Achievement Award. Greg was acknowledged for his career in indigenous forestry research. He started as a woodsman trainee with the NZ Forest Service and became the driving force for indigenous forestry at Scion for 44 years.
Greg has authored many papers on indigenous tree species with specific emphasis on managing kauri, tōtara and indigenous hardwoods in plantations. His research on the growth and yield of New Zealand kauri showed that planted kauri stands aged 20 to 60 years were 20 times more productive than natural stands. His work has blown the estimated kauri crop rotations of hundreds of years out of the water.
Greg is acknowledged by his colleagues, industry and Māori partners for his patient wisdom, expertise and willingness to mentor others.
Dr Kelly Wade - Early Career Researcher Award. Kelly has brought a fresh perspective to packaging innovation by applying his knowledge of biomechanics to packaging materials. This novel approach has also been recognised by the Australian Institute of Packaging when Kelly was named the 2020 Australasian Young Packaging Professional of the Year.
Kelly runs Scion's internationally unique box testing facility, and he leads a National Science Challenge Science for Technological Innovation project creating biobased materials that can be applied to develop sustainable packaging.
Scion's Geomatics Team – Team Award. Scion's Geomatics Team has significantly developed the use of cutting-edge remote sensing technologies to help foresters improve the health and productivity of their trees. This includes the first known trial of scanning lidar from beneath the forest canopy using a self-guiding Hovermap SLAM laser scanner.
Team members – Dr Mike Watt, Dr Grant Pearse, Robin Hartley, Dr David Palmer, Honey Jane Estarija, Ellen Mae Leonardo, Peter Massam, Dr David Pont and Liam Wright.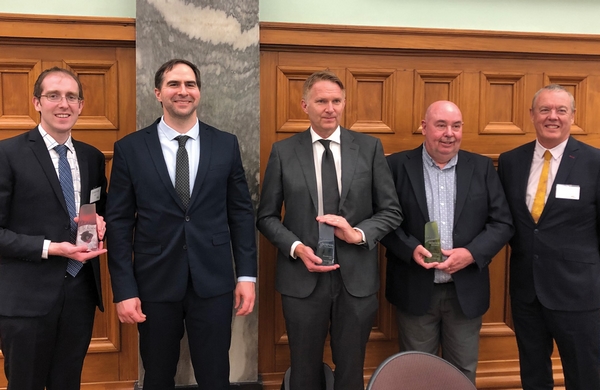 2021 Primary Industries New Zealand Awards
Two Scion partnerships were shortlisted as finalists for the Primary Industries New Zealand Innovation & Collaboration Award:
- Cellulose nanocrystals from New Zealand seaweeds
- Tōtara Industry Pilot.
The Tōtara Industry Pilot was honoured to receive a 'Special recognition for outstanding cultural collaboration' at the awards ceremony in July 2021. The judges and the sponsor made this special award for demonstrating a primary industries partnership committed to Māori co-governance and outcomes.
2020 Scion Employee Recognition Awards
Roger Newman Award for Science or Engineering - Dr Steve A. Wakelin

Customer Engagement Award - Roanne Sutherland and Dr Miruna Petcu

Innovation Jumpstart Programme - Marc Gaugler and Dr Christophe Collet

Enabling Science Award - Ian McElroy

Recognition of Contribution to Māori Award - Ramona Radford

Te Reo Award - Jo Mackenzie and Toni Sinisa

Recognition of Publication Success Award - Dr Grant Pearse

Stretchy Science/Smart Ideas Award - Dr Qiliang Fu

Scion Values Award - Stephanie Weal

Health and Safety Award - Robin Hartley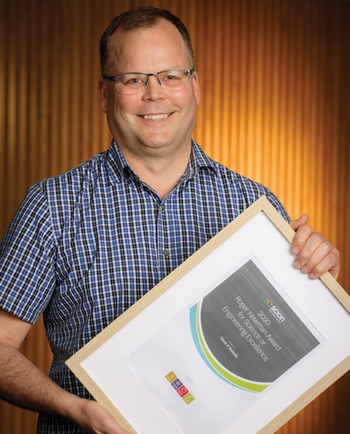 Internationally
Dr Paul Bennett was elected Chair of International Energy Agency - Bioenergy (IEA Bioenergy) for two years, from 1 January 2021. It is an honour for Paul to lead the world's most prominent bioenergy scientists and policy makers as they work together to contribute to the international bioenergy agenda.
Paul served as the Vice Chair of IEA Bioenergy for three years prior to his election. Moving into the chair role in the present international context promises a unique challenge, and his focus is maintaining the momentum around bioenergy, "Bioenergy and biofuels can create clean, sustainable solutions to some of the world's greenhouse gas issues. My challenge will be continuing to advocate for these solutions at a time when COVID-19 could create setbacks such as lower overall fuel demand, cheap oil, and added economic stress that could delay green transitions."
Dr Qiliang Fu was awarded a Young Scientist Medal by the International Association of Advanced Materials (IAAM) organisation for his contribution to wood technology.
Last year Qiliang, a wood and fibre scientist, received national recognition when he and his colleagues were highly commended for their transparent wood film in the Wood and Fibre Products Technology and Innovation category in the New Zealand Wood - Resene Timber Design Awards 2020.