Wasp named after Scion entomologist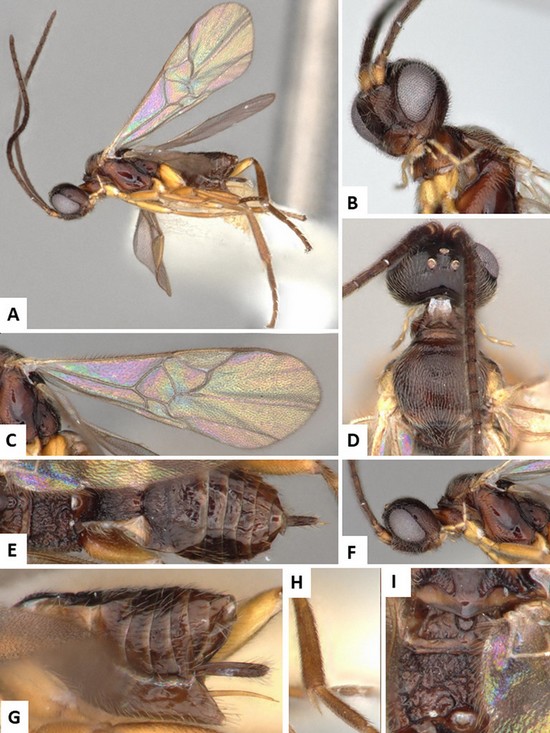 A new genus of tiny parasitoid wasps named Notogaster (family Braconidae, subfamily Microgastrinae) has been described. So far 10 species have been described to this new genus, all endemic to New Zealand.
Authors and taxonomists Jose Fernández-Triana and Darren Ward used this opportunity to recognise their collaborating entomologists (co-researchers on Better Border Biosecurity research project) for their contributions to New Zealand applied entomology. One of the 10 was named Notogaster withersae after Scion entomologist Dr Toni Withers. N. withersae has a brown body, iridescent wings and has only been found on Quail Island, Banks Peninsula.
To date, Notogaster wasps have been found at sites from Northland to Stewart Island. Species of Notogaster appear as 'generalists' and are found at elevations of between 80−1800m occupying a range of habitats (swamp, southern beech forest, and in moss/ferns on the forest floor). There are many additional endemic species of Microgastrinae in New Zealand waiting to be discovered. Researchers estimate there are between 100 and 200 endemic species in New Zealand currently unknown.
Parasitoid wasps live in close association with a host upon which they rely on and eventually kill. Interestingly, the host of the Notogaster is not yet known, but is suspected to be one of many species of native caterpillars. Learning the host of Notogaster species will help pinpoint their specific habitat requirements.
Namesake Toni Withers says, "Parasitoid wasps form an important and complex but often over-looked role in the food chain. They are among hundreds of species that play a vital role in natural biological control of insect pests every day around the globe. It was an honour to have an endemic species named after me, and I am very humbled. Congratulations to the authors for another fine publication from the New Zealand Arthropod Collection".
This work was supported by Manaaki Whenua and the Royal Society of New Zealand.
For more information, contact