Carol Ann Rolando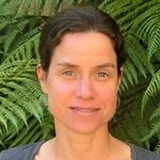 Contact
Phone:

+64 7 343 5576

Email:

Show email

Team:

Ecology and Environment

Role:

Senior Scientist, Forest Ecology and Management
About
Dr Carol Rolando is an applied forest scientist with expertise in forest establishment and vegetation management, biosecurity, pesticide application and invasive species management (notably wilding conifers). Having worked as a forest scientist in both South Africa and New Zealand she has diverse experience from across multiple forest systems. She currently has funding to pursue interests in wilding conifer control, native tree establishment and vegetation ecology.
Qualifications
PhD (Plant Physiology), University of Natal, South Africa - 2008
MSc (Biology), University of Natal, South Africa - 2001
BSc (Hons) (Cell Biology), University of Natal, South Africa - 1998
Research capabilities
Forest vegetation management
Invasive plant ecology and management
Pesticide use, application, fate
Sustainable forest management
Plant ecophysiology
Forest Protection
Career highlights
One year operational experience at the Department of Conservation managing the Plant Pathogens team and leading the Department's kauri protection and myrtle rust national programmes
Team member to develop Phase 2 priorities for the Biological Heritage National Science Challenge: Tools and Technologies for Border Biosecurity, 2019
Technical advisor, FSC Pesticides Committee, FSC International, 2016
Scion Excellence in Customer Engagement Award, 2014
FOA Award for Sector Engagement and Communication, 2014
Southern African Institute of Forestry Scientific Writing Award: Best paper, 2012
TRANZFOR Exchange Fellow: Participated in an international exchange (4 weeks) programme with Forest Research UK and Waterford Institute of Technology, Ireland, to facilitate effective collaboration between scientists in the EU and NZ, with focus on forest certification and pesticide use, 2012
Future Forests Research Innovation and Science Award, 2011
Council of Australasian Weed Science Travel Award for Weed Science, 2011
Member of the New Zealand Plant Protection Society, 2010
Member of New Zealand Institute of Foresters, 2010
Award for contributions to Weed Science: South African Weed Science Society, Joint Congress, University of Pretoria, 2000
Selected papers
Rolando, C.A., Richardson, B., Paul, T.H. and Somchit (2021). Refining tree size and dose response functions for control of invasive Pinus contorta. Invasive Plant Science and Management.
Richardson, B., Rolando, C. and Kimberley, M.O. (2020). Quantifying spray deposition from a UAV configured for spot spray applications to individual plants. Transactions of the ASABE 63(4):1049-1058.
Scholten, R.C., Hill, J., Werner, W., Buddenbaum, H., Dash, J.P., Gomez Gallego, M., Rolando, C.A., Pearse, G.D., Hartley, R., Estarija, H.J., & Watt, M.S. (2019). Hyperspectral VNIR-spectroscopy and imagery as a tool for monitoring herbicide damage in wilding conifers. Biological Invasions 21(11), pp. 3395-3413.
Richardson, B., Rolando, C.A., Kimberley, M.O. and Strand, T.M. 2019. Spray application efficiency from a multi-rotor unmanned aerial vehicle configured for aerial pesticide application. Transaction of the ASABE, 62, 1447-1453.
Richardson, B., Kimberley, K., Coker, G., Rolando, C. and Gous, S. 2019. The cost-effectiveness of spot weed control in Pinus radiata plantations. Canadian Journal of Forest Research 49, 759-766.
Ndlovu, N., Little, K.M., Titshall, L., and Rolando, C.A. 2019. Site preparation and vegetation management impacts on Pinus patula growth and rotation end productivity in South Africa. Australian Forestry, 1-9.
Rolando, C.A., Williams, N., Fraser, S., Somchit, C. 2019. Can copper be used to treat foliar Phytophthora infections in Pinus radiata. Plant Disease, 103, 1828-1834.
Little KM, Rolando CA, Morris A (2018) Impact of under-canopy vegetation on two pine saw-timber stands. New Zealand Journal of Forestry Science 48(1), 2.
Rolando CA, Baillie B, Thompson D, Little KM (2017) The use of glyphosate in planted forests. Forests 8(6):208.
Rolando CA, Gous SF, Gaskin RE, Horgan D, Raymond L (2017) The effect of dose, formulation and adjuvants on the uptake of phosphite into pine foliage. Plant Disease 101:1652-1658.
Saunders JT, Greer G, Bourdôt G, Saunders,C, James T, Rolando CA, Monge J, Watt M. The economic cost of weeds to New Zealand. International Journal of Economic Sustainability 15(4):380-392.
Rolando CA, Dick M, Williams N, Gardener J, Bader MK-F 2017. Chemical control of two Phytophthora species infecting the canopy of Monterey Pine (Pinus radiata). Forest Pathology: 47/3:1-10.
Rolando CA, Watt M, Todoroki C, Henley D, Leckie A (2017) Herbicide options for managing competitive vegetation during the establishment of Pinus radiata and Pseudotsuga menziesii var. menziesii in Southland, New Zealand. New Zealand Journal of Forestry Science 47(1).
Watt MS, Heaphy M, Dunningham M, Rolando CA (2016) Use of remotely sensed data to characterize weed competition in forest plantations. International Journal of Remote Sensing 1-16.
Rolando CA, Baillie B, Withers T, Bulman L, Garrett L (2016) Pesticide use in planted forests in New Zealand. New Zealand Journal of Forestry 61(2): 3-9.
Watt MS, Rolando CA, Kimberley M, Coker G (2015) Using the age shift method to determine gains from weed management for Pinus radiata in New Zealand. Weed Research 55:461-469.

Baillie BR, Rolando CA (2015) Long-term management of streams in planted forest steeplands. New Zealand Journal of Forestry 60(2): 21-26.
Rolando CA, Garrett LG, Baillie BR, Watt MS (2013) A survey of herbicide use and a review of environmental fate in New Zealand planted forests. New Zealand Journal of Forestry Science 43:1-10.