Carol Ann Rolando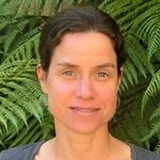 Contact
Phone:

+64 7 343 5884

Email:

Show email

Team:

Forest Protection

Role:

Scientist, Pest Management
About
Dr Carol Rolando specialises in developing practical methods for managing forest weeds, pests and diseases. Her work in weeds research has earned Carol recognition from the forest industry as they constantly strive to reduce herbicide use. Her current role is to lead research into chemical control methods for managing needle diseases in New Zealand.
Qualifications
PhD (Biology), University of KwaZulu Natal, South Africa - 2008
MSc (Biology), University of Natal - 2000
BSc (Hons) (Cell Biology), University of Natal - 1994
Research capabilities
Herbicides use in forest vegetation management
Alternative (non-chemical) vegetation management practices
Certification and forest management
Pine re-establishment
Biological control of weeds
Chemical control of insect pests and diseases of pines
Career highlights
Research leader, Pest Management Scion, 2011 - present
Winner of the FFR Award 2011 for forest weeds research: Enhancing sector value
Winner of the Council of Australasian Weed Science Societies: Early Career Weed Scientist Award 2011
Nomination of the Scion Weeds Project by the MBIE as an example of a research project delivering value to the sector
Research leader, Pine re-establishment 2002-2008, ICFR, South Africa
Selected papers
Rolando, C. A., Watt, M. S., & Zabkiewicz, J. A. (2011). The potential cost of environmental certification to vegetation management in plantation forests: A New Zealand case study. Canadian Journal of Forest Research, 41(5), 986-993.
Rolando, C. A., Gous, S. F., Berndt, L. A., Bulman, L. S., & Carlson, C. A (2011). Stem injection of a systemic insecticide to control Uraba lugens on urban Lophostemon confertus trees. Pest Management Science, 67(9), 1062-1068.
Rolando, C. A., Gous, S. F., & Watt, M. S (2011). Preliminary screening of herbicide mixes for the control of five major weed species on certified Pinus radiata plantations in New Zealand. New Zealand Journal of Forestry Science, 41, 165-175.
Rolando, C. A., Pammenter, N. W., & Little, K. M (2011). Critical water stress levels in Pinus patula seedlings and their relation to measures of seedling morphology. Southern Forests, 73(1), 41-49.
Watson, M. C., Watt, M. S., Withers, T. M., Kimberley, M. O., & Rolando, C. A. (2010). Potential for Cleopus japonicus to control the weed Buddleja davidii in plantation forests in New Zealand. Forest Ecology and Management, 261(1), 78-83.
Watt, M., Wang, H., Rolando, C., Zaayman, M., & Martin, K. (2010). Adsorption of the herbicide terbuthylazine across a range of New Zealand forestry soils. Canadian Journal of Forest Research, 40, 1448-1457.
Rolando, C. A., & Little, K. M. (2009). Regional vegetation management standards for commercial pine plantations in South Africa. Southern Forests, 71(3), 187-199.
Little, K. M., Rolando, C. A., & Morris, C. D. (2007). An integrated analysis of 33 Eucalyptus trials linking the onset of competition-induced tree growth suppression with management, physiographic and climatic factors. Annals of Forest Science, 64(6), 585-591.