Jeremy Warnes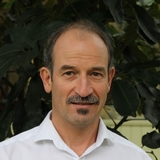 Contact
Phone:

+64 7 343 5791

Email:

Show email

Team:

Chemistry and Physics

Role:

Technologist/Business Development Manager
About
Jeremy Warnes is a technologist and business development manager with a focus on technologies for the manufacturing sectors. Jeremy's specialises in bio-based materials with a particular emphasis on natural fibre composites and adhesives, and sustainable residential housing.
Qualifications
BSc (Hons) (Chemistry) Victoria University, NZ -1982
Research capabilities
Bio-based materials with a focus on natural fibre/bio-polymer composites;
Composite timber products and adhesives;
Business interface and technology commercialisation.
Career highlights
Scion – Business Development Manager 2011 – present. Managing commercialisation projects resulting from Scion developed IP and helping facilitate new business in the area of manufacturing and bio-based products.
Beacon Pathway – Research Team Leader 2005 – 2007. Setting strategy, commissioning work and managing projects for the technologies required to achieve sustainable housing in NZ.
Biopolymer Network – Management Committee member 2005 – 2007. Tracking work and giving input to the management of the Biopolymer Network.
Scion – Research Leader/Business Development Manager 2003 – 2011. Managing new thermoplastic material development, composite wood product research and commercial projects. Responsibility for obtaining new business.
Acting General Manager for Greenweld Technologies Ltd 1998 – 1999. Seconded role for 1 year prior to sale of company. Managed to cut raw materials costs in that time frame.
Technical co-ordination of the Wood Hardening process into commercial application.
In conjunction with Ministry of Forestry, organised the first of a series of national gluing workshops and have presented at these on-going seminars over the 6 years they have been running.
Forest Research representative on the Pine Manufacturers Executive Committee 2000 - 2003
Selected papers
Warnes, J M, Even, D J. (2016, December). Unlocking the potential of natural fibre reinforcement for compounders. Presented at Compounding World Forum 2016, Philadelphia, USA
Graichen, F, Grigsby, W J, Hill, S J, Raymond, L, Sanglard, M, Smith, D A, Thorlby, G, Torr, K M, Warnes, J M. (2017, November). Yes, we can make money out of lignin and other bio-based resources. Industrial Crops and Products 106, 74-85. doi:10.1016/j.indcrop.2016.10.036
Navaranjan, N; Warnes, J M; Gray-Stuart, E M; Bronlund, J E. (2015, July). Optimisation of corrugated boxes for faster freezing. NZIFST Annual Conference 2015, 30th June - 2nd July, Palmerston North Convention Centre.
Dickson, A R, Even, D J, Warnes, J M, Fernyhough, A. (2014, June). The effect of reprocessing on the mechanical properties of polypropylene reinforced with wood pulp, flax or glass fibre. Composites - Part A: Applied Science and Manufacturing 61, 258-267. doi:10.1016/j.compositesa.2014.03.010
Warnes, J M. (October 2012). Wood fibre reinforced plastics: Overcoming road blocks to commercialisation. Wood Innovations 2012, Rotorua and Melbourne.
Thumm, A, Dickson, A R, Warnes, J M, Fernyhough, A, Even, D J, Markotsis, M. (2011, April). The use of pulp fibres for the production of wood/plastic composites. Conference Proceedings, 65the Appita Annual Conference (2011), pp. 105-108.
Even, D J, Kellenberger, D, Warnes, J M. 8th Global WPC and Natural Fibre Composites Congress and Exhibition, June 22 – 23, 2010, Fellbach / Germany.
Warnes, J M; 2008. Innovation and challenges in bio-based composites. IUFRO News. Online information bulletin. www.iufro.org. Volume 37, issue 11 & 12, 2008.
Warnes, J M; Witt, M R J; Anderson, C R; Shah, S; Fernyhough, A; 2007. Wood plastic composites based on MDF fibre reinforcement. In: Proceedings of Cancom 2007 Conference, Fort Garry Hote, Winnipeg, Manitoba, 14-17 August 2007
Witt, M R J; Shah, S; Fernyhough, A; Anderson, C R; Warnes, J M; 2007. Wood plastic composites based on MDF fibre reinforcement. In: Proceedings of the 3rd Wood Fibre Polymer Composites International Symposium, Cite Mondiale Bordeaux, France, 26-27 March 2007.
Grigsby, W J; McIntosh, C D; Warnes, J M: Activation of pine bark tannin for use in cold-set structural adhesives. Abstract D4/6 in: Proceedings of the 28th Australasian Polymer Symposium & Australasian Society for Biomaterials 16th Annual Conference, Rotorua, 5-9 February 2006.
Anderson, C R; Witt, M R J; Shah, S; Warnes, J M; 2005. Advances in utilizing whole tree for composites. Abstract in: XXII IUFRO World Congress, 8-13 August 2005, Brisbane, Australia.
Fernyhough, A; Anderson, C R; Warnes, J M; Lee, B J : Method for producing wood fibre composite products. Patent (2005).
Warnes, J M: Exploiting Renewable Resources to Develop New Materials Industries. Institute of Professional Engineers New Zealand (IPENZ) Annual Conference. March 2003, Hamilton.
Warnes, J M: Gluebond troubleshooting for laminating and fingerjointing. Forest Industries 2002, FIEA Wood Technology Clinics, Rotorua.
Grigsby, W J; Warnes, J M: Potential of tannin extracts as resorcinol replacements in cold cure thermosets. 25th Australasian Polymer Symposium, February 10-13th, 2002, Armidale, NSW, Australia.