Microbes and metallurgy
22 March 2018
Every year the average New Zealander generates 20 kilograms of electronic waste (ewaste), but where does it all go?

According to a UN report, none of New Zealand's ewaste is recycled. That isn't quite the case – there are a number of charities and recyclers that collect ewaste, but it is true that New Zealand has no official ewaste recycling or recovery scheme and is the only OECD country without any national regulations. This leads to a lot of ewaste containing valuable metals like gold, copper and palladium ending up in landfill.
What is stopping NZ ewaste collection?
New Zealand's ewaste collection is hindered by geographic factors – our population is widely distributed and transporting ewaste domestically is expensive, as is shipping ewaste offshore for processing.

Capacity to process and use ewaste is also limited. Few manufacturing businesses need recycled materials, and there are no facilities for extracting the precious metals locked inside the ewaste circuitry.

All that could change thanks to an army of specialised microbes that 'eat' metals. The microbes are a vital part of a process developed by Mint Innovation (Mint), which is taking this process to a new level with the help of Scion's Industrial Biotechnology team, led by Dr Christophe Collet.
Scaling up and the science of biometallurgy
Mint, with partner Remarkit, a Wellington based ewaste recycler, has just announced plans to build a demonstration plant to process ewaste and extract gold. They need to show that their process is scalable, and in a first instance will take their process from a few litres to a 100-litre scale, which is where Scion comes in.

Dr Ollie Crush, Chief Science Officer at Mint, has been working with Christophe and his team of Tracey Bowers and Mark West to use our 100 litre bioreactor to produce the microbes used in the gold recovery process.

Ollie explains, "It's part of a field of science called biometallurgy – it's a mix of chemistry and microbiology. We do some chemistry to get all the metals into a dilute solution with other metals. The microbes are placed into the solution where they act like a sponge, soaking up metals.
"This creates a concentrated stream of metal that is more efficient and cheaper to process. We have to get this right for our business model to be economic."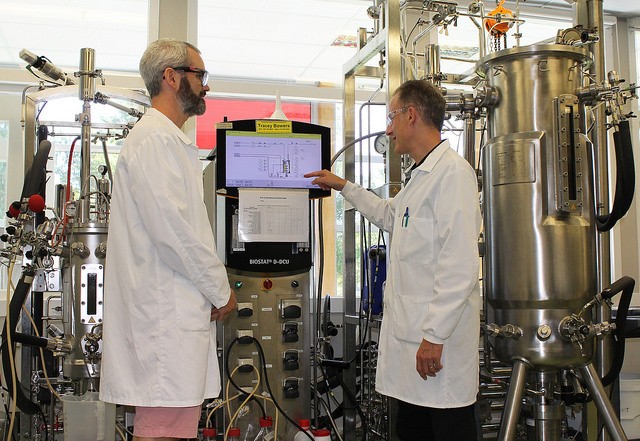 Mint Innovation's Dr Ollie Crush and Scion's Dr Christophe Collet oversee the bioreactor
The more microbes the merrier!
Scion's expertise in fermentation comes from working with microbes producing bioplastics (PHA / Polyhydroxyalkonate, which are biodegradable and can be produced from wood residues). Christophe is using that expertise to test different media and feeding strategies in the bioreactor in order to maximise growth of Mint's microbes.

He says, "We're aiming to produce the highest density of microbes per litre possible. A higher concentration of bugs per litre makes the process more efficient and may mean that Mint won't need such a large bioreactor in their demonstration plant, saving cost to build and run the plant.
"We've been trying a variety of different substrate concentrations and feeding strategies in our 10-litre bioreactor and we've had some great results so far that have increased cell concentrations five-fold. The next step is scaling up to the 100-litre bioreactor."
Mint Innovation's gold 'eating' microbes
On the horizon
Ewaste is the fastest growing form of waste, and Mint is confident this process will be cheaper than other ways of processing recycled ewaste. In its first year, the demonstration plant in Auckland could process up to 200 tonnes of circuit boards and recover up to 40 kg of gold.

The potential for growth is obvious. Ollie says "New Zealand is just the first step, we're confident the work can be scaled up and delivered to the world."


For more information on our industrial biotechnology work contact Dr Christophe Collet Show email