Kauri sanctuary and seed collection
28 November 2019
When the One Billion Trees Programme launched in February 2018 Scion was invited to carry out a kauri dieback Phytophthora agicidicida soil assessment on Ngati Rehia's culturally significant kauri sanctuary site at Takou Bay, Bay of Islands. The Scion team met with mana whenua and their neighbours to scope and carry out the project. Three workshops were held to understand their aspirations and matauranga, transfer Scion's knowledge of the killer disease and kauri forest establishment to the people, and co-design a sanctuary for dieback-resilient kauri seedlings.
Soil tests carried out by Takou Bay rangers (rangatahi trained by hapu leaders to work on conservation) and Scion scientists showed the pathogen was not in the site. Risks were identified and communicated. A collaborative forestry management plan was delivered in December 2018, followed in January 2019 with recommendations for seed collection, collaboration with other landowners for seed crossing to improve resilience, and ongoing best practice of site hygiene and pest management to keep the disease away.
The hapu has strengthened their relationship with a broader mana whenua roopu, a collective of kauri land owners that collaborated with Scion to carry out kauri cone collection under the Healthy Trees, Healthy Futures research programme. Cones were gathered in February 2019 across 10 different sites between Kaitaia and Tauranga including kauri trees from Takou. Some of these seeds were germinated and are currently housed in Scion's nursery. Use of the remaining seeds depends on future funding being sought by the kauri dieback mana whenua roopu and Scion to carry out a kauri restoration research partnership using seven kauri sanctuary models.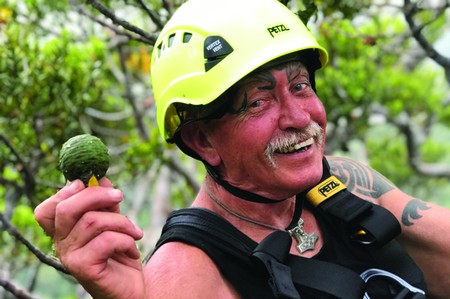 Rongo Bentson collecting cones, Te Rarawa.
Photo: © BioSense