Scion celebrates success at annual staff awards
24 October 2019
Honouring the success of our people was the cause of much celebration at Scion's annual employee recognition awards this week.
The awards were held on site on Wednesday 23 October and recognised some of Scion's best and brightest. A number of awards were presented including the distinguished Roger Newman Award for Science or Engineering excellence.
This year the Roger Newman Award was presented to Dr Tara Strand, Research Leader Forest Protection (Christchurch). Tara has played integral leadership roles in three of Scion's key research programmes including a national award-winning urban biosecurity programme, leading New Zealand's only rural fire research programme, and was appointed to the BioHeritage National Science Challenge Science Leadership Group. She has shown outstanding leadership in all three programmes and has provided tremendous contributions in science excellence and delivery to each science team.
Chief Executive Officer, Dr Julian Elder says, "Across Scion our teams have worked tirelessly to achieve high quality science, that helps bring our vision to life. The dedication that our awardees have shown to their science, their clients and their colleagues is outstanding and deserves wide acknowledgement."
Other notable awardees include microbial ecologist Dr Steve A Wakelin (Christchurch), who was recognised for his impressive publication record, including 107 papers and a high citation rate, showing him to be a leader in his field.
The excellent customer engagement skills of Nursery Researcher Craig Ford, and Nursery Operations Manager Paul Keech were also recognised, as was the smooth delivery of internal support from the Information Technology team.
The award recognising funding success was presented to the 'Bark Biorefinery' team, led by Dr Warren Grigsby with the support of Dr Dawn Smith, Dr Stefan Hill, Dr Laura Raymond, Peter Hall and Rob Lei.
Three awardees from the event will now also be featured as finalists in the annual Science New Zealand Awards, which bring together the best and brightest from each of New Zealand's seven Crown Research Institutes. The Science New Zealand awards night will be held at Parliament in Wellington on 11 November.
-ends-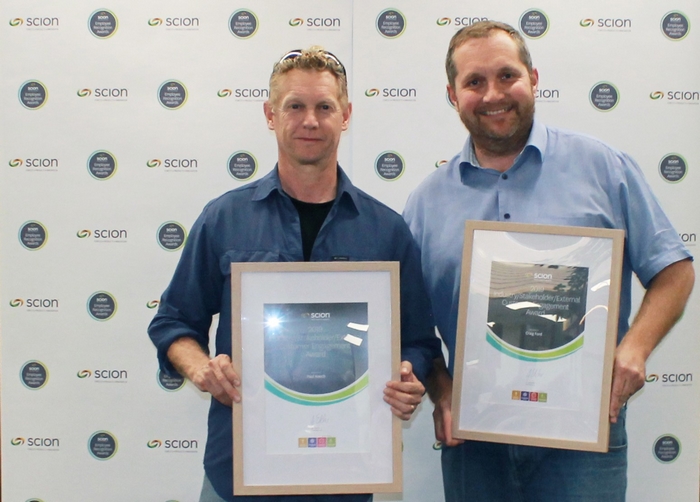 Customer Engagement Award winners – (from left) Nursery Operations Manager Paul Keech and Nursery Researcher Craig Ford.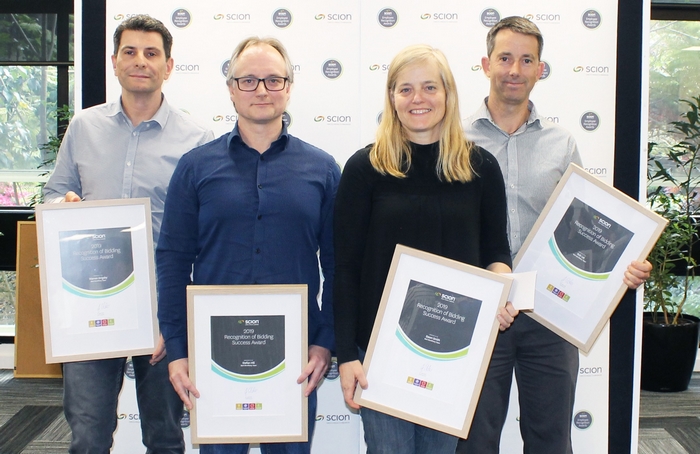 Recognition for Funding Success Award - Bark Biorefinery team (form left) Dr Warren Grigsby, Dr Stefan Hill, Dr Dawn Smith and Rob Lei.