Tree plantations in the landscape - summary report released
13 February 2019
Following Tree Plantations in the Landscape (TPL) dialogues in Brazil, Chile, and South Africa, The Forests Dialogue (TFD), Scion, Toi Ohomai Institute of Technology (Toi Ohomai) and WWF's New Generation Plantations (NGP) platform co-hosted an international TPL field dialogue in Rotorua, New Zealand from October 29th to November 2nd, 2018.
Bringing together both local and international stakeholders, the dialogue sought to analyze the economic, social, and conservation impacts of tree plantations in the New Zealand landscape. Over the course of the five days, participants conducted field visits to the Whakarewarewa, Kaingaroa Forests and met with Lake Taupō Forest Trust to discuss their approach to forestry and prioritising environmental and social values before economic gain. Following the field visits, discussions included forest intensification and extensification through New Zealand's 1 Billion Trees Programme, and how planted forests can support New Zealand's commitments to the Paris Climate Agreement.
Tim Payn, Chair of Sustainable Forestry at Toi Ohomai and Principal Scientist at Scion says, "Our discussions reflected a sense that there is an untapped deeper social and cultural purpose for forestry. The decision-making model presented by Lake Taupō Forest Trust showed how it is possible to use forestry as a means to serve generations of people, and demonstrated how by prioritising environmental values, we can protect the land at the same time."
"At the same time, there is room for New Zealand forestry to sustainably supply more wood to the world, and reduce pressure to deforest native forests in places like Siberia."
Luis Neves Silva, the New Generation Plantations lead, said, 'This dialogue has been an excellent example of how collaboration between organisations from civil society, private sectors and academia create shared value to society. NGP is grateful for this opportunity to come to New Zealand to learn from the Māori approach to forestry, demonstrating how it is possible to make use of modern intensive forestry plantations to optimise economic returns simultaneously maintaining Māori cultural values."
George Asher (Ngāti Tūwharetoa) from Lake Taupō Forests Trust, Peter Clinton from Scion, Peter Kanowski from the Australian National University, and Ivone Namikawa from Klabin cochaired the dialogue.
Peter Clinton says, "Having the third tree plantation in the landscape here in New Zealand gave us an opportunity to showcase New Zealand plantation forest management practice and to benchmark it against international examples and experiences."
The co-chairs have synthesized the process and outcomes of the dialogue. The summary report is now available on The Forest Dialogue's website. Moving forward, partners of the TPL New Zealand will continue conversations to promote environmentally and socially responsible plantation practices.
Gary Dunning, Executive Director of The Forest Dialogue, notes, "We appreciate the opportunity to engage with local and national stakeholders to discuss what makes forestry in New Zealand unique. I was particularly encouraged by the Māori approach to forestry and the ambitions of the billion trees program. We are happy to share these lessons with the global community and continue to track the progress in New Zealand."
For more information on the TPL New Zealand initiative, visit The Forests Dialogue website and contact TFD Director Gary Dunning at Show email or Tim Payn from Scion at Show email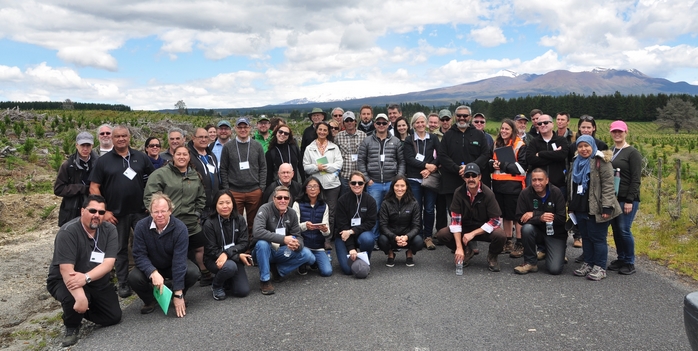 Dialogue participants with Lake Taupō Forest Trust, Lake Rotoaira Forest Trust and New Zealand forest managers in Houtōrangipo near Turangi.