A kiwi in the wild
15 August 2023
Introducing Emmett Brown – a little brown kiwi that will always have a special connection to Scion.
The kiwi hatched at the National Kiwi Hatchery in Rotorua on October 21 last year - the same day that the moving 'Robo-Kiwi' training aid was tested against traditional static kiwi avoidance training props. Scion's involvement with the prototype's success led to the project team being given the opportunity to name the hatchling.
Turning to science for inspiration, they named the kiwi after the Emmett "Doc" Brown character in the Back to the Future movie franchise.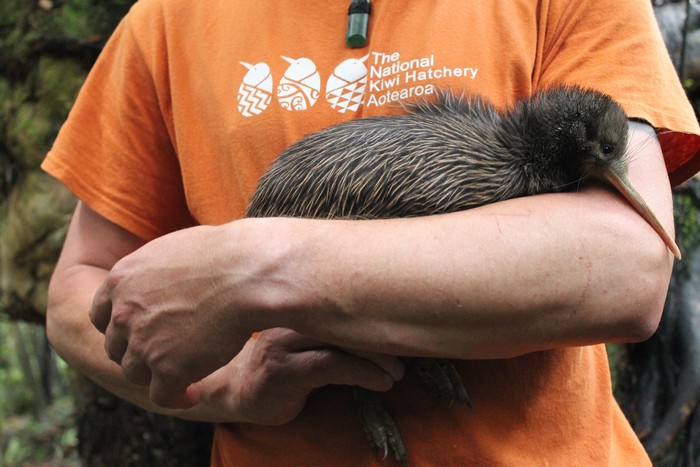 Ten months on, Emmett, a female kiwi, is now thriving in Raetihi in the central North Island on a 300ha native bush block owned and managed by former Hatchery kiwi practitioner Blake Cole. Pest monitoring and trapping by Cole and his team of volunteers are ensuring the survival of many adult kiwi on the property which is also a site for Operation Nest Egg. Breeding pairs are being monitored and about 12 chicks were released into the block in 2022.
Scion's team lead for additive manufacturing and emerging technologies, Rob Whitton, and scientist Karl Molving had the privilege of releasing Emmett and another kiwi called Ruby in March this year. Both kiwi were able to enter the wild after spending six months at the Wairakei Golf Course and Wildlife Sanctuary near Taupō where they grew to reach a stoat-proof weight of at least 1kg.
Purpose-built with a dedicated five kilometre 'Xcluder' fence installed around the entire course perimeter, the sanctuary, or 'kiwi creche', was specially designed to keep out predators like rats, mice, stoats, weasels, hedgehogs, feral cats and possums to give young kiwi the best possible start in life.
In November, Scion was invited to attend Emmett's first health check at the kiwi crèche, where Save the Kiwi staff, including kiwi ranger Gaia O'Hare and kiwi keeper Kelsi Thompson located Emmett with the help of a transmitter attached to her leg.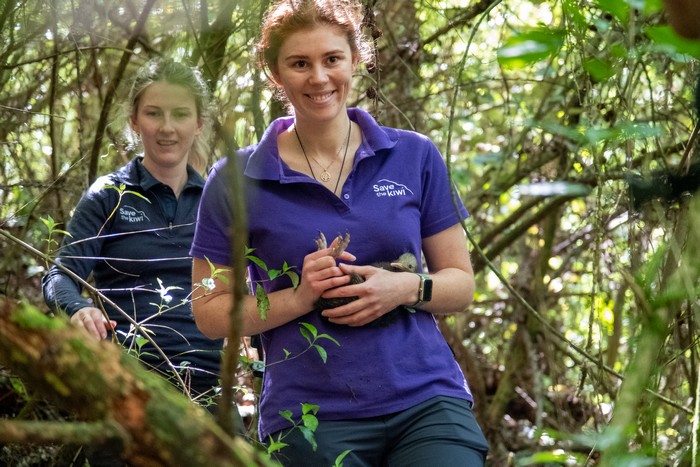 After being plucked from her burrow, Emmett was carefully measured and weighed. It was determined she had put on 90g since arriving at the sanctuary – a healthy sign she had adapted to her temporary home. She weighed 353g after she hatched.
Whitton says having the chance to check on Emmett's progress and follow her journey through to the wild was an amazing experience.
"Being able to witness her release and see her thriving in a predator-free environment was a real treat. It also highlighted just how incredible the Operation Nest Egg programme is for the long-term future of New Zealand's most iconic bird."
Operation Nest Egg has been operating for about 20 years in New Zealand and has become critical to national efforts to save the endangered kiwi. Taking eggs from monitored male kiwi in the wild when they are the right age and rearing them in a hatching facility is helping to boost the kiwi population.
About 68,000 kiwi are in New Zealand, but that number declines by 2% every year. Despite the best conservation efforts, 1,400 kiwi die annually and chicks remain incredibly vulnerable, with 95% of all kiwi that hatch in the wild killed by predators before they reach adulthood. By keeping chicks safe when they are most vulnerable and rearing them to a stoat-proof size of 1kg, the Operation Nest Egg programme increases chick survival to 65%.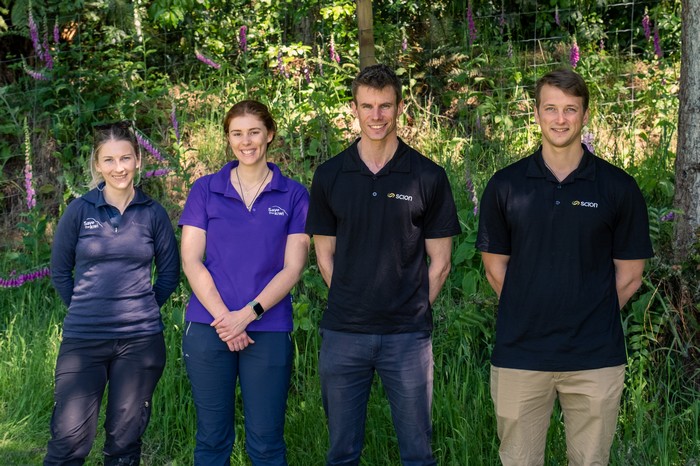 The lives of adult kiwi are equally precarious, with uncontrolled dogs their biggest threat. Even brief canine interactions with kiwi can fatally damage their delicate chests and crush their organs.
August 14 marks the start of Conservation Week and this year DOC is asking Aotearoa to take action for nature. DOC's Conservation Dogs Programme Manager Helen Neale says one of the best actions dog owners can take is to avoid areas where kiwi are present and keep dogs secure at night when kiwi are active.
"For those dog owners who live in areas where kiwi are present, enrolling their dogs in kiwi avoidance training is another tool to reduce the chance of dogs interacting with our precious kiwi," she says.
Conservation Week is a great time for all dog owners to consider training their dogs to avoid our national taonga species and help protect kiwi like Emmett.