Change in the Chathams - A journey of self-sufficiency and restoration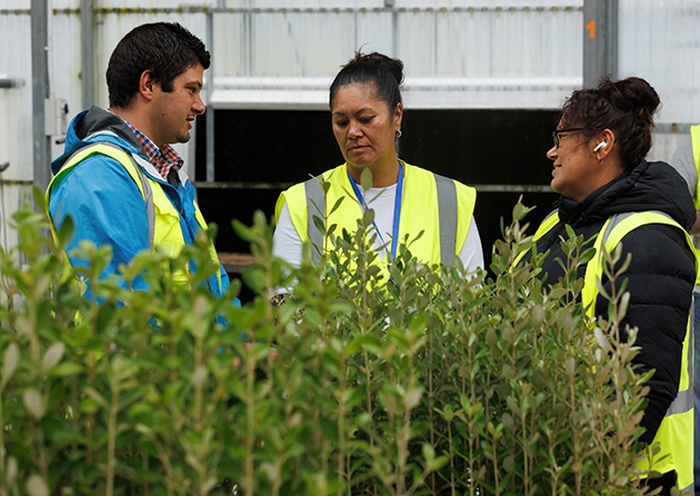 Stitching together the unique environment, people, culture and economy of the Chatham Islands to create circularity, sustainability, and rejuvenate and restore its unique native flora and fauna.
Creating self-sustainability and restoring an ancient landscape takes time, patience and partnerships.
Particularly when it's a remote cluster of islands 800km off the coast of New Zealand with 600 inhabitants, unforgiving weather, and challenging infrastructure and logistics for even the basic necessities.
The journey began in 2016, when a visionary trust, the Hokotehi Moriori Trust, put the call out to New Zealand's Crown Research Institutes (CRIs) for help building a sustainable Chatham Islands.
But not just any help – the Chatham Islands has a long and proud history of being home to the Moriori. The trust, then led by Maui Solomon, wanted to boost sustainability and restoration alongside indigenous innovations, and strengthen Moriori culture and heritage.
A pan-CRI approach, including Scion, kicked off in 2017 and has resulted in a number of projects being created in partnership with the trust and wider island community, with funding support through Ministry of Business, Innovation and Employment's (MBIE's) Vision Mātauranga Capability Fund and Ministry for Primary Industries (MPI's) One Billion Trees programme.
The trust is spearheading this work, under its strategy Destination Rēkohu 2040: A Sustainable Chatham Islands, with Scion honoured to be working alongside local communities and other CRIs such as AgResearch, to contribute expertise around creating circular bioeconomies and nursery capabilities.
Included in the overall vision for economic growth on the island is expanding eco-tourism opportunities and higher-value food products.
The wider projects
The projects Scion has been involved with, through close partnership with the local community, have involved three workstreams: a waste stocktake, a One Billion Trees (1BT) planting programme and science partnership for Recloaking Rēkohu (the largest island in the Chathams) with exotic and indigenous forest, and the establishment of a micro-abattoir for creating higher value premium products to support the islands' primary industries of fishing and sheep farming.
All three workstreams are at different stages of action and completion, with 2023 marking the second year of an initial five-year work programme.
Recloaking Rēkohu
The science partnership, titled Recloaking Rēkohu, and funded by the 1BT planting programme is an essential body of work currently happening. This includes looking at enablement through infrastructure, for example holding nurseries and water supply; planting an initial 284ha of Rēkohu in indigenous and exotic trees; and establishment trials testing optimal growing environments for several species.
Ultimately, it's hoped the science partnership and its learnings will inform a long-term forestry management plan for the next 30 – 50 years to restore the Chatham Islands landscape.
Hokotehi Moriori Trust on-island farm and forest manager Levi Lanauze has many hats, including T'chieki (guardian) of Farms and Forest for the trust, and guardian of the Imi's Farms and Forest. He also manages the 1BT programme.
Lanauze says the biggest value-add for this work is the community involvement.
"Whether that's through supporting the island's nine micro-nurseries, island logistics or fencing contractors, through to employment of our own nursery staff. It may be a trust project, but the island benefits.
"For the trust, it's putting the cloak back on Rēkohu and adding a habitat for the island birdsong to return. It has both cultural and environmental benefits.
"I am an eighth generation Chatham Islander and proud to be part of such a great team and project. Farming has always been my passion and growing up on the Chathams, you always have conservation values at heart."
Part of the cultural impact is regenerating culturally significant native species to the Chathams such as the sacred kopi (NZ Karaka) which, until recently, was thought to be dying out.
Scion project leader Elizabeth Dunningham says restoring the landscape is about more than just planting trees.
Restoration of a landscape is a long-term prospect and the vision for self-sufficiency is also long-term. - Elizabeth Dunningham
"It's about restoring the landscape so the soils aren't degraded, there's not vast tracks of scrubby, underutilised land, bringing back greater biodiversity of the Chathams' endemic species, and native flora and fauna, and becoming self-sufficient so there's exotics for the likes of timber production."
In the first year of the 1BT programme, Lanauze oversaw the planting of 52ha – that's 52,000 trees, double the year one target. Ultimately the trust would like to continue recloaking the henu (land) with future projects.
The 1BT planting programme is also providing the propagation support and endemic seedling supply. Scion's role is to receive seed collected on the islands and grow plants that are delivered back and planted on the main island of Rēkohu.
The first year of the programme has included learning and developing processes and techniques to propagate and deliver the first species, hakapiri, at scale in the Scion nursery.
Scion technologist for Elite Trees, Toby Stovold, says the majority of the six species being looked at have never been grown at scale before, or at Scion for that matter.
"There's been lots of learning for us around what's the optimal way to take a native seedling and ensure it survives, and then grows well back on the island. The Chathams is a unique landscape, with harsh winds and polar blasts, and notoriously unfertile soil."
The science partnership looks at developing scaled seeding production, establishment trials both on the island and at the Scion nursery, to build greater knowledge about the endemic Chathams species and building capacity so that further land can be planted.
Trials this year will include planting on the island in different locations, such as in scrub or grasses, or next to companion trees, as well as differing levels of weed control, to help gauge what is most successful to inform future planting.
Stovold says part of Scion's contribution also involves knowledge-sharing and training nursery workers based on the island to one day be self-sufficient in seedling production. With limited resources and freight and logistics challenges, the importance of supporting the nurseries on the island is seen as a main ingredient for success.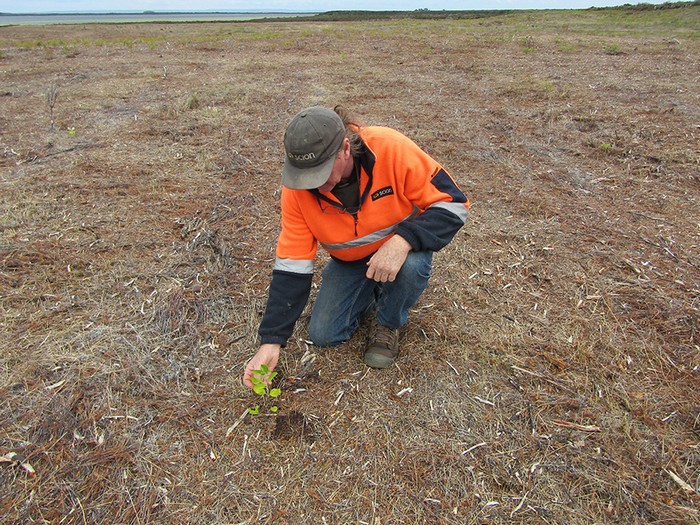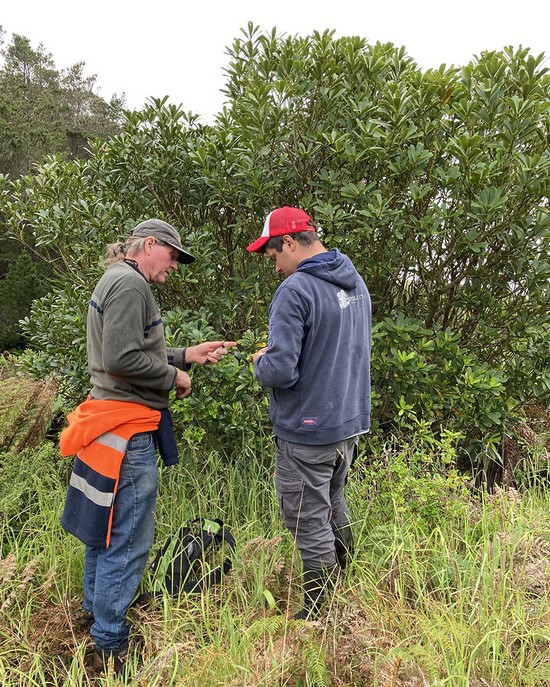 Creating circularity
What has helped set the self-sufficiency scene is the waste stocktake, completed in 2022, which collected information on the biological and inorganic waste on Rēkohu. This data and resulting work will have far-reaching impacts for the Chathams, both environmentally and economically.
The trust's vision for change includes building indigenous innovations and contributing to the economic growth of the island through better environmental practices.
With almost all goods and products imported from New Zealand via air or sea freight, plus an economy largely reliant on primary industries, packaging and inorganic waste are a real issue for the Chathams. On-island capabilities are also a challenge due to isolation and limited infrastructure.
Scion's portfolio leader for Distributed and Circular Manufacturing, Marc Gaugler, headed the waste audit. He says the stocktake was about understanding the unique situation of the Rēkohu community.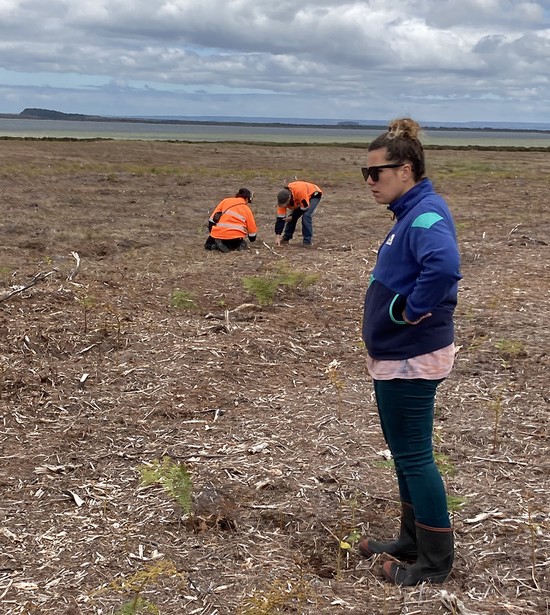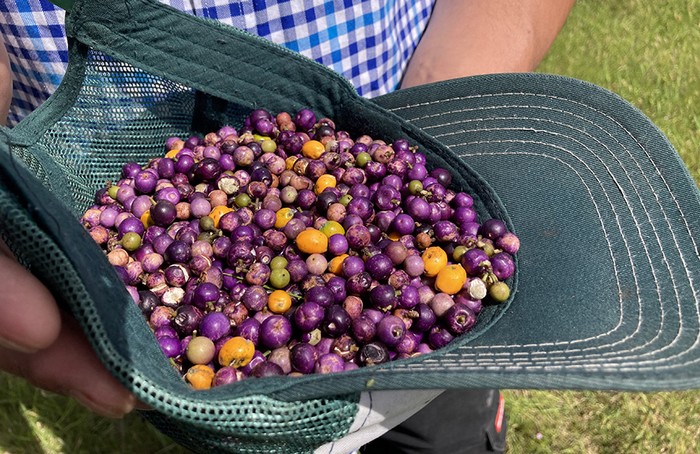 "Currently end-of-life options other than landfill or open-field burning don't exist, not only for single-use items such as packaging and the likes of plastic fishing equipment, but also local bio-waste from fishing and farming.
"While these waste products pose a health and wellbeing issue for the community, it also highlights a loss of economic value and opportunity."
The waste audit, which also included beach plastic pollution, established that 300 cubic metres of landfill waste was collected on Rēkohu each month, as well as 1.5 tonnes of potentially recyclable material.
Gaugler says potential benefits exist around circular economy principles and associated technologies through rethink, refuse, reduce, reuse, recycle and replace. His team also identified a key opportunity around bio-waste.
"The available biomass residue from future forestry operations and existing seafood processing and farming is a potential resource for future value-add initiatives and economic and environmental benefits for the community.
"Some of these have the potential to replace imported plastic goods and materials, for example the use of local wool as weed mats or agricultural textiles.
"The main challenge is the reliance on New Zealand mainland initiatives to drive change, for example the dependency on freighted packaged goods while no packaging return options or recycling options exist."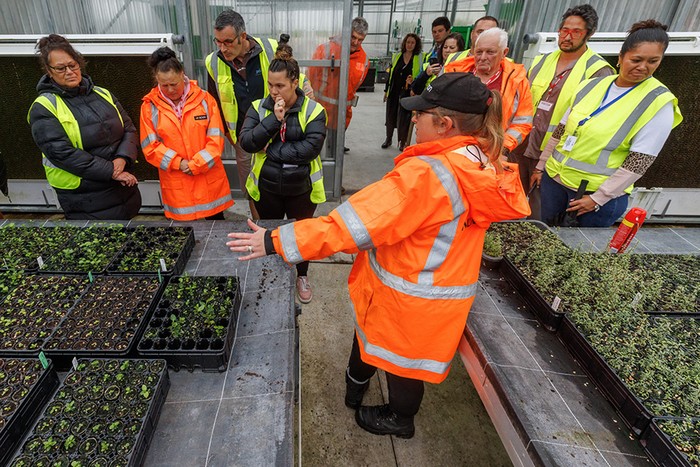 Restoring the landscape and creating increased self-sufficiency will involve partnering with the right people and technology, in a way that honours the Moriori way of life.
The waste audit highlighted key circularity and sustainability options that could sit alongside planned infrastructure investment on Rēkohu.
These options focus on the transition of the Chatham Islands to a circular economy where waste is minimised or used as a resource to utilise for economic and health and wellbeing benefits.
Gaugler says the project also highlights benefits for New Zealand. By demonstrating circular bioeconomy principles in remote, distant communities, work carried out on Rēkohu has the potential to inform future policy and funding decisions in the transition to a low carbon economy and ensuring no community is left behind.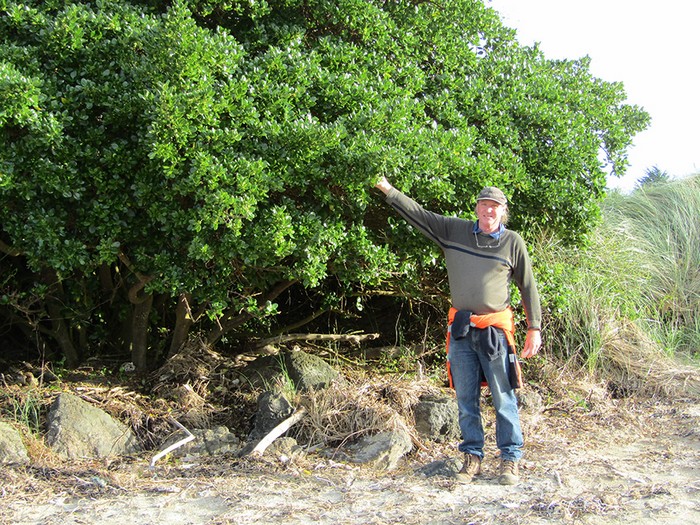 Back to the future
The Chatham Islands community is passionate and engaged with bringing about increased self-sufficiency and restoring the landscape to how it used to be.
Partners involved recognise that long-term change will only be enabled by understanding the environment from a holistic and indigenous point of view.
With Scion and other partners still working deeply in these projects, there is still much to be done, including looking at establishing a micro-abattoir in partnership with AgResearch.
Restoring the landscape and creating increased self-sufficiency will involve partnering with the right people and technology, in a way that honours the Moriori way of life.