Fixing 'aerial invader hole in our biosecurity net'
For immediate release
21 September 2023
New Zealand's trade and tourism border security is among the strictest in the world in efforts to protect the environment and primary industries from unwanted pests and diseases.
But aerial invaders (insect and pathogen pests arriving by wind) are harder to control. Recent examples of such pests include myrtle rust and fall armyworm.
Scion researchers are aiming to fix the "aerial invader hole in our biosecurity net" and have received investment funding of $10.85 million over five years through the Ministry of Business, Innovation and Employment Endeavour Fund - New Zealand's largest contestable research fund.
The Research Programme 'protecting Aotearoa from aerial invaders in a changing climate' will aim to develop a novel, integrated Aerobiological Surveillance and Prediction System to manage aerial pest movement.
During the Research Programme, scientists will look at trajectory modelling, how airbridges connecting Aotearoa to other landmasses are changing due to climate change and fill knowledge gaps on aerial invader/pest survival in extreme atmospheric conditions.
The science team estimates preventing establishment of just one serious pest would recover programme costs 10 to 100 times through avoided losses in the forestry and/or horticultural sectors, maintenance of carbon sequestration, and biodiversity conservation.
The programme will also establish a baseline of aerial invader arrivals with help from the Taranaki Mounga Project, a partnership with iwi, agencies and community working on restoring Taranaki Maunga.
It will be led by Atmospheric Dispersion Modeler Dr Ilze Pretorius, who is based in Scion's Christchurch office.
Pretorius says the project has been in formation for about five years and some preliminary research was done. She says reaching this point has been a huge team effort.
"No one in the world is really doing research on this, there's this assumption you can't do much about aerial pest pathways, but New Zealand is in a unique position with water borders. If anyone can do something, it's probably us," she says.
"It's a very difficult problem but we are of the opinion that you can't do anything if you don't at least research it and get to an answer. Either way, even if you can't eradicate, this research will still lead to a lot of benefit."
While the goal is detecting aerial invaders early enough for eradication, the tool could also help optimise surveillance networks.
She says she is looking forward to partnering with Taranaki Mounga Project to establish a baseline of the pests that are coming in, as well as the research about how atmospheric conditions influence the ability of pests to survive in the atmosphere – work that hasn't been done before.
The team is planning to build a custom wind tunnel to test how rainfall influences the ability of migrating moths to fly to then incorporate findings in the prediction model.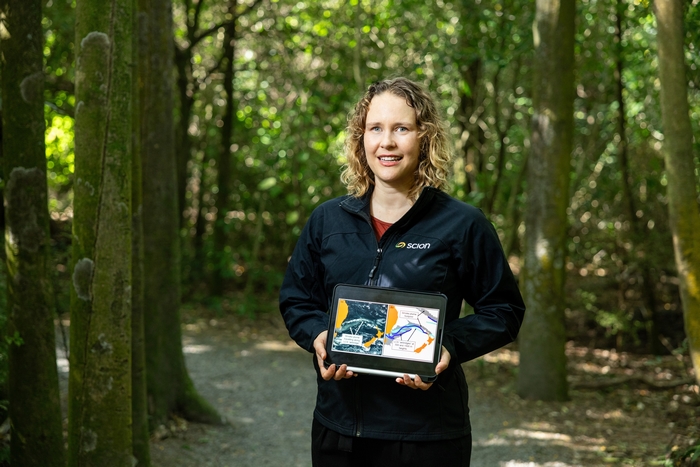 "That's easier said than done. Enticing moths to fly in that experiment will be an interesting challenge because it's up to the organism and not us."
The funding bid was submitted in partnership with representatives from University of Canterbury, NIWA, Ag Research, Plant & Food, Virginia Tech in the United States, and universities in Europe and Seoul.
The successful project was funded through the Endeavour Fund Research Programme investment mechanism. This supports ideas with credible and high potential to positively transform New Zealand's future in areas of future value, growth, or critical need.
While Pretorius is on maternity leave, the project will be handled by colleagues Jess Kerr, Toni Withers, and Brian Richardson.
Scion chief executive Dr Julian Elder says the funding illustrates the value of the work Scion is doing in the research and innovation space.
He says New Zealand's 2050 greenhouse gas emissions targets could be severely compromised by new pest introductions, so Pretorius' research is critical.
"We're delighted with the funding win and are proud to lead research that will tackle climate change and support industry transformation to shape a sustainable renewable future driven by forestry and wood products."
The funding was announced by the Ministry of Business, Innovation and Employment on 15 September 2023.
The project is one of 68 nationwide to receive a slice of $246m Endeavour Fund investment.
Scion scientists will also contribute their expertise to three smart ideas and one research programme led by other research organisations that secured support from the Endeavour Fund.
The successful Research Programme was the University of Auckland led project Waste to treasure: Using novel chemistry to valorise residual plant materials.
The smart ideas include the Manipulation of fungi-associated bacterial communities to combat plant disease project led by Lincoln Agritech, unlocking the potential of microbial bioactive compounds to promote forest health led by Lincoln University, and Wireless Chipless Label Sensor for Seafood Quality Monitoring through Supply Chains, led by Auckland University of Technology.
View the successful applications.
ENDS