Groundbreaking research: Scientists generate fire whirls in Twizel
For immediate release
22 May 2023
In a world first, scientists from Scion, US Forest Service, University of Canterbury's School of Earth, and Environment and the US National Centre of Atmospheric Research (through a Fulbright Fellowship) have successfully generated fire whirls on slash piles near Twizel.
The activity is part of groundbreaking research aimed at protecting firefighters and communities from the devastating impact of future wildfire events.
Fire whirls/vortices, or fire tornadoes, occur during extreme wildfire events around the world but until this month, they have never been deliberately created in the field and at this scale.
The research team consists of New Zealand and international researchers studying extreme wildfire fire behaviour as part of a programme funded by the Ministry of Business, Innovation and Employment (MBIE).
Jason Forthofer, a researcher with the USDA Forest Service, is a leading expert on wildfire vortices who has been studying fire whirls in a laboratory environment. He says generating a fire vortex outside a laboratory had never been attempted at this scale and with forest fuels anywhere in the world before these experimental burns.
Scion science lead Shana Gross adds the experiments were designed to isolate the fire whirl outside a wildfire and study the factors that cause fire whirls to form. "This will help us to identify 'watch out' signals for firefighters that indicate when a fire whirl is ready to form."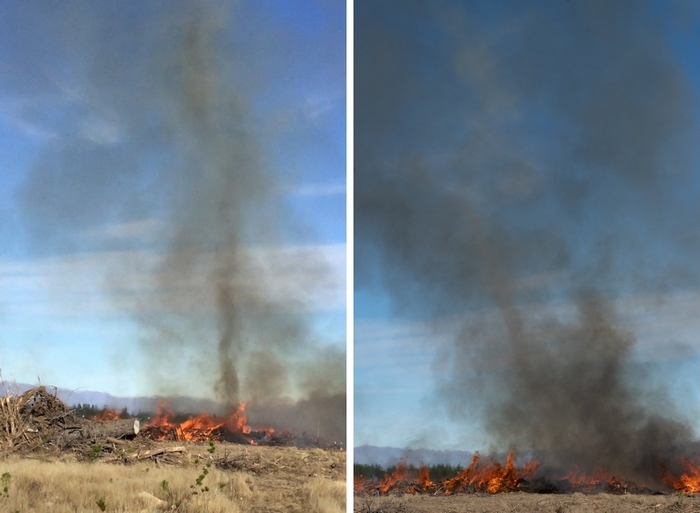 Marwan Katurji, an Associate Professor in Atmospheric Dynamics at the University of Canterbury, says studying the column of hot air surrounding the fire vortex will allow scientists to refine and improve fire behaviour and fire scale meteorological models. "These models provide us with critical spatial information for understanding the physical processes governing when and how these dangerous fire whirls can occur."
Scion's strong relationship with Fire and Emergency New Zealand (FENZ) was a key factor in locating the research in New Zealand and the Twizel area was chosen because of the landowner's support and the favourable experimental conditions that factored in topography, weather and vegetation. FENZ provided operational support during the field work, with crews from several Mid-South Canterbury volunteer brigades and the Department of Conservation onsite for each burn, helping to extinguish the piles once the scientists finished their monitoring and assessments. Each burn day also provided FENZ with valuable training opportunities, giving new team members exposure to incident management.
Twenty-four scientists were involved in the field work, with a total of nine wilding pine slash piles of various sizes burned over four days in May.
After igniting the slash pile 20 metres in diameter, the research team was able to generate a 'smoke devil' that then took up the flame and generated a fire whirl. This whirl was the longest sustained whirl achieved during the research trials. Instruments on site recorded at 10 times to 100 times per second, providing scientists with ample data to analyse over the coming months.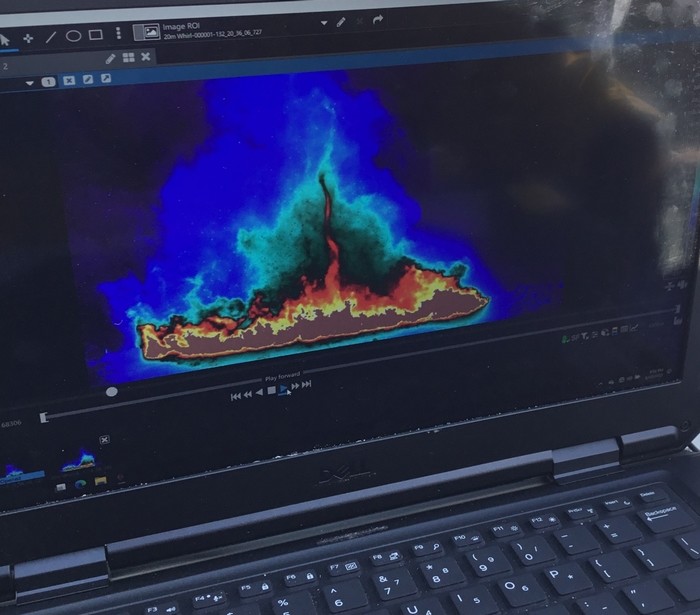 The research group committed more than NZ$1 million worth of specialist atmospheric motion detection and fire behaviour equipment to monitor, measure, and analyse the fire whirls. Data was collected using high speed thermal infrared cameras, visual cameras, Unmanned Aerial Vehicles (UAVs), meteorological heli-kites and wind remote sensing equipment (Doppler wind LiDAR technology) on loan from San José State University. The team used the equipment to measure the temperature inside the fire whirl, the inward wind flow, and atmospheric conditions within and outside the fire environment.
In preparation for the experiments, four sets of wilding pine slash piles of different sizes and configurations were established on an area of privately owned land just north of Twizel over the past 12 months. The site was previously covered in wilding pines and was partially burned in the Pukaki Downs wildfire in September 2020.
The first of the burns took place on 2 May when the five-metre diameter piles were ignited. The 10, 30 and 20 metre-diameter piles followed over different days.
The team observed that even with low intensity fires, the smoke plume stood up, despite continuous light wind, just before the vortex formed. This has previously been observed on large fires and observing it in lower intensity fires may indicate that this is a pattern that will hold in variable conditions.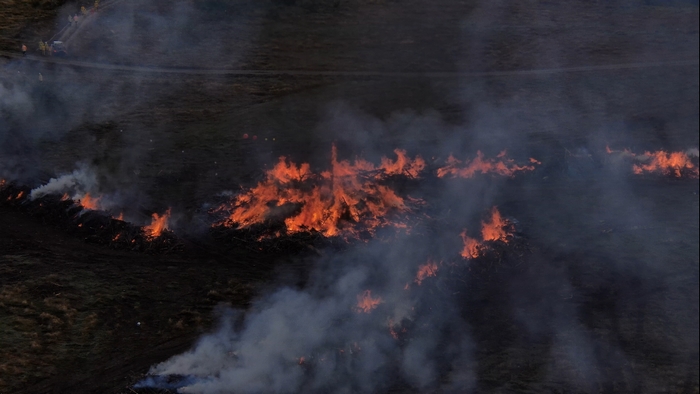 Scion research lead Hugh Wallace says the experiments were a valuable data collection exercise. "With every fire whirl experiment the team learned the sensitivities of the variables that produce fire whirls in forest debris and wilding pines.
"These burns were aimed at increasing our understanding of thresholds: atmospheric, environmental, fire intensity and fuel condition that must be crossed to generate a fire whirl. When these are understood, we can better predict their cause and spread."
Worldwide and in New Zealand, the occurrence of extreme wildfire is accelerating, affecting both rural communities and those at the rural-urban interface. The direct cost of wildfire on New Zealand's economy in 2020 was $142m. By 2050, this is predicted to cost $547m each year due to the changing climate.
While a growing number of fire whirls were being recorded globally, studying a fire whirl in a running vegetation fire is nearly impossible as so little is known about what triggers their formation, Forthofer says. "Improving firefighter safety is always a top priority and this research can help by making it easier for firefighters to see when the conditions are right for a vortex to form."
"By isolating the whirls into large pile burns we were able to control the location and timing of the whirl. Augmenting lab data with field experiments is important as elements such as changing weather, including wind, are not accounted for in the lab."
This year's activity is part of the Scion-led Extreme Wildfire Research Programme that runs through until early 2026. The research team thanks all of the volunteers who assisted through FENZ with the burns and the local Twizel fire brigade.
ENDS
Video: Footage of a fire whirl created during the research in Twizel can be downloaded and viewed here: https://bit.ly/3okO2WS