Indigenous thought and fibres the way forward
18 May 2023
An inaugural symposium aimed at forming connections across the spectrum of indigenous fibres with the hope of seeding relationships to seed innovation was held in Rotorua in May.
"Māori must lead because we're aligned to this. We know this, it's in our DNA."
Whenua Oho chief executive and Ngā Pou o Tāne chair Te Kapunga Dewes (Ngāti Porou, Te Arawa, Te Whakatōhea) emphasised these words at Scion's inaugural Indigenous Plant Fibres Symposium.
It was a fitting start to the symposium held at Te Puia on May 9 and attended by about 50 people.
The symposium, 'Supporting an Indigenous Plant Fibres Value Chain in Aotearoa,' aimed to support new and innovative Māori-led opportunities by connecting the value chain of growers, processors, and end products.
Scion is already collaborating with Māori partners to explore mātauranga Māori and kaupapa Māori approaches in indigenous fibres, alongside scientific research and development.
Dewes said Māori were naturally aligned with the concept of a circular bioeconomy because katiakitanga (guardianship) was an underlying concept.
"Balance, harmony with the environment, our people, and our community. All of these are important and a natural cultural fit for us."
He said because Māori aligned with a circular bioeconomy, they needed to be part of conversations to ensure their input was heard and executed.
"If we want our great grandkids to prosper, to thrive, we're going to have to make change.
"We will need to reduce consumption and have political and societal willpower to make sure these actions are enacted long-term. Māori must lead because we're aligned to this. We know this, it's in our DNA."
Scion general manager biobased products Dr Florian Graichen said attendees were there for solutions and indigenous and natural fibres have a big role to play.
"Using this knowledge unlocks enormous environmental social and economic opportunities."
Scion's Bioproducts and Packaging portfolio leader Dr Alec Foster said the symposium aimed to create a space for people to develop connections organically.
"By seeding relationships, we hope to seed innovation.
"There are benefits to growing this community through the creation of greater economic activity and jobs."
Foster hoped the symposium would lead to further collaborations, research and showcase what was needed to start new businesses, create new jobs and provide an economic boost for communities.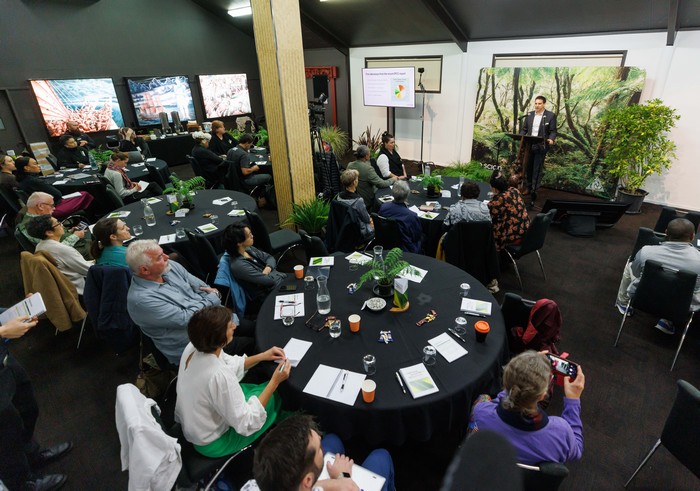 A local signature
Closing the symposium, award-winning designer and environmentalist David Trubridge said the model of multinational corporations was causing climate change, global warming, marginalisation of poor people, species extinction and it all had to stop.
"And it's all for stuff … it's mindless consumption," he said.
He said moving away from multinational corporations would require going local.
"We're shutting out the mass-produced model that is killing the world and hopefully trying to change the hold capitalism has on us," he said.
"The future lies with indigenous thought not with global capitalism."
Scion previously developed a biopolymer, with a local element, to replace Trubridge's use of polycarbonate.
"If you have a local material intrinsic to the thing you're making then it can't be copied. It's like a local signature."
Taonga heals land and people
Harakeke (flax) and muka, the fibre extracted from harakeke, were the focus of most of the other speakers at the symposium.
Utakura 7 Incorporation chair Tamalene Painting (Ngāpuhi) said the trust had partnered with Scion and the Ministry of Primary Industries to restore wellness to their Northland whenua.
She said the trust wanted to introduce more taonga species with rongoā (medicinal) benefits, and timber to reinstate biodiversity.
"Reinstating that taonga is going to involve our community and by involving our community it's going to create a level of wellness.
"If we heal our whenua and heal our wai we'll heal our people."
Operations manager Simon Tanner said he enjoyed working with Scion and it had opened new opportunities not previously considered. With research ranging from economic models, developing a new nursery, harakeke processing right through to looking at different product and textile opportunities.
In their journey Utakura 7 have overcome hurdles with MPI and working together they have developed a template for future Māori-led research.
"It's a piece of research that's going to help us but also others."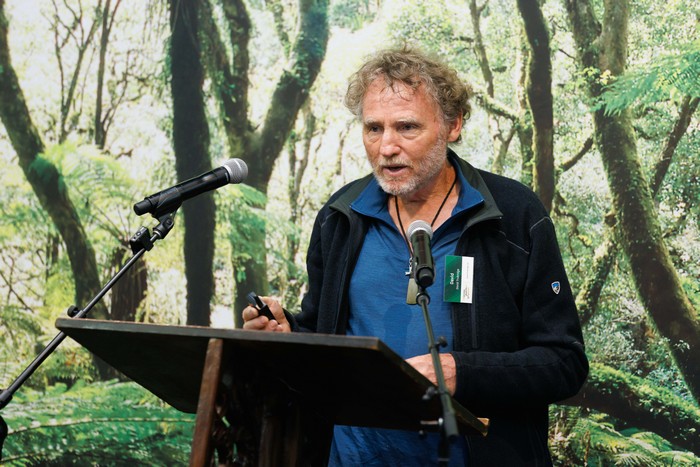 Harakeke textiles
Māori textiles specialist Dr Rangituatahi Te Kanawa (Ngāti Maniapoto) spoke about her work on the Ministry of Business, Innovation and Employment-funded project Te Aho Tapu Hou – a new sacred thread.
The project aims to develop technology and processes to create an industrially spun yarn from muka.
A thread, made with muka, water and no other additives, has been created, but isn't at a commercial scale yet.
Kharl WiRepa, chief executive of KW Fashion, spoke about his work and Scion's assistance turning harakeke into a durable and modern textiles fabric.
He said the goal was for this to be released in 2030 and a Māori spin could be put on a revitalized textiles industry.
Harakeke for the environment
In a government-funded programme, Te Arawa Lakes Trust trialed weed mats (uwhi) weaved in three ways, to control lake weeds.
The uwhi outperformed traditional hessian mats in both condition over time and penetration of weeds.
One year after they were placed in lakes Rotoiti, Tarawera and Rotoma, they are still firm and secure while the hessian mats have disintegrated, trust biosecurity operations manager William Anaru (Te Arawa) said.
The mats also sheltered taonga such as koura and native aquatic plants.
The project involved over 20 Te Roopu Raranga ki Rotorua weavers across Te Arawa iwi and Ngāti Rangiwewehi also created mats for their own awa.
Representative Karl Leonard said all aspects of the iwi were involved and visited while they were being created to "imbue mauri."
"It wasn't just learning how to weave. It wasn't an economic exercise. It's whanaungatanga and whakapapa at its best."
Roland Kingi (Te Arawa) spoke about research in 1994 with Scion, Landcare NZ and Te Runanga o Ngāti Pikiao into creating a wall using muka as a reinforcing agent in housing.
The research was picked up by the University of Auckland in 2003 and looked at low-cost flax fibre reinforced earth housing.
"All the material that you need to use to build your house should be on your whenua or around your whenua."
Scion wants to continue working together with Māori to grow the conference into an annual Te Ao Māori-led event.