New 'Robo-Kiwi' protecting kiwi from uncontrolled dogs
For immediate release
15 August 2023
A project involving Scion, the National Kiwi Hatchery and students from the University of Canterbury is helping to protect the treasured kiwi from one of their greatest predators in the wild – man's best friend.
A group of four engineering students supervised by Scion have developed a new tool that can be used to support the work carried out by accredited kiwi avoidance trainers to discourage dogs from attacking and killing kiwi in forests, native bush and other areas where kiwi live.
While stoats pose the biggest risk to kiwi chicks, uncontrolled dogs are the biggest threat to adult kiwi, causing about 70% of deaths in the wild. Avoidance training is used to discourage dogs from attacking kiwi in areas where kiwi are present.
Field trials have demonstrated that their new 'Robo-Kiwi', a model kiwi with moving legs propelled along a rail, provokes a stronger response in dogs than traditional training. This allows practitioners to assess the behaviour of dogs when they are put through their paces and ensure a greater proportion of dogs can be successfully trained.
Emma Craig, Kiwi Avoidance Training (KAT) coordinator with Save the Kiwi, is hoping that further trials and final modifications to the prop's design will mean it can be approved by the Department of Conservation (DOC) and KAT Steering Group soon so that it can be rolled out to support training throughout the country.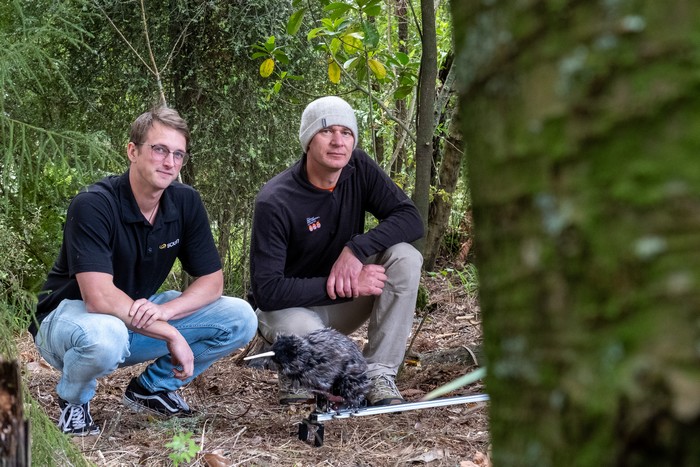 "The prototype has shown enormous potential when we've used it in typical kiwi avoidance training scenarios. Some dogs show little interest in the static props, but we get stronger reactions from dogs when we use the moving prop.
"For them to get trained to avoid kiwi, we have to get the dogs to engage and associate kiwi with an unpleasant experience. That's what this is helping us to achieve."
For many years, a static model of a kiwi has been one of the props used for training, but a small number of dogs don't engage with it. After identifying the need for more life-like kiwi movement for avoidance training, kiwi practitioner Blake Cole and National Kiwi Hatchery manager Emma Bean worked on a project brief and discussed it with Scion towards the end of 2021.
Scion and the Hatchery were already familiar partners after working together on a project to deliver another training aid for kiwi conservation volunteers - 3D printed kiwi legs. These were printed in Scion's 3D printing laboratory, so volunteers involved with conservation projects have a training aid to practice how to successfully place a transmitter and band on a kiwi.
That experience made Scion the obvious choice to partner with again to bring the Robo-Kiwi project to life.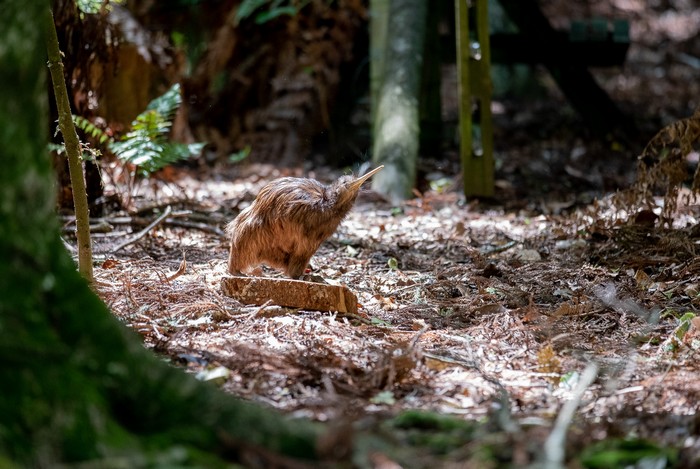 Realistic movement achieved
Specifications and performance expectations for the prop were guided by Hatchery staff. Students Matthew Bloomfield, Joost van Gorp, Josiah Duffield and Samuel Schneider received engineering supervision from Scion scientist Karl Molving and Tim Giffney from the University of Canterbury.
Scion's team lead for additive manufacturing and emerging technologies, Rob Whitton, says contributing to the Hatchery's kiwi conservation efforts was a tremendous privilege.
"The team of students have impressed us and their analytical approach to the problem ensured they ended up with a robust design," says Whitton. "They analysed the movement of kiwi, worked out how they could replicate that in the training aid and overcame various challenges along the way. The students worked hard and achieved a lot in the time they had. It was exciting to work with such a bright and innovative group of people.
"Guide wheels propel the kiwi model along the rail, and a spring gets wound up as you pull it back. The rail sits in the bush with leaves around it and after a remote control releases the catch, the kiwi runs forward, and its feet will pitter patter through the leaves as they would in real life."
The prop has been designed so the rail is lightweight and can be split in two for easy transportation. The kiwi model, using a 3D printed shell, is easily secured to the rail.
After final improvements and testing are completed and the training prop is formally adopted, it's hoped about 50 props will be produced for use by kiwi avoidance trainers around New Zealand.
August 14 marks the start of Conservation Week and this year DOC is asking Aotearoa to take action for nature. DOC's Conservation Dogs Programme Manager Helen Neale says one of the best actions dog owners can take is to avoid areas where kiwi are present as well as keep dogs securely tied up at night when kiwi are active.
"For those dog owners who live in areas where kiwi are present, enrolling their dogs in kiwi avoidance training is another tool to reduce the chance of dogs interacting with our precious kiwi."
Dogs, especially hunting and farm dogs living or working in areas near kiwi, are encouraged to undergo regular training.
About 68,000 kiwi are in New Zealand, but that number declines by 2% every year. Despite the best conservation efforts, 1,400 kiwi die annually and chicks remain incredibly vulnerable, with 95% of all kiwi that hatch in the wild killed by predators before they reach adulthood.
The lives of adult kiwi are equally precarious, with uncontrolled dogs their biggest threat. Even brief canine interactions with kiwi can fatally damage their delicate chests and crush their organs. Kiwi are a long-lived species and they can breed every year, often fledgling two to four chicks annually. Losing the breeders can have a devastating impact on the population.
Where there was evidence dogs killed kiwi, DOC can file charges under the Dog Control Act. The maximum penalty the court can impose is a $20,000 fine or up to three years in jail, and order for the dogs to be destroyed.
ENDS