Forest Health News No. 310 - September 2022
Welcome to Forest Health News
We hope you enjoy our newsletter's new look, delivered in a new format. This is issue number 310 - proof there is always plenty happening in the forest health and biosecurity space. Passionate about the protection of Aotearoa's precious flora, our entomologists and forest pathologists enjoy sharing the latest research and pest management updates to keep you informed. We know you care about the health of our forests as much as we do.
Healthy, resilient forests are needed more than ever as New Zealand tackles climate change. A renewable resource, forests are an essential part of our future as we shift to a low-carbon, circular bioeconomy. Scion's Ecology and Environment team plays a critical role in growing our knowledge about insect pests and pathogens that threaten our forests and the biodiversity they support.
In this issue, we celebrate the achievement of a highly respected science leader, reveal investigations into an orange-coloured parasitoid collected in Australia, and report on the growing global footprint of an invasive eucalyptus pest.
Mighty tree of forest protection honoured
Dr Brian Richardson, a Scion Principal Scientist in pest management, was awarded the New Zealand Plant Protection Medal at the recent 75th New Zealand Plant Protection Society anniversary and conference. Joining the New Zealand Forest Service in 1983, they nurtured his potential, sponsoring him to do a PhD at Oregon State University. Dr Richardson then returned to the NZ Forest Service and has built a distinguished career to date.
His early research in weed/tree competition and dose response models helped define the forest industry's best practice approach to vegetation management and supported the ongoing use of herbicides, essential for cost-effective tree establishment in forestry. More recently, his expertise in pesticide application has been used to generate guidelines for effective aerial spraying for eradication of wilding conifers. These guidelines are now used nationally by the Wilding Conifer Control Programme to underpin good practice. Dr Richardson's expertise has facilitated development of internationally recognised spray drift models (such as AGDISP), now used widely in the science and regulatory community to underpin assessment of risk during pesticide.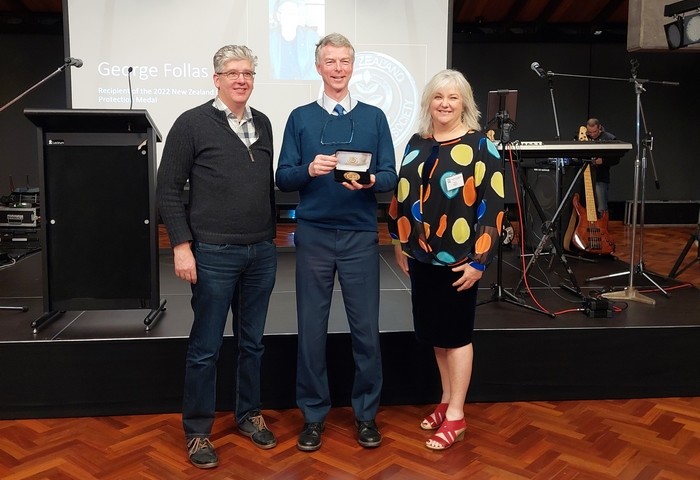 More than just plants, he leant his expertise to the Painted Apple Moth eradication, and the Brown Marmorated Stink Bug technical advisory group. He also played a primary role in establishing the Stakeholders in Methyl Bromide Reduction Group and the Forest Biosecurity Council; and serving as a board member on many research programmes (Better Border Biosecurity, BioProtection Research Centre and Frontline Biosecurity).
Dr Richardson also used his outstanding leadership skills at Scion (various Programme Manager and General Manager roles) to mentor and support young scientists, to propel them into science careers in Forest Protection. Many of these are now exemplary leaders across the plant protection space, in science, government and industry. This is an outcome of dedicated commitment to helping others to write complex funding proposals, undertake difficult analyses or overcome conceptual challenges to publish excellent papers.
While Brian has recently taken the opportunity to work with Forest Growers Research to lead a nationally significant precision silviculture program aimed at accelerating New Zealand forestry into the future. Yet, Brian maintains his principal scientist role at Scion, at reduced time capacity, to continue his outstanding leadership and mentorship in forestry science.
Toni Withers & Justin Nairn (Scion)
Offspring of Eadya duncan
When Scion entomologists noticed an orange-coloured imposter in the midst of their parasitoid colony, they were initially worried. However, the finding had a silver lining once taxonomists Dr Carl Wardhaugh and Mr Ryan Ridenbaugh had their hands on, and identified, the two lookalikes. Two female Eadya duncan had been accidentally collected by contractors and imported to Scion's Rotorua containment facility from Tasmania. While the target species for import was E. daenerys, permission to hold them was possible under Scion's EPA permit, which covers all Australian species of Eadya.
One specimen (killed upon arrival), was sent to taxonomist Ryan Ridenbaugh in the USA. A second live female specimen collected from a Forico plantation called Dunns, East of Launceston, Tas, was used for experimental purposes. This female parasitized 84 larvae of Paropsis charybdis, the eucalyptus tortoise beetle. The 72 resulting parasitoid pupae were given permission from MPI to be maintained and reared for our scientific knowledge.
Two E. duncan adult progeny emerged from the parasitised larvae. The parasitism occurred between 13-23 December 2020. One overwintered female offspring emerged on 29 November 2021, and one male on 4 December 2021, a development time of 11 months, the same duration as E. daenerys. This result confirms P. charybdis is a physiological host for E. duncan, but still does not tell us which paropsine beetle it is targeting in the field in Australia. At the Dunns collection site, Paropsisterna agricola was abundant during collections on 26 November and 3 December 2020. Very little else is known about this parasitoid, previously known from only a single male museum specimen caught in Upper Kangaroo Valley (NSW) on 24 November 1960. That specimen had been identified as just an unknown Eadya species prior to its description. Taxonomic investigations into the Eadya genus had been co-funded by a Scion collaboration with the University of Central Florida, as an important background to the biological control of paropsine pests in New Zealand1.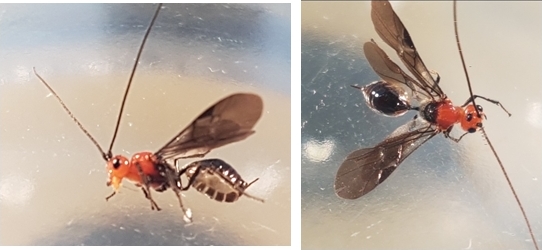 1 Ridenbaugh, R. D., Barbeau, E., & Sharanowski, B. J. (2018). Description of four new species of Eadya (Hymenoptera, Braconidae), parasitoids of the Eucalyptus Tortoise Beetle (Paropsis charybdis) and other Eucalyptus defoliating leaf beetles. Journal of Hymenoptera Research, 64, 141.
Toni Withers (Scion)
International spread of eucalyptus pest
The eucalyptus pest Trachymela sloanei, a leaf feeding beetle native to Australia, has continued its march around the globe. Present in New Zealand since the 1970's, where it is an occasional outbreak pest species, and also present in the USA, China, Spain, and South Africa, it is now established in Chile1
1Villablanca, J., & Villablanca-Miranda, V. (2022). Primer registro de Trachymela sloanei (Blackburn, 1897) (Coleoptera: Chrysomelidae) en Chile. Revista Chilena De Entomología, 48(3), 525-529.
Andrew Pugh (Scion)
---
Newsletter of the Scion Ecology and Environment team. Edited by Andrew Pugh and Darryl Herron, Scion. Contact: Andrew Pugh