Scion's international and national reach is wide and deep. Through multi-disciplinary collaborations and networks our scientists are at the forefront of the latest thinking, novel approaches and technological advances. Maintaining and building on these linkages is critical for Scion to remain innovative and competitive in the domestic and global markets. Our presence and influence in key networks is well recognised as shown in the examples below.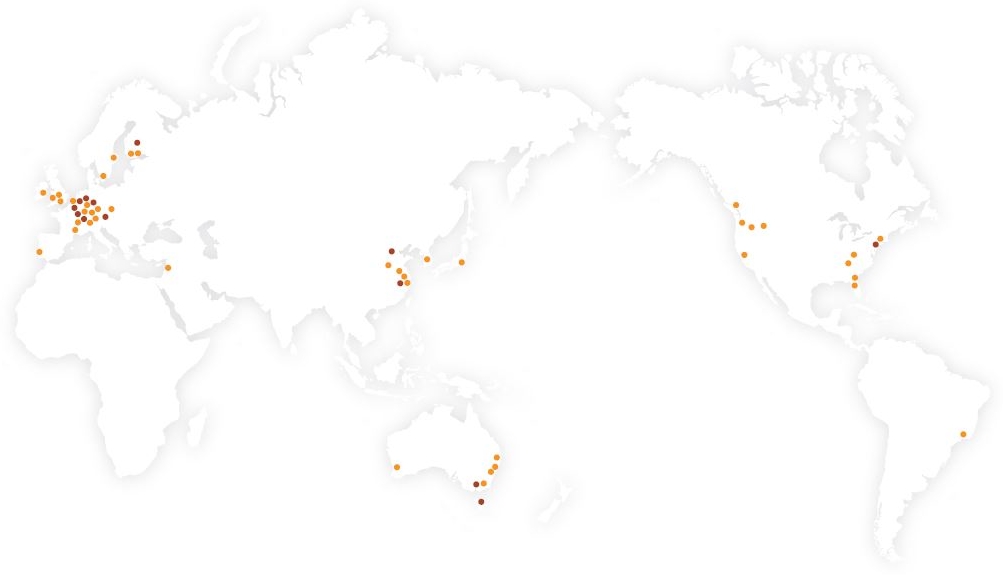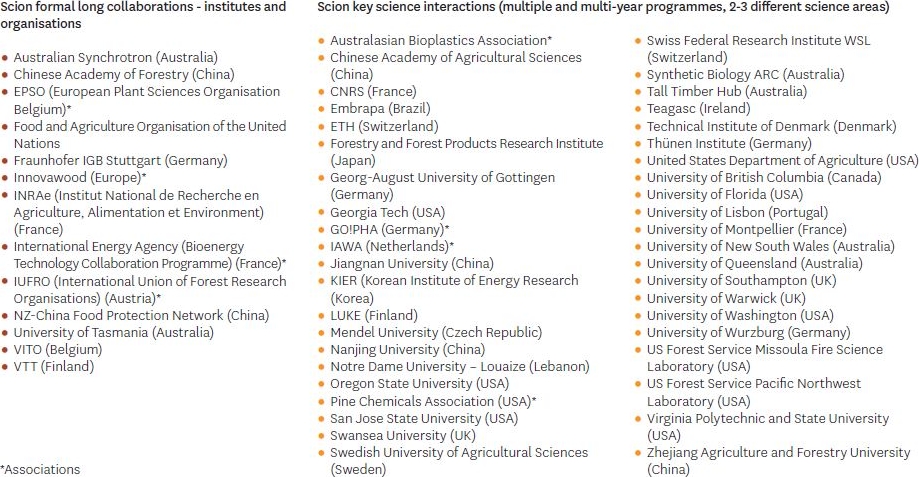 PlantEd (COST)
Scion's membership of the European Plant Sciences Organisation (EPSO) enabled participation in a pan-European Cooperation in Science and Technology (COST) action called PlantEd "Plant genome editing – a technology with transformative potential". We are part of a working group contributing to the ongoing discourse on the regulatory frameworks in the European Union and other relevant countries, their potential applicability for plant genome editing, and providing future-oriented solutions if necessary.
Policy in the gene editing space is moving very quickly, and the working group has submitted to the European Commission on the importance of legal shifts to enable gene editing in Europe. The commission is currently re-evaluating its position on gene editing and new breeding technologies.
Georgia Tech
Scion collaborated with Georgia Institute of Technology (Georgia Tech) in the United States to develop two different engineering projects.
One project was the G2RT project (Generation 2 Reinvented Toilet, funded by the Bill & Melinda Gates Foundation) where Georgia Tech led joint activities. Together we shaped the thinking around hydrothermal processing (the basis of one of the toilet processes), overall process integration and detailed characterisation of toilet inputs for the overall design specification.
The second project was to develop the experimental fluidics system for sorting somatic embryos of radiata pine and the first generation of customised temporary immersion bioreactors with the gas phase control. This technology development is part of the 21st Century Tissue Culture partnership programme with the forest growing industry that aims to speed up reproduction of tree breeds.
Relationships with Japan
Scion interacts with several Japanese companies as well as government entities through both global bioeconomy activities and strategic interactions with specific Japanese-owned companies in both countries.
The Japan New Zealand Business Council invited Scion to present at its annual conference "Pathways to Progress" on 'Forests and the bioeconomy' in the infrastructure and investment plenary session.
The conference was held last September in Kashiwa-no-ha. A 'smart city', Kashiwa-no-ha was an ideal venue with its emphasis on the environment, healthy living, creativity and communications.
The Business Council extended a second invitation to be one of seven speakers at the Japan Chamber of Commerce and Industry (JCCI) trade mission to New Zealand and Australia, which was a one-day event in Wellington, February 2020. The topic again was 'Forests and the bioeconomy', with around 80 Japanese members of the mission attending.
VITO collaboration
Scion and VITO (Flemish Institute for Technological Research in Belgium) signed the second five-year term of their formal collaboration agreement. The collaboration includes joint funding of postdoctoral fellows, a focus on biomass processing (especially lignin and hemicellulose), joint research on renewable and recyclable materials (with an emphasis on plastics and biopolymers) and scale-up of these technologies. In addition, Scion was invited to sit on the board of a scale-up VITO biopilot plant for lignin.
Biosecurity excellence in port communities
A collaborative project pioneering a field of biology, biodiversity and ecology in industrial areas (ports) is now well underway and helping to develop new surveillance and monitoring tools for these high-risk areas.
The five-year Better Border Biosecurity (B3) project Biosecurity Excellence in Port Communities - jointly led by Scion and AgResearch - has completed its third year and is focused on two goals: to develop and implement better ways to understand, measure and influence biosecurity awareness in port communities, and understand the constraints and opportunities to better target pathway interventions, surveillance and eradication practices in and around port environments.
The project's work is taking place at the Port of Tauranga where Scion researcher Dr Carl Wardhaugh has collected 253,582 invertebrates using a range of trapping methods.
The collection tested the effectiveness of eight invertebrate trap designs that will help inform the development of surveillance programmes to sample invertebrates at seaports and other high-risk points of entry.
The key questions answered so far through this work are: which traps, or combination of traps, collect the broadest spectrum of beetle species, (used as a proxy for some invertebrates) and what trapping intensity is needed to confidently sample most species in the area, including rare species.
Carl's findings indicate continuous or regular trapping as new species were collected throughout the year and light traps performed best in collecting a broad range of species. Pitfall traps were able to provide ground-based species sampling and are especially good at capturing high-risk groups such as ants.
Scion is a science partner in the B3 collaboration along with Plant & Food Research, AgResearch, Manaaki Whenua and the Bio-Protection Research Centre. End-user organisations are the Ministry for Primary Industries, Department of Conservation, the Environmental Protection Authority and the horticultural, cropping, forestry and pastoral sectors.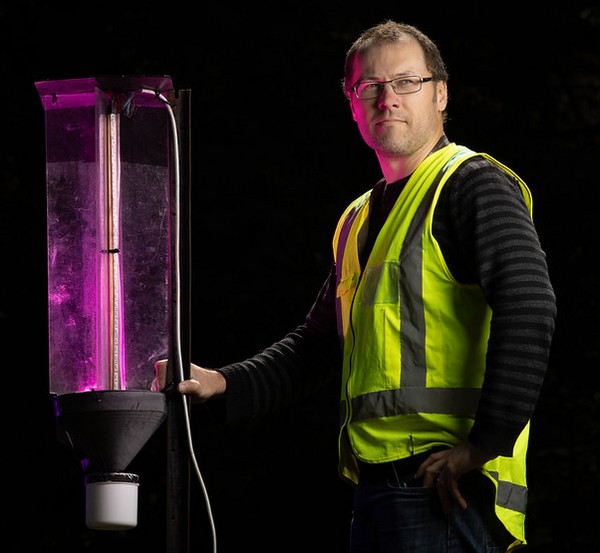 Scion joins XLabs
Helping organisations go circular is the intent of New Zealand's first circular economy lab, an initiative of Circularity in partnership with Auckland Tourism, Events and Economic Development (ATEED).
The strength of the highly collaborative XLabs programme is that it has been designed by circular economy practitioners and engages experts to mentor businesses making the shift. Scion's Dr Florian Graichen was invited to participate as an expert panelist.
The programme comprises a series of weekly workshops, and Scion material scientists Dr Dawn Smith and Marc Gaugler presented during the 'How might we grow our World' themed workshop day. They helped participants to understand how innovative materials such as bioplastics can fit into the circular bioeconomy. Their intent was to spark thoughts and ideas and get attendees excited about new possibilities, rather than offering solutions at this early stage.
"It was a positive experience," says Dawn. "The audience was very engaged and had a lot of questions – sometimes hard questions. It was great to be able to engage with different groups who described their own journey to change their businesses to operate in a circular manner."
Scion has embraced circular bioeconomy thinking in New Zealand for some time and built up deep technical knowledge and established domestic and international networks that are invaluable in helping to fast-track industry initiatives. Our involvement in the inaugural XLabs was a great way to help connect New Zealand companies with partners that can help to realise their initiatives.
Scion joins XLabs – New Zealand's first circular economy lab