Forest Growers Research Science Awards (October 2019)
Communication and Sector Engagement - Dr Amanda Matson. Amanda's skill set includes a great ability to communicate the research she's doing on what's going on under the ground in a pine forest, particularly the movement of soil nutrients.
Innovation that Enhances Sector Value - Dr Graham Coker. Graham's study is using foliar fertiliser applications to see what works to enhance tree growth and when it's best to apply those nutrients.
Collaboration to a Science Team - Loretta Garrett. Lorretta is the scientist everyone wants on their team according to her colleagues. Her work has varied from productivity trials to measuring nitrogen transfer in forest soils.
Young Scientist - Dr Stuart Fraser. Stuart is a recent recruit to working in New Zealand to combat forest tree diseases, such as the threat of myrtle rust and Dothistroma needle blight.
Science of International Quality - The Phenotyping Team from Scion and the University of Canterbury School of Forestry. This large team has been pulling together diverse science areas – such as genetics, remote sensing, computer modelling – to make huge world leading gains in finding, identifying, analysing and using the genetics of individual super-trees in Timberlands and Lake Taupo forests.
New Zealand Biosecurity Awards (November 2019)
These awards recognise and celebrate outstanding contributions to protecting our country. Scion staff were part of the Myrtle Rust Research Consortium, which won the Bio-Protection Research Centre Science Award for its integrated and rapid response to myrtle rust.
Science New Zealand National Awards (November 2019)
Dr Brian Richardson was acknowledged with a Lifetime Achievement Award for a career in biosecurity research.
Brian has made many significant contributions both domestically and internationally to biosecurity research as well as pest-, vegetation- and sustainable forest-management. He has established extensive collaboration networks, including the USDA Forest Service where he received a technology transfer award for his research on spray modelling software, used to determine pesticide drift and efficacy.
Dr Roya Rezanavaz won an Early Career Researcher Award for her leadership on a project working with Kai Rotorua and Rotorua Boys High School.
Excited by the possibilities of additive manufacturing (3D printing) and plant-based bioplastics led an Unlocking Curious Minds project with kūmara at its heart. The project provided students with a practical way of engaging in science and technology using their own cultural heritage and bridging western science and mātauranga Māori. Through creating and 3D-printing models of kūmara they harvested, the students connected their ancestors, traditional agriculture and science.
The Team Award was bestowed on Scion's Extrusion Plus Team, who developed a technology platform to convert biomass from primary industries into renewable natural materials to replace fossil fuel-based ingredients.
Low-value biomass, such as sander dust, kiwifruit hair and skin, seashells, grape marc or bark were compounded with biobased polymers to create biocomposites than can be extruded or reshaped into a new form for use in further manufacturing, such as injection moulding. A big advantage of the technology is its versatility. Extrusion and additive manufacturing (3D printing), lend themselves to both using biomaterials and possibilities for mobile, distributed manufacturing.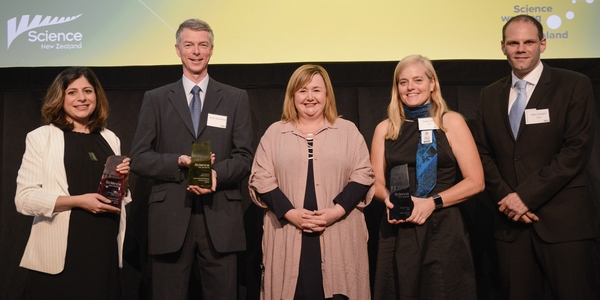 Packaging Innovation and Design Awards (May 2020)
Dr Kelly Wade won the Young Packaging Professional of the Year Award at the 2020 Australasian Packaging Innovation Design Awards.
Kelly is a materials scientist from Scion's packaging research team and was nominated for his work on biomimicry and nature-inspired sustainable packaging solutions. Using his knowledge of biomaterials, he is exploring biomimetic solutions to redesign and strengthen corrugated board boxes before they start to fail. This is valuable work given box failures in supply chains cost New Zealand and international companies billions of dollars in damaged goods.
Read more: Scion scientist named Australasian Young Packaging Professional of the Year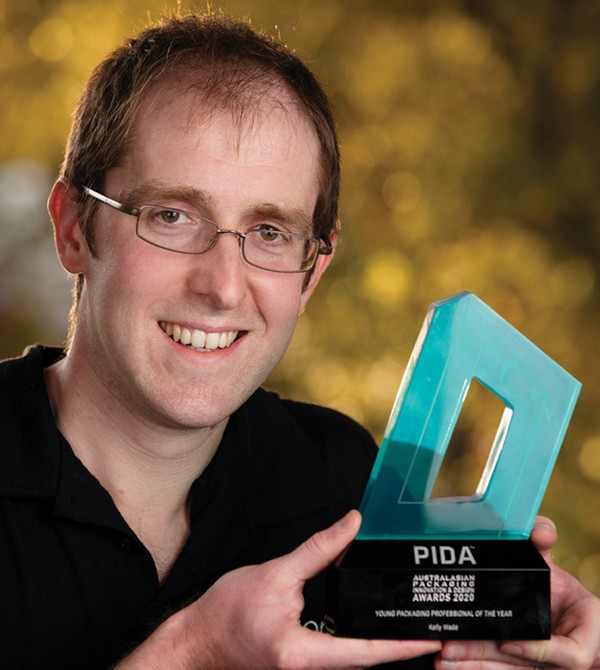 2019 Scion Employee Recognition Awards
New Zealand Individual/Lifetime Achievement Award - Dr Brian Richardson
New Zealand Science Team Award - Extrusion Plus Team: Dr Dawn Smith, Marc Gaugler, Dr Marie Joo Le Guen, Ross Anderson, Beatrix Theobald, Dr Alankar Vaidya, Stephanie Weal, Eva Gaugler, Dr Yi Chen, Dr Meeta Patel and Dr Roya Rezanavaz.
Early Career Researcher Award - Dr Roya Rezanavaz
Roger Newman Award for Science or Engineering - Dr Tara Strand
Scion Science Individual Achievement Award - Kane Fleet
Recognition for Funding Success Award - Bark Biorefinery Team: Dr Warren Grigsby, Dr Dawn Smith, Dr Stefan Hill, Dr Laura Raymond, Peter Hall and Rob Lei.
Recognition of Publication Success Award - Dr Steve A. Wakelin
Customer Engagement Award - Craig Ford and Paul Keech
Support Excellence Award - IT Team: including Alec Martin, Narissa Tuawhiorangi, Jenny Simpson, Linda Andrews, Wendy Applegate and Sharon Burrell.
Scion Values Award - Jamie Bridson
Health and Safety Award - Christine Dodunski