Growing NZ Indigenous Trees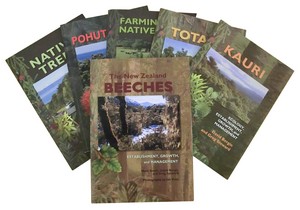 New Zealand beeches are some of our best known and most important native trees, constituting two thirds of the country's remaining native forests.

Although beeches produce high quality functional and decorative wood for a variety of uses, they are not yet managed for wood production due to perceived difficulties in silviculture and processing. However, there is a growing interest in managing them particularly in sustainably-managed forests and in plantations.

Scion scientists Mark Smale, David Bergin and Greg Steward have recently published a comprehensive bulletin on the ecology, establishment and management of beeches for timber production, titled The New Zealand Beeches.

The bulletin is the sixth in a series about New Zealand Indigenous Trees published by Scion. Other titles are: Native Trees; Pohutukawa; Farming with Native Trees; Totara; and Kauri.
Bulletins are available for sale from the Scion Digital Print Centre for $17.39 + GST each.
To purchase copies, contact the Digital Print Centre:
PHONE: 07 343 5711
EMAIL: Show email