WoodScape model presents options for investors
A-grading logs at Red Stag Timber, Rotorua
Investment decisions can be complex, often requiring detailed analyses of a multitude of options.

This is particularly the case in the wood processing industry. The challenge scientists at Scion tackled was designing a practical way to analyse and compare a range of diverse processing options for the industry with a view to potential investment.

The solution was developed in the form of WoodScape, a techno-economic model built by a team of scientists across a range of disciplines.
The team, led by scientist (biofuels and bioenergy) and Technical Leader for the WoodScape project, Peter Hall, and Dr Michael Jack, science leader for Clean Technologies, worked alongside FPInnovations in Canada to adapt their model to one that was robust, versatile and consistent with the New Zealand operating environment. The model can also be expanded to a range of applications and industries outside of wood processing.

WoodScape was developed as a result of the Wood Council of New Zealand's (Woodco) drive to increase export earnings from the country's wood processing industry.

About half of the country's 24 million cubic metre annual harvest of logs is exported unprocessed; a figure set to increase along with the national wood supply. Greater onshore processing will provide a significant boost to the regional and national economy, and is the key driver behind Woodco's strategy to more than double forest and wood product exports to $12 billion by 2022.

"Due to the global financial crisis and associated low housing starts, the wood processing industry in New Zealand has been struggling," says Peter Hall. "On the other hand there seem to be a number of new processing technologies and products that look promising. What we needed to determine was how an investor could go about comparing all possible options and figure out where to focus resources for the future.

"To achieve this, we needed a model that could analyse a broad range of issues and variables. This includes such things as location, feedstock supply, log grade and volume, plant scale, operating costs, regional and national benefit and, of course, market."

The WoodScape study brings together a matrix of performance metrics and presents a range of options for the investor, and the industry, to consider. It draws on data from 39 existing and emerging wood processing technologies to provide an economic and
sensitivity analysis that spans the entire forestry and wood processing value chain.

Central to the model outputs are the return on capital employed, or ROCE, and earnings before interest, tax, depreciation and amortisation (EBITDA). In addition, they incorporate socio-economic measures (employment and GDP) and the sensitivity of these measures to fluctuations in key variables, such as foreign exchange rate, product price, energy or feedstock supply costs. This helps to identify areas of risk and highlights where the largest gains for future research are likely to be achieved.

Factoring in region-specific information about wood quality and volume, the result is a value chain analysis where variables along the supply chain can be explored and potential opportunities identified.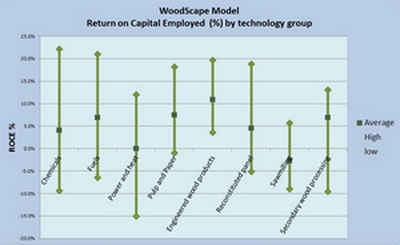 WoodScape model showing an example of Return on Capital Employed (%), or ROCE, by technology group.

"The model and its outputs have undergone rigorous review by industry," says Dr Michael Jack. "It's been used to analyse a broad range of technologies from traditional to emerging, and as diverse as sawmills, panel products, pulp and paper, engineered wood products and biofuel plants."

The emerging technologies analysed with the model have been developed to at least pilot scale to ensure certainty around the variables.

"WoodScape is a valuable tool for investors. They can use it to investigate a particular technology or an investment opportunity, as well as identify those that are region or site specific.

"It will help investors answer the question – are we doing the right thing? And it will also help us, the scientists and the industry, gain better understanding of the industry as a whole and where Scion can generate the greatest impact from research investment."

Scion is currently applying the model across several wood processing businesses and councils in the central North Island to help identify investment and employment opportunities, and in one instance, a better utilisation of a processing residue.

Show email
Can the WoodScape model help you?
Scion is able to use the WoodScape model on behalf of clients, wood processors, investors or other agencies to assess and compare wood processing opportunities, including clusters of complementary technologies, at a site-specific or regional level.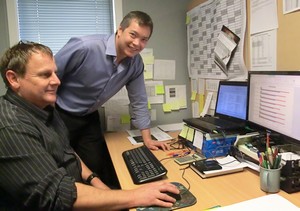 Peter Hall (left) and Dr Michael Jack are project leaders for the WoodScape model, a techno-economic model for analysing wood processing technologies.

Contact: Show email