Seeing what's possible from wood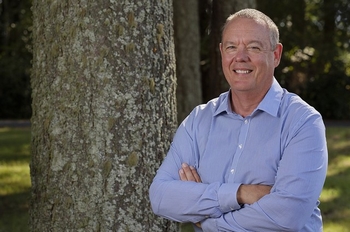 For some time, I have been talking about the huge opportunity in front of New Zealand coming from the world's shift away from petrochemicals and fossil fuels towards a sustainable circular bioeconomy.
I wish there was a clear route towards grabbing this opportunity and setting in motion the incentives, pathways, investment and infrastructure to realise it. Scion estimates this opportunity to be $30 billion per annum in 10 years. Just imagine what that would look like.
Around the country are many examples of innovations driven by passionate people that show we can do this at small scale, and as a nation of small businesses such innovators may provide the waves we need to get a tidal change.
Here at Scion, there is a new wave of visitors coming to see what is possible from wood – a fantastic renewable resource.
When our innovation hub, Te Whare Nui o Tuteata, was officially opened on 31 March guests could see the versatility and beauty of wood as a structural building element, and they could see how wood can be transformed into innovative uses that could become mainstream in a circular bioeconomy.
The attending government Ministers expressed real excitement about what Te Whare Nui o Tuteata demonstrates, with the Prime Minister Jacinda Ardern saying "Te Whare Nui o Tuteata is one of the most striking and unique structures I've seen in a long time, and really shows what's possible with timber. Traditionally in New Zealand, we've built large commercial buildings out of steel and concrete. This building showcases what can be done with trees".
Our knowledge, and now our experience, validates that wooden buildings perform wonderfully. They provide an enjoyable working environment, can be designed to result in low damage from earthquakes and be highly fire resistant, and store carbon for the life of the building. With New Zealand radiata pine forests growing the timber needed for this one building in just 35 minutes, Te Whare Nui o Tuteata is a great example of the future of sustainable buildings.
From my observations, the 'wow' factor is felt by all who enter its doors, take in the unique diagrid frame then look up the triple height atrium that leads to the custom-designed wooden ceiling. It's quite something - inspired by the structure of the radiata pine genome with lighting reflecting the Matariki night sky. To one side of the ground floor is a small, but fascinating interactive exhibition (about the clever work Scion and partners do) that captivates visitors, and on the other side of the floor is a public café that encourages people to linger and enjoy the experience of being in a building where wood is the hero.
I'm a fan of wood, trees and forests because they offer so much for New Zealanders' well-being in many ways. I'm constantly surprised that the potential of forests to transform our economy is not recognised. We, at Scion, are helping to broaden thinking, expand horizons and turn aspirations into reality. As my colleagues and I embark on our 'pathways to impact' work to implement our Strategy 2030 we aim to bring many along with us on this journey.
Creating economic, environmental and social prosperity from New Zealand's forestry, wood products and woodderived materials and other biomaterials is Scion's reason for being. We are committed to enabling our core purpose outcomes for New Zealand that will result in a vibrant mosaic across our regional landscapes and find innovative use of resources in ways that are both renewable and recyclable. As champions of a circular bioeconomy for New Zealand we will continue to chase the $30 billion opportunity and help New Zealand meet its climate change targets and "build back better".