Steve Riley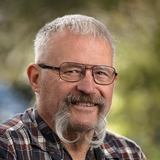 Contact
Phone:

+64 7 343 5796

Email:

Show email

Team:

Materials, Engineering and Manufacturing

Role:

Scientist, Process Development
About
Steve Riley leads the wood drying programme at Scion. This research, conducted in partnership with the wood processing industry, has significant impact on the value and performance of sawn timber from radiata pine.
Qualifications
BSc (Physics , Pure Mathematics) University of Sydney, Australia -1974
Research capabilities
Kiln design, Moisture sensing, Wood technology consulting and tech transfer, Wood science, Wood-water relationships, Kiln emissions, Veneer drying.
Career highlights
Manager of ensis Multiclient Drying Group 2002-2007. This group 100% industry funded undertook practical projects elected by members. This required conceiving, implementing and reporting technical studies every 6 months.
Leading a team of 8 researchers investigating all aspect of drying, from fundamental research into wood water relationships and material behaviour, to technical transfer to solve day to day industrial problems
Founding member of the team that developed and miantained Dryspec , a leading edge kiln drying control system widely used in the southern hemisphere
Patents in the area of sensing spatially distributed moisture using microwaves
Selected papers
Assessment of air emissions from industrial kiln drying of Pinus radiata wood- Holz als Roh- und Werkstoff 60 (2002) 181–190.

Liquid condensate emissions from kilns drying radiate pine- Proceeding IUFRO 8th International Wood Drying Conference 2003.

Microwave method for measurement of moisture content variation in stacked lumber" 5th ISEMA 2003 Conference Proceedings.

Quantitative method for assessing kiln brown stain in radiata pine- Proceeding IUFRO 9th International Wood Drying Conference 2005.