Back to our roots: Visiting the original home of Pinus radiata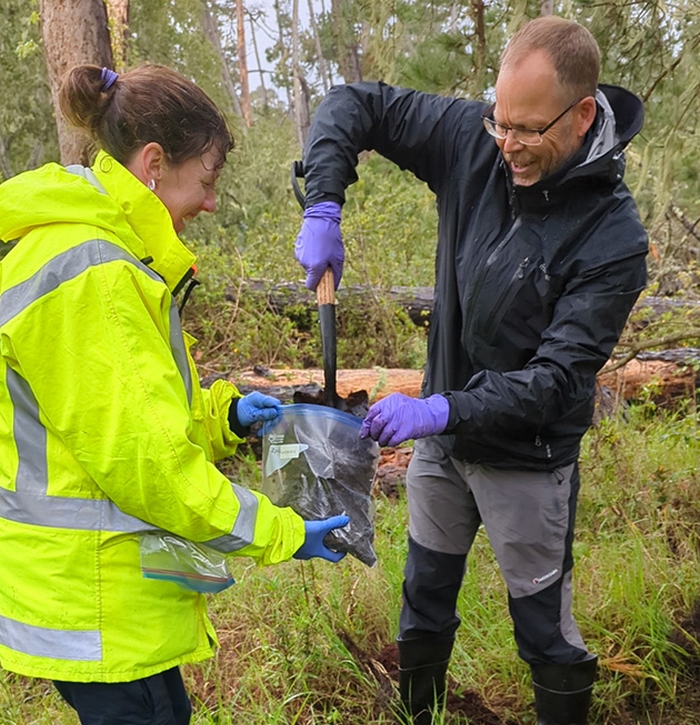 Getting down and dirty in California, Scion researchers have completed a trip sampling soil from Pinus radiata in parts of its native range – all in a bid to answer some important questions.
The relationship between trees, their root microbiomes, and the environment directly influences their health, productivity and resilience to climate change.
While a lot is known about the genetics of pine trees, scientists are still discovering how influential their soil microbiome is and what role it plays in helping forests thrive.
The five-year Scion-led Tree Root Microbiome Programme is on a fact-finding mission to learn more. By taking soil samples from pine trees around the world, they hope to better understand the microbial properties that exist underground to support their growth and overall health.
Discovering what they have in common and what may be different between countries and individual sites will build knowledge around how to best support pine forests with an optimal microbiome, which is particularly helpful at sites where they are endangered or performing poorly.
Pinus radiata, also called Monterey pine, is endemic in the United States and Mexico. For millions of years pine trees have been sustained by its native soils, however, this species is now endangered in its home range due to pests, diseases and wildfires.
In contrast, radiata pine in New Zealand is an introduced species and now makes up 90% of our planted forests. Only a small proportion of the genetic material available was introduced when it arrived here. These pine trees currently thrive in New Zealand soils, and understanding why is important to their long-term survival, especially in the face of climate change.
In March, Scion scientists visited the United States to collect soils from Pinus radiata in California. The trip was a success with sampling carried out across the western seaboard in Año Nuevo, Monterey (hence Monterey pine), and Cambria.
In collaboration with the Rúa laboratory at Wright State University in Ohio, the soil samples were processed and DNA extracted to identify what microbes make up the tree microbiome in sampled locations. Soil samples were also sent to collaborators at Woodwell Climate Research Centre to understand the differences in soil properties.
Scion lead scientist on the Tree Root Microbiome Programme, Dr Steve A. Wakelin, says the aim is to understand the role that microorganisms on and in plants have on influencing ecosystem outcomes.
"Whether this is plant disease, nutrition, carbon storage, biodiversity, or productivity, microbes have an important role to play.
"The Human Microbiome Project revealed how vitally important gut microbes and function are to human health. Now where the gut has gone, soil will follow."
Sampling of soils from the roots of Pinus radiata in New Zealand got underway in early 2022. With support from local companies, sampling is also being carried out in Australia to understand how the microbiome has helped Pinus radiata flourish under different climatic conditions across the Tasman.
Scion molecular ecologist and PhD candidate within the programme, Sarah Addison says microbes co-evolved with Pinus radiata roots, and they've always existed. "Our challenge is that we just don't know enough about them, and we need to change that.
"The microbiome represents a way for plants to expand their natural capabilities, using the microbes to adapt to changing environments more quickly than the plant alone can. This will allow trees to grow and thrive in conditions beyond their natural ranges, hopefully extending their survival in the face of climate change."
Paul Adams, research and development director at Forest Growers Research, shares his thoughts on this research. "Improving our understanding of how microbes have evolved with Pinus radiata roots is fascinating and exciting. It feels like a new frontier. The application of this science could lead to improvements in drought tolerance, wood quality and disease resistance in our key plantation forestry species in New Zealand."
The Tree Root Microbiome Research Programme is jointly funded by the MBIE Endeavour Fund and Forest Growers Levy Trust. It is a partnership between Scion, Western Sydney University, Wright State University, Victoria University of Wellington, Woodwell Climate Research Centre, the Australian Plant Phenomics Facility and Lincoln University.