Ligate™ bioadhesives from 100% renewable resources
Scion's Ligate™ bioadhesives are free of petrochemicals and formaldehyde and made from 100% renewable plant resources including lignin, a by-product of papermaking. Our water-based, non-toxic bioadhesives are compatible with existing adhesive and panelboard manufacturing equipment.
A life cycle analysis has shown MDF made with Ligate has a 22% lower environmental impact over its entire lifecycle compared with conventional adhesives containing petrochemicals.
Listen to the Ligate story so far [RNZ]
Read about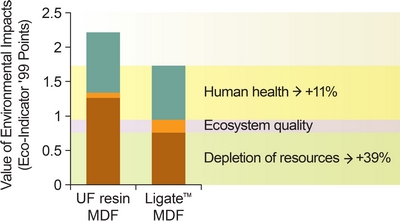 Ligate low emission adhesive for indoor environments
Ligate use in plywood and other wood panel products for interior design applications and furniture will help ensure we live and work in healthy homes and offices. The bioadhesive's composition scavenges formaldehyde from the air contributing to formaldehyde emissions lower than those of natural wood.
Find out more about Ligate [pdf]
Award winning technology
2016 NZBIO Biotechnology of the Year – Winner
Ligate™ technology was awarded 2016 Biotechnology of the Year at NZBIO's annual conference in September. Dr Will Barker, Chief Executive of NZBIO, said "the technology is a game changer for wood panel manufacturers".
2016 NZI Sustainable Business Network Awards – Finalist, Renewable Innovations Category.
2016 NZ Innovators Awards – Finalist, Sustainability & Cleantech category.
Contact
Warren Grigsby, Research Leader, Chemical Synthesis and Design Show email
Rob Lei, Business Development Manager Show email