New barrier coating adds value to packaging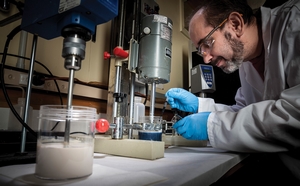 Horticultural exports are worth an estimated $4.7 billion to New Zealand, with a large majority distributed through the chilled supply chain in cardboard boxes. Ensuring these products reach the consumer in good condition is an ongoing challenge for the chilled goods supply chain, where cardboard boxes are exposed to fluctuating humidity. This can cause changes in moisture content and premature failure of the boxes, resulting in costly product loss.

Scion's Packaging Team has developed a new moisture barrier coating designed to increase the lifetime of paperboard in humid conditions. Applied over ink, the coating also provides a high level of gloss that protects package branding and offers good scuff resistance so the visual impact of the product is maintained right through to the end user.

Key to its success is the flexibility of its application. The coating can be applied using an industry-standard flexographic printing press. This enables multiple thin layers to be applied, which reduces both total volume of coating required and the costs incurred. It also provides superior barrier performance with fewer cracks on the coated surface than conventional coatings.

Scion has been researching moisture coatings for paper for many years. The challenge has been to come up with a coating that could work on both a conventional coating line and a flexographic press, due to the fundamental differences between the two technologies.

Conventional moisture coatings normally consist of mineral pigments, such as clay and talc, in a polymer latex. These are traditionally applied in a single, thick layer on packaging coating lines, which are not available in New Zealand. Packaging companies therefore need to maintain a stockpile of imported coated packaging material on hand.

Conversely, flexography is a simple printing method often used to print directly onto packaging such as sacks, bags or boxes. The inks used are very fluid so they can be used to print images and text. A single printed ink layer is much thinner than a barrier coating, and presses are normally equipped with 4-10 inking units making it possible to apply multiple layers at once.

Due to its flexibility of application, Scion's new barrier coating will now make it possible for packaging companies to apply barrier coatings in-house as required, without the need for further investment in costly equipment. It will also mean less product loss and happier customers.

The barrier coating technology has been successfully tested at pilot scale at Karlstad University in Sweden. Scion's investment in an in-house printing press has now made it possible to conduct further trials on site, and test packaging performance in our purpose built coolroom box compression creep facility, which stimulates conditions in the chilled supply chain.

Trials run recently on two commercial flexographic presses in New Zealand have confirmed that Scion's formulation can be applied without damaging commercial equipment. The first trial was application on to paper and the second more recent trial directly on to corrugated cardboard boxes.

"Scion's new barrier coating was run successfully on a flexographic press and the results were quite promising for a first up trial," says Gerry Lenting, Key Segments Manager at Carter Holt Harvey. "We would expect performance improvements to be achieved with further trials as the interaction between the coating, the application machinery and the substrate being coated is better understood."

This research opens up further opportunities for packaging manufacturers who have an in-house printing press to add value to their packaging. For a $4.7 billion industry, even small savings in product loss through less box failure will amount to a considerable saving for the industry.
Collaborators / Partners: CHH
Investment: Scion Core
Short url: www.scionresearch.com/ar15newbarriercoating