Chair and Chief Executive review
Excellent science solutions for customers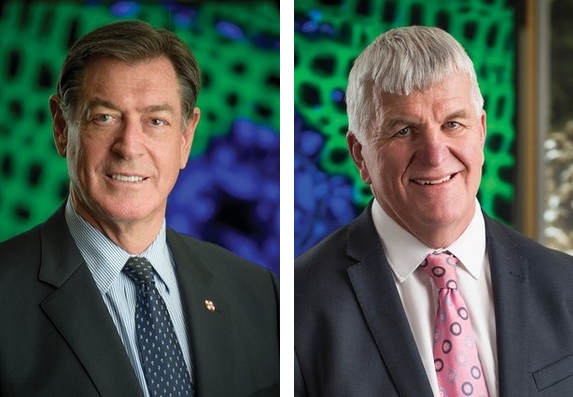 Tony Nowell CNZM, Chair and Warren Parker, CEO
We are pleased to report Scion's high impact science and solid financial performance over the past 12 months.

Our science and financial success is founded on our high-quality relationships with customers, iwi partners, industry organisations and government agencies. This success is driven by the commitment of our staff to making the New Zealand forest industry more prosperous and growing a climate smart, internationally competitive bioeconomy.

Our focus on customers and value chains generates a dynamism with users and produces excellent science solutions for them. Some of last year's science highlights illustrate this:
We intensively monitored controlled fires in wilding pines to collect information that will help rural fire fighters understand the behaviour and management of increasing forest fire risk. Our researchers used the Prometheus model to help plan and direct field operations for the teams fighting two major fires in Marlborough.
We developed and commissioned a world-first multi-measurement instrument - 'Discbot' - providing forest growers with the first test services to help better manage wood quality properties and wood fibre characteristics.
We completed first commercial box testing contracts in Scion's unique cyclic humidity coolroom test facility and tested new moisture barrier coatings to help exporters improve the performance of their cardboard boxes in the chilled goods supply chain.
We scaled-up and piloted environmentally-friendly bioadhesives under commercial conditions in two wood processing plants to address growing consumer demand in high-value export markets for wood products made with natural, non-formaldehyde glues.
We commenced a biofuel road map exercise with Air New Zealand, Z Energy, NZ Post, EECA, government agencies and other renewable energy research providers to understand how New Zealand can meet future greenhouse emission reduction targets and how forest-derived bioenergy options could help.
As well, we delivered savings in excess of an estimated $20 million to businesses through our unique science problem-solving capabilities. This commercially sensitive work maintained access to export markets, reduced mill down time and product faults, lowered waste disposal costs and lessened biosecurity threats. The ability of our scientists to solve technical problems in an advanced manufacturing plant one day, and the next day discover globally unique intellectual property in one of our laboratories, is enormously valuable to our customers and New Zealand.

This excellent science is reflected in Scion's H factor indices for our historical works increasing to H=71, three technologies winning national and international awards, and the high science H factor indices of staff joining Scion.

The New Zealand Institute of Forestry named Dr Brian Richardson Forester of the Year. Dr Eckehard Brockerhoff was recognised by the New Zealand Forest Owners Association for the international standing of his science, and he was invited to present his research on sea container risk to the governing body of the International Plant Protection Convention.

Our Te Papa Tipu Māori Plan to develop and deliver research in partnership with Māori is gaining momentum. Iwi are partners in the Specialty Wood Products Partnership Programme. Also, iwi are investing with us to improve the utilisation of their land through both exotic and indigenous trees. The latter includes breeding improved strains of mānuka, realising the commercial potential of tōtara in Northland, restoring the critically endangered white ngutukākā, finding solutions to kauri dieback, developing a native tree nursery in Minginui and assessing how iwi in the Far North and East Coast can aggregate and best use land resources to build sustainable futures and more prosperous livelihoods.

Much work was put into ensuring Scion fully complied with the new Health & Safety at Work Act. An independent review of Scion's governance and management of health and safety confirmed we are operating at best practice and making good progress in developing a safety culture. Areas. The review highlighted areas for further improvement to achieve our goal of 'zero harm'.

We comprehensively reassessed our 10-year development plan for the 114-hectare Rotorua site. Many benefits were identified by co-locating Innovation Centre tenants in the main science and office facilities, consolidating the building footprint and providing better public access to our facilities and our science. Office renovation and construction of the new innovation hub building is scheduled to start in 2017 with cash reserves accumulated for this purpose.

Our cash reserves stood at $11.4 million at year-end having been boosted by the $7.0 million operating cash surplus for 2015/16. Revenue grew 4.8 per cent to $49.6 million (budget $49.3 million) and net profit after tax of $1.8 million (budget $1.6 million) yielded a pre-reinvestment return on equity of 7.8 (budget 7.3) per cent.

These foundations have Scion looking to the future with confidence. We will build on the strengths identified in Scion's Four Year Rolling Review, in which we were commended for our strong organisational position, values-based culture, clear management frameworks and strong external relationships. The reviewers pointed to ways we could mitigate our relatively small size and further grow non-Crown revenues from commercialisation, germplasm development and working with iwi. We acted immediately, and by year-end had completed due diligence and confirmed our strategy and the allocation of investment, developed a Māori Partnership Plan, and were in positive discussions with forest growers on the future development of Pinus radiata germplasm.

Our confidence in Scion's fundamental importance to New Zealand's future wellbeing is drawn also from strong alignment of our strategy to the major global economic drivers shaping the future for forestry, and the building and construction, and biomaterials and advanced manufacturing sectors. The COP21 Paris Climate Agreement will hasten countries to transition to low emissions bioeconomies, and since then carbon prices in New Zealand, an important influence on forest planting, have more than doubled to $18/tonne CO2eq.

Scion is well positioned with its science and technology to capture the full economic potential of a global biobased economy, and we are attracting the interest of world-leading firms and researchers to our work in this area. Our specialist science expertise in biomaterials and biotechnologies continues to strengthen.

Indeed, discussions with our experts were the most common type of technology transfer interaction for Scion stakeholders who took part in the 2016 Scion stakeholder survey commissioned by MBIE. Ninety-four per cent of respondents said they had adopted at least one piece of knowledge or technology as a result of their interactions with us.

Local government work has reconfirmed our analysis that national and local targets for the allocation and quality of freshwater cannot be achieved unless a lot more trees are planted. Establishing an additional 1 million hectares of forest species over the next 15 years would bring multiple benefits for New Zealand. Our 2030 greenhouse gas emissions reduction target will be easier to meet, water quality will improve, biodiversity will increase, more Māori land will be generating wealth, pastoral livestock farmers' nutrient limits will be less onerous, and wood processors will have log supply security to back investment into plant and innovation. Regional jobs would be up, and export earnings would exceed those earned through prior land use.

This outcome will fulfil our vision - Prosperity from trees - and is a key reason why directors, executive and staff are all highly engaged in their work at Scion. We thank everyone who has contributed to another successful year. Special acknowledgements go to Lizzie Chambers for her services to the Board (resigned 31 December 2015); and Steve Sopora and Dr Brian Richardson for their past contributions to the executive team. We are delighted to welcome Dr Jon Ryder (from 1 January 2016) and Steve Wilson (from 1 July 2016) to the Board and Emeritus Professor Alison Stewart as General Manager Forest Science (from 14 January) and Roger Schwarzenbach as General Manager Business Development & Commercialisation (from 1 August 2016).
Tony Nowell CNZM, Chair
Warren Parker, CEO