Publications and technology transfer
Publication of papers in top science journals maintains Scion's international standing and visibility as a leading research institute in our focus areas. The annual weighted average H-index for Scion publications during the year was 71 (54 in 2014-15).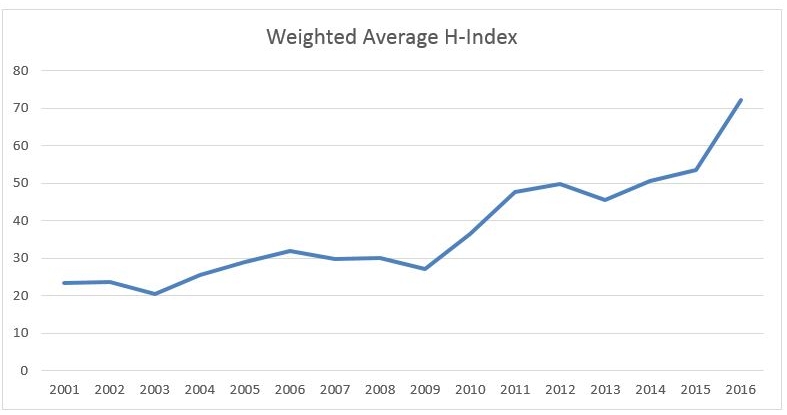 During 2015-16 Scion scientists had 119 papers published in peer reviewed publications. Listed below are the top five papers based on the journal's H-index, which is an international measure of the impact of scholarly publications.

Wingfield, M J, Brockerhoff, E G, Wingfield, B D, Slippers, B. (2015). Planted forest health: The need for a global strategy. Science, 349, 832-836.

Greening, C, Carere, C, Rushton-Green, R, Harold, L K, Hards, K, Taylor, M C, Morales, S. E, Stott, M B, Cook, G M. (2015). Persistence of the dominant soil phylum Acidobacteria by trace gas scavenging. Proceedings of the National Academy of Sciences of the United States 112(33), 10497-10502.

Prince-Pike, A, Wilson, D, Baroutian, S, Andrews, J P, Gapes, D J. (2015). A kinetic model of municipal sludge degradation during non-catalytic wet oxidation. Water Research 87, 225-236.

Baroutian, S, Gapes, D J, Sarmah, A K, Farid, M. J, Young, B. (2016). Formation and degradation of valuable intermediate products during wet oxidation of municipal sludge. Bioresource Technology, 205, 280-285.

Vaidya, A A, Donaldson, L A, Newman, R H, Suckling, I D, Campion, S H, Lloyd, J A, Murton, K D. (2016). Macromorphological changes and mechanism associated with wet ball milling of Pinus radiata substrate and its consequence on saccharification at low enzyme loading. Bioresource Technology, 214, 132-137.


Technology transfer
Forest grower information portal launched
Scion and a software developer were contracted to develop the Planted Forests Portal as a gateway for information on all aspects of New Zealand's planted forests – economic, environmental and social. The portal was launched at the NZ National Agricultural Fieldays 2016 by Associate Minister for Primary Industries Hon. Jo Goodhew. Development of the portal involved MPI, NZFOA and FFA. It will help people better understand the forest sector's performance and sustainability, and draws on a range of publicly available information sources.

http://www.nzplantedforests.org


MapNet 2015
Scion's Genetics Team hosted MapNet 2015 in October. This molecular genetics conference was a great success with over 70 delegates, making it one of MapNet's larger meetings. Initiated in 2005, MapNet is a collective of New Zealand-based researchers involved in gene mapping, which aims to foster the development of multidisciplinary and cross-sector research teams. Organisations represented include the University of Otago, AgResearch, Scion, Plant and Food Research, ViaLactia BioSciences, Livestock Improvement Corporation, and the University of Auckland, encompassing nearly all the gene mapping research undertaken in New Zealand.


13th Annual NZFOA / MPI Forest Biosecurity Workshop
The annual workshop was held at Scion in February 2016 with close to 80 participants. Opened by Associate Minister for Primary Industries Hon. Jo Goodhew, the two day workshop provided the opportunity for scientists, government representatives and forest growers to discuss issues concerning forest biosecurity and health. The workshop included a review of the work done by the Forest Biosecurity Committee in partnership with MPI to improve forest pest surveillance measures for early detection and eradication. Also, Scion's annual Forest Protection Annual Science Report 2015 was launched there. Participant feedback was very positive, for example:

"Really like the "beyond the forestry sector" keynote talks that gives a different perspective to the industry."
"No suggestions for improvements. Presentations were focused & well prepared."
"Fantastic workshop. Well done."


The Forest Genetics for Productivity Conference
Scion hosted the IUFRO Forest Genetics for Productivity Conference at Rotorua in March 2016. It was the first international conference on tree genetics held in New Zealand for over a decade, and brought together a high calibre of international speakers considered experts in their fields. The five-day conference attracted 109 delegates from 17 countries. It confirmed Scion's international leadership in radiata pine tree breeding and generated several new leads to work with internationally regarded tree breeders/genomics specialists.


Growing Confidence in Forestry's Future Conference
The annual Growing Confidence in Forestry's Future (GCFF) conference and workshops were held in Auckland, in May 2016, attracting about 75 participants from industry, government and research organisations. This year's theme was 'management of risk in forestry'. Combating the effects and rising costs of climate change was one of the issues discussed, along with data from Scion's long term productivity trials on wood yield and quality, and tree value; the nutrient balance model; and the use of UAVs to identify superior trees in the forest for DNA sampling.

https://gcff.nz


Forest Ecosystem Services (FES) National Forum
The fifth national forum on forest ecosystem services was held in Wellington, in May 2016, focusing on issues and pathways to implementation. The forum provides a platform for our scientists, government, research organisations and forest industry representatives to share knowledge on current perspectives at a national and international level.

www.youtube.com/watch?v=JKms0W7sMUM

Principal Scientist Dr Eckehard Brockerhoff presented his research on sea container risk to the Commission on Phytosanitary Measures, the governing body of the International Plant Protection Convention (IPPC). The IPPC was set up in 1952 to establish standards for international trade to prevent the spread of diseases and pests. MPI requested and paid for the visit. The meeting took place in Rome, at the United Nations Food and Agriculture Organization, which hosts the IPPC.

Science Leader Clean Technologies Dr Paul Bennett was lead author in the Royal Society New Zealand Climate Change Mitigation Study, and participated in the International Energy Agency review of New Zealand's achievements in bioenergy.

One of Dr Lloyd Donaldson's stunning images taken through the lens of a high powered microscope, was chosen as the cover for the Journal of Microscopy (Volume 259 Issue 3). The journal also included Lloyd's paper "Detection of wood cell wall porosity using small carbohydrate molecules and confocal fluorescence microscopy".

Scion's advanced packaging research capabilities, including our commercial scale packaging coolroom test facility, the WHITE room, drew increasing interest from packaging companies worldwide following last year's TAPPI CorrExpo. The expo is the largest corrugated board expo in the United States. The WHITE room is a purpose-built coolroom designed to test moisture accelerated creep, or deformation, in paperboard packaging.

www.scionresearch.com/general/publications/scion-connections/packaging-more-than-meets-the-eye


3D-printed models help industry trainees
Scion provided four 3D-printed wood samples showing the internal structure of timber to industry, as a visual training tool for new production line staff at sawmills. The aim is to help new recruits learn about timber grains and processing. The samples were printed using microscopic images of radiata pine, which were then converted to 3D computer model drawings for 3D printing. Each sample is about the size of a coaster, and takes at least four hours to produce, depending on the complexity of the image and computer model drawing. Training provider Training Support New Zealand said they are delighted with the samples, as the training course is designed to be practical and hands-on.


Secondments
Dr Heidi Dungey, Science Leader Forest Genetics, was seconded to the Radiata Pine Breeding Company (0.4 FTE). Heidi also visited statistician Brian Cullis, Professor of Biometry at the University of Wollongong in Australia. Initially, she worked on factor analytic techniques to better understand the effects of Genetics x Environment (G x E) in RPBC genotypes. Heidi is also learning new statistical skills for applied research comparing SNP data with phenotypic trait data already measured on trees.

Senior Scientist John Moore took on a 0.4FTE position as Resource Investment Manager with Timberlands Pacific (TPPL), for two years. Timberlands Pacific manage radiata pine estates in Tasmania and South Australia on behalf of New Forests. This opportunity provides deeper understanding of how forest managers use our science in their business, to better understand their issues and potential research needs and to build stronger relationships in Australia.


A selection of workshops and presentations
Dr Florian Graichen was a keynote speaker at Plastics New Zealand 70th annual conference providing an overview of biopolymer developments and trends, and Scion's capabilities in these areas. Florian also presented at the 5th Biobased World 2016: Chemicals and Plastics conference in May at Bangkok, Thailand.

Our biotechnologists presented to forest growers in May at the Forest Genetics 101 workshop. Most participants were open to new genetic technology options being available for trees in the future. Dr Glenn Thorlby also attended the New Zealand containment workshop run by MPI and the Environment Protection Authority in June, to discuss expectations and regulations around gene editing.

Dr Tripti Singh was invited to speak at the 7th Wood Products & Chemicals Conference 2016 in June, at Ho Chi Minh City, Vietnam.

Sandra Velarde was invited to participate in an expert panel on tradeoffs at the Ministry for the Environment Executive Leadership Team. She was also invited to join a knowledge and experience sharing session supporting the development of a TEEB (The Economics of Ecosystems and Biodiversity) for our Oceans and Coasts, and to participate in the workshop 'Building a Social Science Community of Practice for the Sustainable Seas Challenge'. The Economics of Ecosystems and Biodiversity is a global initiative focused on "making nature's values visible" by applying the values of biodiversity and ecosystem services into decision-making at all levels.

Workshops held as part of Scion's Growing Confidence in Forestry's Future programme 2015-16:
The Productivity Enhancement Innovation Cluster met in September, in Rotorua. Presentations included: site, soil and productivity; determining the nutritional limits of productivity; a nutrient decision support system; mid-rotation fertiliser trial; aerial application; and nutrient management using cover crops.
A Soil Sampling in Planted Forests workshop was held at Rotorua in September. This was a practical workshop on how to sample soil in New Zealand's planted forest, and provided a guide to sampling soil in the Permanent Sample Plots across forest estates.
A Product Quality Innovation Cluster meeting was held in Rotorua in November. This included presentations on the future availability of wood; remote sensing to determine resource availability; Resi – a new tool for assessing standing trees; drivers of wood quality; segregation; and the use of discrete event simulation to model the supply chain.
The Sustainability Innovation Cluster "Developing best practice for steepland forestry" field day and workshop were held in Gisborne, in November. About 70 participants discussed issues around mitigating debris flow and sediment; nutrient loss; and risk management.
A LiDAR Phenotyping Innovation Cluster meeting was held in Christchurch in December. This was attended by about 20 participants and included an update on LiDAR providers, technologies and projects; results from recent UAV related projects; and fixed wing smart plane UAV for mapping cutovers.
The site productivity field trip to Puruki in April was well attended by aorund 30 participants. The field trip highlighted some of the benefits of inter-agency collaborative research into forest productivity, tree health, nutrition, tree water use, and stream water quality and quantity; work that has been ongoing since 1968.
Six scientists participated in the 60th Annual Farm Forestry Association Conference held at Hokitika in April. The conference attracted 200 delegates from New Zealand and Australia. The outcomes of various GCFF projects were presented, including the latest work on nutrient balance modelling (NuBalM) and its potential use in riparian management; forest productivity over multiple rotations; and the importance of seedling properties to the establishment of a productive forest stand.
The Forest Genetics 101 workshop, the Phenotyping LiDAR Innovation Cluster meeting and the Phenotyping / Genetics workshop were held in Auckland in May 2016 in conjunction with the annual GCFF conference.