Removing our gates and welcoming the community onto our Rotorua campus through our unique new building heralded the start of a new era for Scion.
Before the doors opened, we were very honoured to be gifted a name for the building from mana whenua in a ceremony on 29 October 2020. The name 'Te Whare Nui o Tuteata' acknowledges Tuteata, the tupuna or ancestor of Ngāti Hurungaterangi, Ngāti Taeotu and Ngāti Te Kahu (Ngā Hapū e Toru).
"The gifting of our tupuna name signifies the beginning of a special relationship between Ngā Hapū e Toru and Scion, and its noteworthy partnership and cultural intent for the future," said hapū representative Veronica Butterworth.

Chief Executive Dr Julian Elder said, "We are honoured that the building has been gifted a name with such mana, and we will continue to uphold the mana of Tuteata by acknowledging the distinctive history of his land and working with his people".
The hapū have been integrated into the design of the building, and the triple peaks over the entry way represent the three hapū.
Te Whare Nui o Tuteata doors opened to the public in January 2021 drawing in many summer holiday visitors.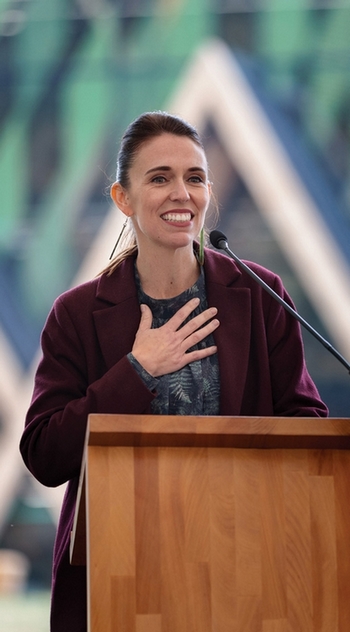 The Prime Minister, Rt Hon Jacinda Ardern officially opened Te Whare Nui o Tuteata on 31 March 2021 accompanied by Minister of Research, Science & Innovation, Hon Dr Megan Woods and 500 guests. Community, innovation and partnerships were celebrated at the event.
Te Whare Nui o Tuteata showcases the latest in engineered timber products and manufacturing techniques within its bold and innovative structural form, while using products that are designed for our climate and meet our preferences for sustainability and environmental performance.
A powerful sustainably message is knowing that New Zealand's radiata pine forests can regrow the amount of timber used in the building in just 35 minutes.
The design creativity and technical innovation evident in Te Whare Nui o Tuteata is being recognised in New Zealand and overseas in architectural and engineering awards.
Open daily, Te Whare Nui o Tuteata comprises an exhibition area, public café, main reception, meeting rooms and work spaces. Upper floors are used by staff, tenants and local enterprises wanting a stimulating, shared working environment. For our 32 tenants within Te Papa Tipu Innovation Park, the building provides an enticing place for their staff and visitors to meet.