For the love of trees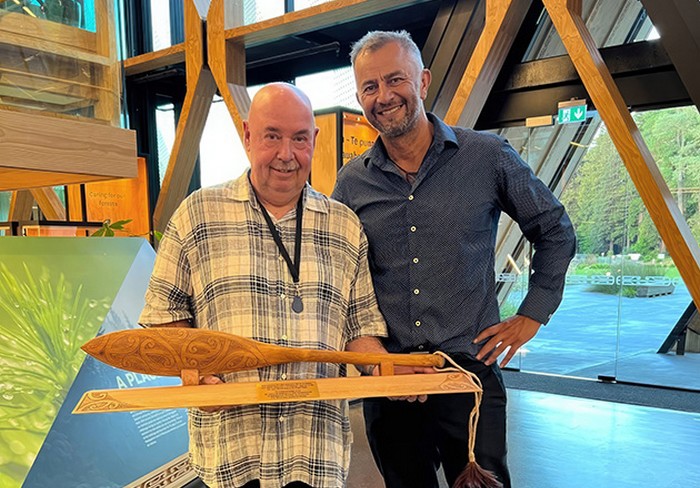 Indigenous forestry researcher Greg Steward reflects on career highlights after nearly 50 years in the field.
Like a mighty tōtara tree that stands tall and strong, Greg Steward has been celebrated for his resilience, endurance and passion for advancing New Zealand's knowledge of indigenous forestry over nearly five decades.
The Scion scientist, who is the first to admit he failed science and left school at 16, was farewelled by dozens of current and former colleagues at a special function at Te Whare Nui o Tuteata in April to mark his retirement – 49 years after joining the New Zealand Forest Service as a trainee woodsman. During the event many people paid tribute to Steward's unrivalled expertise that saw him carve out an extraordinary research career that focused on managing kauri, tōtara and indigenous hardwoods in plantations.
The turnout reflected the standing in which Steward is held as Scion's and possibly New Zealand's longest serving indigenous forestry researcher. His legacy will be built on through the work of other scientists who are now 'picking up the baton' and championing the value of indigenous trees for their economic potential and special timber qualities.
But despite entering retirement, Steward's expertise won't be lost. He has agreed to serve as an Emeritus scientist – a mentoring role that enables him to keep sharing his considerable knowledge.
Scion chief executive Dr Julian Elder made the announcement at Steward's farewell to a round of delighted applause.
"We're so pleased that Greg will be joining our growing cadre of Emeritus researchers who, while officially in a new phase of their lives, continue to serve our science community," he said.
During the farewell, people shared fond recollections of working with Steward in the field and stories of how his research had changed the way people view indigenous forestry in New Zealand.
"Through Greg's research, we've been able to appreciate indigenous trees for reasons other than conservation; to make that difference is amazing," principal scientist Dr Brian Richardson said. "It's remarkable to see how that has benefited our organisation, New Zealand forestry and society."
His research showed that kauri stands aged 20 to 60 years were 20 times more productive than natural stands.
Scientist Dean Meason added that Steward's passion for indigenous trees and for their timber was strongly evident.
"When you spent time with Greg, it was very clear that everyone looked to him for his knowledge. He was hugely admired by iwi and the community wherever he was. The findings of his research trials and papers will benefit us for years to come."
During his career, Steward authored and co-authored papers on indigenous tree species looking at their qualities, and timber production modelling, with specific emphasis on managing kauri, tōtara and indigenous hardwoods for production.
In 2020, his contributions were acknowledged with a Science New Zealand Individual / Lifetime Achievement Award.
His thesis on the growth and yield of New Zealand kauri awarded him with a Master of Forestry Science (Hons) in 2011 and dispelled many myths around the growth potential of plantation kauri. His research showed that kauri stands aged 20 to 60 years were 20 times more productive than natural stands – work that blew the estimated kauri crop rotations of hundreds of years out of the water.
Projects he has both led, and been involved in, have strongly influenced the position that indigenous forestry is now moving towards, as demonstrated in the successful Tōtara Industry Pilot programme in Northland.
Relating to that project, and as a parting gift from Scion, Steward was presented with a carved hoe (paddle) carved from tōtara by Grant Hamarama Smith Marunui (Ngāti Hurungaterangi, Ngāti Te Kahu, Ngāti Rangiteaorere, Ngāti Rongomai, Ngāti Manawa and Ngāti Rangitāne) and Kawana Waititi (Te Whānau-ā-Apanui).
Scion general manager for Te Ao Māori and Science Services Hēmi Rolleston said he was privileged to present the taonga as Steward 'rows off' into his next phase.
"A legend in indigenous forestry, Greg is a rangatira who has been dedicated to his work and is going out on top.
"Like the tōtara, he has weathered storms but stood strong and seen lots of growth around him. Because it so highly valued, tōtara is a symbol of chieftainship and nobility in Māori culture, so it is very fitting that his taonga reflects those special values.
"And just as the tōtara tree provides shelter for all those who seek refuge under its branches, Greg has been a source of comfort and guidance for many people at Scion over the years. It's wonderful that can continue in his new role as an Emeritus scientist."
A legend in indigenous forestry, Greg is a rangatira who has been dedicated to his work and is going out on top. - Hēmi Rolleston
From trainee to scientist
Reflecting on his career, Steward acknowledges the researchers who came before him who were generous in their support, allowing him to grow and take on new responsibilities.
"Almost everybody you come across adds to your store of knowledge, and it's sometimes the people you least expect it from.
"The person I most want to acknowledge is Tony Beveridge who was a very kind and intelligent person – one of those old-fashioned gentlemen. He took me under his wing in my early days.
"He was very respected and knowledgeable about indigenous trees, having worked in Pureroa in the 1950s. But he was always interested in our observations as younger people in the forests as he knew that how we saw things would add to his observations."
Steward grew up in South Auckland and was first exposed to forestry when, at 16, he joined the Woodsman Training School in January 1975. One of 50 trainees in his intake, he learned about silviculture with the idea that after three years, he'd be qualified to supervise forestry silviculture gangs.
His first two years were spent living in a hostel at Kaingaroa and felling trees and cutting logs. He says the worst jobs were planting young trees in the middle of winter or working in the nursery with bare hands during frosty mornings when temperatures plummeted to as low as -4°C.
By contrast, his favourite job occurred during his group's first summer together. "About 30 of us were driven out by bus to the middle of Kaingaroa where there was about 200ha of dry cutover pine forest. We were given litres of diesel, boxes of matches and they told us to set fire to it all.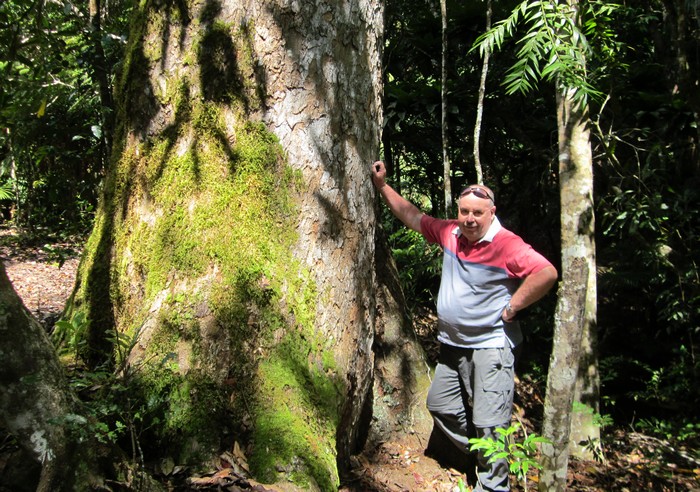 "We looked at each other and thought, 'And we get paid!' It was a teenage boy's dream."
He was one of four trainees who, in their third year, continued their training at what is now Scion. Exposed to different research areas, it was the Indigenous Silviculture research group that impressed Steward the most.
After completing his training he joined the group and worked alongside indigenous forestry scientists in the field. Steward recalls how they'd spend Monday to Friday in forests like Pureroa west of Taupō, living out of huts and sleeping bags, only returning home at weekends.
"We were doing everything from indigenous production forestry research through to identifying reserves and mapping forest types. A lot of logging and planting trials; it was very physical work and I'd never been so fit."
Occasionally, it could even be dangerous work. "We were working in some of the most remote forestry areas of the North Island," he says. "There shouldn't have been anyone else around but occasionally you'd get the odd hunter come through poaching, most often during the roar. We were shot at by certain people who didn't want us there."
Having spent so much time in New Zealand's indigenous forests, studying rimu, mataī, kahikatea and kauri, Steward has mentally mapped the landscape they grow in.
He recalls working in Minginui during selection logging trials when he and a group of science trainees challenged themselves to deliberately get lost in the forest. "It was pointless, we knew those forests so well that after five minutes of walking, we knew exactly where we were."
Even now, Steward can be shown a tree on a computer that has been assessed using LIDAR technology and, due to its shape or the way its trunk swells, he'll know it's exact location.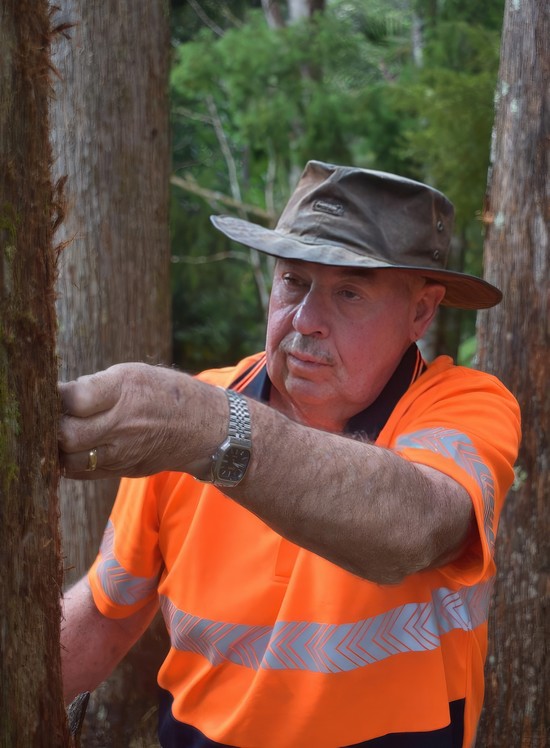 Sharing his knowledge
In becoming an Emeritus scientist, Steward will continue providing support to the next generation of indigenous forest researchers. "As you get to a senior position, you shouldn't become a roadblock to other people coming through with new ideas," he says.
"Ki-Taurangi Bradford in Te Ao Māori at Scion and researchers within David Pont's research group are all showing interest so I'm looking forward to mentoring those who are coming through."
After dedicating his life to his love of New Zealand's indigenous forests – from his first days as a trainee woodsman in Kaingaroa, to being the driving force for indigenous forestry at Scion, Steward is satisfied he's stepping away from the coalface having left enough research for others to build on.
"There's enough stuff out there now to go away quite confident that people should be able to harvest indigenous trees if they get good quality seedlings and look after them, that it's something they can do within their lifetime.
"When I started we were talking in rotations from planting to harvest of about 250 years. We were trying to replicate the old forests because that's what we thought we had to do.
"Then we started to do more intensive research. Now I would say relatively confidently that you can get down to 80 years, and with silviculture and breeding we can probably get down to 50 or 60 years to produce a harvestable tree and a useable product.
"We must unlock the economic potential of these indigenous species. In that way, people become more likely to invest."