NZ Journal of Forestry Science - special supplement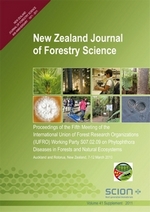 The New Zealand Journal of Forestry Science has a biosecurity focus this year. Volume 41 includes a special supplement that contains papers from the fifth IUFRO Meeting on Phytophthora Diseases in Forests and Natural Ecosystems that was held in New Zealand last year.
Pristine ecosystems and managed forests around the world are at risk from damaging and often fatal diseases caused by Phytophthora species. This threat is increasing as these pathogens spread via the global movement of goods and people through trade and tourism. The papers in this supplement capture all aspects of research on Phytophthora species from mapping new outbreaks to controlling existing infestations.
Individual papers are available at: www.scionresearch.com/nzjfs/volume-41S-Phytophthora-conference-proceedings. A printed copy of the entire volume including the supplement is also available as a one-off purchase.