Planning for rapid change: the new norm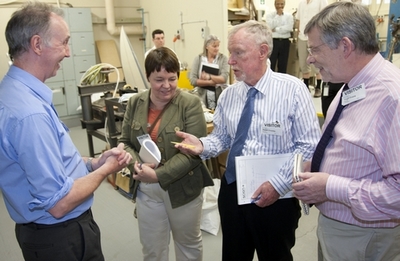 Scion's Dr Alan Fernyhough (at left) discusses bioplastic technologies with Scientific Strategic Advisory Panel members: Christine Hagström-Nasi (Finnish Forestcluster), Professor Ralph Cooney (University of Auckland), Dr Hugh Evans (Forest Research, UK).
Uncertain times call for more, not less planning. Daily media reports leave us in little doubt that we are living in times of unprecedented change and market volatility. There are no signs that this level of tumultuousness will lessen over the next decade.
The scale and speed of economic transformation in China, India and Brazil, even before the effects of the huge public debt of the US and some EU economies, has precipitated a fundamental structural shift in the relativities between economies (in geopolitical influence). Game changing technology, such as the iPad and "big data" computing, and the consolidation of companies to form globally integrated supply chains, are adding impetus to changes in how economies and societies function.
Scion has a big role in helping industry with the challenge of succeeding in this rapidly evolving future. Even though we completely refreshed our strategy earlier this year after drawing on extensive input from forest industry and other key stakeholders, we have just initiated a critical reassessment of this to identify where fine-tuning and refocus is needed. For example, we need to think more about how we enable growth opportunities in Asia and India, regain share in Australia and support a rebound in domestic demand for solid wood in particular.
For the first time we will be aided in this process by our Strategic Advisory Panels. An outcome of the CRI Taskforce reforms, the Panels – one representing science, the other the users of the new knowledge and technology arising from this – will respectively bring an international science and industry perspective to bear on where our science should be headed.
Their advice and our assessment of the strategic landscape will inform where we should adjust the allocation of our core funding, seek new national and international research collaborations and either stop or initiate new research projects. It is therefore both an exciting and a very challenging time!
In preparing for this future we have also recently reshaped our science capability into nine teams. This new structure will build depth and leadership strength in science in areas that we believe are core to the future of the forest industry. This issue of Scion Connections gives a snapshot of the broad range of capabilities that reside within these teams.

Warren Parker
Chief Executive