Packaging – more than meets the eye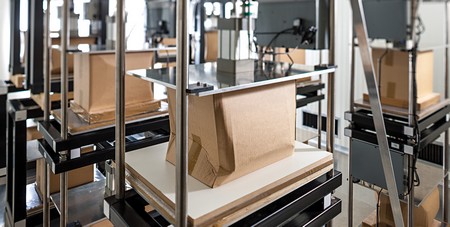 Scion's WHITE room can test up to 25 corrugated boxes under accelerated conditions.
Most consumers are probably unaware of the science and innovation that goes into creating everyday packaging.

"New Zealand's economy relies on exporting billions of dollars' worth of products to distant markets, and packaging plays a huge role in maintaining the value of these exports," says Packaging Research Leader Lou Sherman. "Two percent of all packaging fails. For large companies transporting millions of products to market, that can be costly.
"Scion is developing packaging that can perform better than that. Innovative packaging protects and adds value to a product by reducing the amount lost through damage. It also plays a fundamental role in marketing the product and reinforcing the company brand."

From moisture barrier coatings to biobased films, and now intelligent packing that does its own inventory control, Scion's packaging team is transforming the humble package into a high performance system.

Lightweight and water resistant
"Package failure in the chilled goods supply chain is a big issue," says Lou. "The length of time products are stored in these humid conditions puts moisture barrier performance high on most exporters' wish list of requirements."

"We've developed a high performance moisture barrier that is applied over the top of ink. It also provides a high level of gloss that protects package branding so that the visual impact of a product is maintained right through to the end user."

Key to the technology's success, explains Lou, is that the coating is applied using the industry-standard flexo printing process, which means it can be applied in-house without the need for pre-coated material to be kept in stock.

"Multiple thin layers of coating are applied, which reduces both the total volume of coating used, and the costs involved. This technology helps to lightweight packaging. Less paper is used because the packaging is more moisture resistant, and therefore less waste is generated. And, the packaging is still fully recyclable. Our barrier coating technology could potentially save costs throughout each step of the chilled supply chain."

Testing the creep factor
One of the major causes of box failure is moisture accelerated creep, or deformation over time.

Scion's WHITE room - an acronym for weight, humidity intervals, temperature and experiments - is a purpose-built coolroom designed to test exactly that. The facility accurately cycles relative humidity between 50% and 90% while maintaining a constant temperature. It's designed to measure how long a box will last under accelerated conditions, at what point it will collapse and how much load it can withstand.

"We can test up to 25 corrugated boxes at once using testers that apply constant loads," says Project Leader Dr Saad Hussain. "This facility has helped us to understand more about the humidity cycling parameters along the supply chain, so we can determine how a product will hold up a year from now by conducting tests over a two to three week period."

Saad says the WHITE room is quite possibly the only independent facility of this size in the world, which is why it's been running back to back experiments since it opened.

"There was a lot of interest shown in our packaging research capabilities at last year's TAPPI CorrExpo, which is the largest corrugated board expo in the United States. Since then, we have had leading American and Swedish packaging companies seek us out, and we have undertaken some collaborative projects with European companies.

"We are now focusing on reinforcing the importance of moisture accelerated creep testing. The pulp and paper industry is a long-standing one that relies on a range of traditional tests, but these tests do not allow for the dynamic environmental conditions seen in real supply chains.

"Consumers expect to have a product, often from overseas, arrive in top condition. We also expect more from a box – pallets are double stacked, the materials are lighter and there is a higher demand for products. Moisture accelerated creep testing is very important."

Saad presented to industry at Appita last month and will do so again in October. He has also been invited to present at a technical meeting of Fiscotec at this year's TAPPI CorrExpo.
Clever ink for smart phones
Inks that think mean manufacturers and consumers will soon be able to trace a product back to its source of origin, view a video that explains how the product was processed, or connect to "the internet of things" and access valuable information about supply chains and consumer use.

Fibre scientist Dr Yi Chen says the possibilities are exciting. "This is intelligent packaging and it will be of huge benefit to New Zealand's export industry."

At present, once packaging is designed its ability to protect and communicate remains static. Intelligent packaging, on the other hand, will be constantly collecting and communicating information. This will have the ability to influence supply chain conditions and the marketing message being delivered to consumers.

The technology will eventually replace printed codes such as barcodes and QR-codes, explains Yi, as these are easily damaged during distribution and need to be in the line of sight in order to be read.

"Intelligent packaging uses wireless technology. We are using special inks to print a NFC (near field communication) antenna circuit for a smart phone. In the future, this will be combined with sensing inks to create an active communication system. Our Forest Industry Informatics team is currently developing a smart phone app that will read the information, convert it into digital code and then into usable information for manufacturers and consumers.

"Consumers will be able to use the app to scan the printed tag on the packaging to access information about the company and how the product is processed without even needing to pick up the carton. And the consumer can send information back to the manufacturer using the same app. It will also be an invaluable tool for logistics purposes, tracking products from the manufacturer right through the supply chain to the supermarket checkout."

For further information
Contact Kate Parker