Scion's novel tool for sawmill students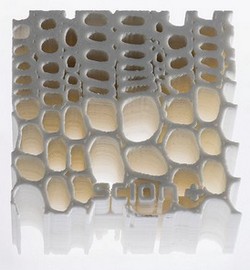 New recruits to the sawmill industry will get a better picture of timber grains and how to saw them with a new training tool created at Scion.
Using Lloyd Donaldson and Alan Dickson's microscopic images of radiata pine, these digital images have been converted to 3D computer model drawings and then to file for 3D printing. The result — 3D printed wood samples showing the internal structure of timber.

Each sample is about the size of a coaster. Alan, who is working on the project, says it takes at least four hours to produce one sample depending on the complexity of the image and subsequent computer model drawing.

The aim is to give recruits a visual tool to assist them in learning about timber grains and processing.

Four samples have been sent to industry for training production line staff at New Zealand sawmill sites.

Feedback from training provider, Training Support New Zealand, has been positive. A spokesperson says they are delighted with the samples.

The training course is designed to be practical and hands-on as many of the recruits have low levels of formal education.

For further information
Contact Alan Dickson at Show email