Wood plastic takes global market by force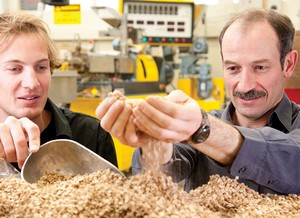 Scion and licensing partner Sonae Indústria are one of twelve finalists in this year's KiwiNet Research Commercialisation Awards. Together they have commercialised an innovative wood fibre reinforced plastic branded as Woodforce.

"Plastics made with wood fibre are stronger and stiffer than plastics alone but until recently, have not been commercially feasible," says Business Development Manager Jeremy Warnes. "Scion's patented process forms wood fibre into "dice" that can be made in existing MDF plants and easily added to a range of plastics.

"With most composite plastic manufacturers being outside New Zealand, we looked for an MDF manufacturer with a global reach who could be a key party in a complex and unfamiliar value chain. European MDF manufacturer Sonae Indústria was granted an exclusive licence for the technology in North America and Europe. Sonae owns and has developed the Woodforce brand."

End products using Woodforce are more light weight, thermally stable and sustainable than existing plastic materials and are being trialled and approved by major automotive manufacturers.

"Ultimately, the product will end up in plastic parts such as in cars, appliances, furniture and a wide range of consumer goods," says Jeremy. "The commercial potential is very large. Figures are hard to define for a range of reasons, however, we believe that the potential could ultimately be in the 100's of millions in business generated on a global scale."

KiwiNet award winners will be announced on 30 June.
For further information
Contact Jeremy Warnes at Show email