A natural alternative to a fishy problem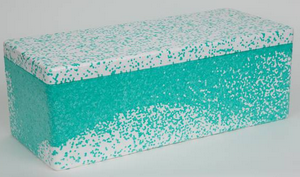 Scientists have long been researching eco-friendly packaging alternatives to one of the most widely used plastics, polystyrene. This is now a step closer with the construction, by Biopolymer Network Ltd, of a pilot plant capable of producing fish boxes made from a bio-foam that looks and behaves much like its less eco-friendly counterpart.
In a project spearheaded by Biopolymer Network, scientists at Scion have developed an environmentally sustainable and cost-effective alternative to polystyrene using polymers derived from renewable plant sources, such as corn or cassava.
"Polystyrene is used every day for a variety of thermal and protective packaging. However, it's made from non-renewable petrochemicals and is not easily disposed of, which is increasingly becoming a problem in the market place," says Sarah Heine, Chief Executive of Biopolymer Network. "Our aim is to make a product that has the same versatile moulding, strength and insulation properties as polystyrene, but that is compostable."
Naturally sourced polylactic acid (PLA) polymers are commercially available in the form of small pellets or beads. Biopolymer Network has developed the technology to impregnate these PLA beads with carbon dioxide, which then allows them to be expanded (to resemble bean-bag filling) prior to fusing and moulding. An added advantage is that existing polystyrene moulding equipment can still be used.
The resulting PLA foam looks and performs much like polystyrene with similar insulation and mechanical properties. Further research is currently being carried out by Scion to refine the foam and open the way for the production of a much wider range of products.
The pilot plant, which is based at Hope Moulded Polystyrene premises in Nelson, will produce fish boxes and lids in an effort to hone the production of PLA foams and place this biologically derived alternative to polystyrene into the cold chain packaging marketplace.
"A fish box needs to sustain heavy weights and rough handling, as well as being able to be disposed of safely at the end of its life. Our product offers a range of disposal options including industrial composting," says Sarah. "This pilot plant will enable us to evaluate and refine the PLA foam and the technology, and work towards commercial-scale production."
The New Zealand seafood industry is particularly interested to trial PLA fish boxes as a source of environmentally friendly packaging, increasingly sought-after in our export markets.
Contact:
Show email