A future of tall timber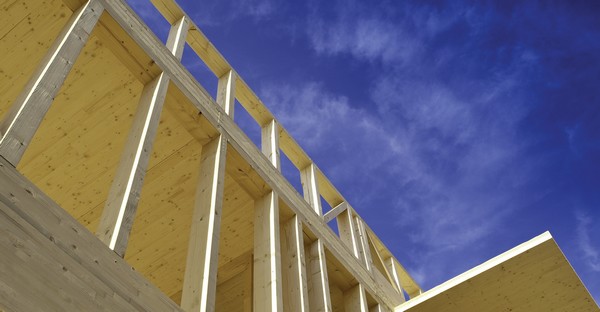 The international building design industry is in the midst of a wood revolution according to Scion's Sustainable Architect Andrea Stocchero. Wood and engineered wood products are delivering superior performance in structural, earthquake, fire, thermal, aesthetic and environmental properties, allowing bigger, higher, safer timber buildings that are more sustainable and also look great. Scion is helping to increase the uptake of tall timber buildings in New Zealand with new research and collaborations that focus on how to get most out of our tall timber.
Why use wood?
New Zealand has a long history of building with wood - 90 per cent of our houses are built from timber. As a renewable construction material that is produced locally, using timber supports regional economies and promotes a land use (forestry) that sequesters carbon.
Andrea says that is just the beginning of wood's environmental benefits. "The advantages of using wood reach beyond the forest and span the building's entire life cycle¹. New Zealand has the opportunity to become a worldwide exemplar in sustainable development by building tall with wood. Policies like Rotorua Lakes Council's Wood First Policy encourages building with wood but more interdisciplinary research and science is needed to boost confidence around tall timber buildings."
Scion joins international tall timber research collaboration
In Australia, the University of Queensland's Centre for Future Timber Structures is helping to lead the way on timber-based construction research and development. Scion joined their Industrial Transformation Research Hub for Advanced Solutions to Transform Tall Timber Buildings in 2016. As specialists in wood science and building acoustics Dr Grant Emms and Andrea have been awarded seed funding from the hub to develop a new research proposal focussed on junction details for acoustic performance that integrates fire, structural and building energy efficiency research.
Closer to home, Scion is also focussing on acoustic design for medium density housing. Scion has been part of a recent BRANZ funded research project undertaken in conjunction with other research academies and industry partners. The research team produced an assessment of medium density housing acoustics in New Zealand that identified the common barriers and produced a set of recommendations to enable better and easier deployment of acoustic solutions including better use of materials and making new designs available.
Over recent years Dr Grant Emms has been involved with a number of projects that have developed ways to improve the sound insulation in medium density timber housing. Completed in collaboration with industry and other research institutes, the work focussed on giving designers more acoustic options without compromising other important factors such as seismic resilience, fire safety and carbon footprint.
Taking a systems approach
Andrea argues that to fully realise the potential of wood and to grow the uptake of timber buildings we need to create holistic ways of designing and constructing buildings by adopting a systems approach. This requires designers, consultants and construction companies to create their systems in synergy.
The systems design approach integrates subject matter experts early in the design phase and throughout the construction, preventing the challenges of designing multiple systems in isolation. Currently there is no central platform for this collaboration to take place through, so Scion is exploring the idea of a New Zealand based collaborative and multidisciplinary research centre for tall timber building design.
Tall timber future
Timber is an ideal building choice to meet New Zealand's growing demand for medium density accommodation and commercial buildings. The future is bright for this high performing material and through collaborative research, timber could become the option of choice for the construction industry, benefitting New Zealand's economy and the environment.
Andrea says, "We hope that Sir Bob Jones' recent announcement of his plans for one of the world's tallest wooden office buildings in the heart of Wellington, is just the first of many."
For further information on Scion's timber research programmes, contact
1 Stocchero, A., Seadon, J. K., Falshaw, R., & Edwards, M. (2017). Urban Equilibrium for sustainable cities and the contribution of timber buildings to balance urban carbon emissions: A New Zealand case study. Journal of Cleaner Production, 143, 1001-1010.