Reducing greenhouse gas emissions on Māori-owned farms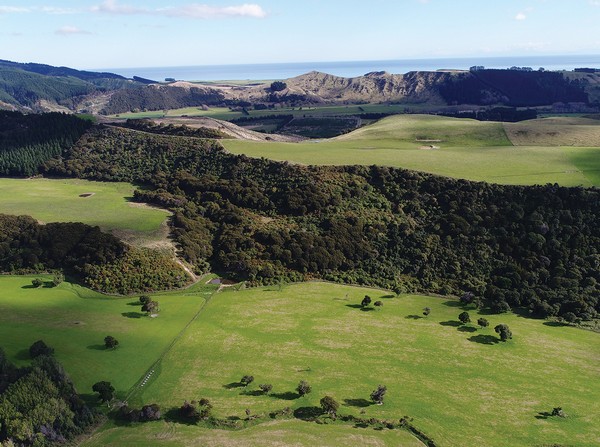 PHOTO: TE TUMU PAEROA
The pastoral farming sector (livestock farming and dairying) is New Zealand's largest export sector and it plays a vital role in growing the Māori economy. The sector also accounts for 49 per cent of the nation's total greenhouse gas (GHG) emissions. Following our commitment under the Paris Agreement to reduce carbon emissions 30 per cent below 2005 levels by 2030, pressure has been building on pastoral farmers to reduce their GHG emissions. The challenge is to reduce farm GHGs while limiting the economic impact on the sector and on the economy.
Scion, and partners AgResearch and AgFirst, are undertaking a research project funded by the New Zealand Agricultural Greenhouse Gas Research Centre (NZAGRC) looking at GHG mitigation options for Māori-owned pastoral farms. The research team is led by Scion's Dr Tanira Kingi and has been recently granted a second phase of funding to build on their initial findings and understand the GHG profiles of farms with diversified land use.
Phase one: Single land use farms
Research began with developing a profile of GHG emissions for 29 Māori owned farms located around New Zealand, including four case study farms located in Kerikeri, Pukehina, Gisborne and Hawera. The team worked with the trustees and farm managers to model a range of mititgation strategies. Varying scenarios were explored through two broad methods diversifying land use and changing farming systems to improve emission intensity (reducing the ratio of kg of carbon emitted against kg of farm product) and total carbon emissions for the farm.
The research findings showed that the effectiveness of changing farm systems in reducing nitrous oxide and methane emissions - through lowering stocking rates, reducing fertiliser inputs and reducing forage cropping - was dependent on the ability of each farm to maintain or increase productivity with lower inputs.
The most significant reductions in carbon were achieved by changing land use to carbon storage such as tree crops like mānuka, and indigenous and plantation forestry. The results from modelling the scenarios allowed the team to compare the GHG emissions and see which combinations reduced GHGs the most. The tipping point for land use changes to be economically viable was the carbon price. The farms with the most robust business models had diversified into forestry and tree crops and could claim carbon credits to offset the emissions from their pastoral operations.
Tanira explains, "We've shown that we can reduce greenhouse gases by improving farming systems, but it's not enough. The largest greenhouse gas reductions come from improving farm systems and diversifying land use. That's what we're aiming for."
Phase two: Farms with diversified land use
The next stage of the study will look at up to four Māori-owned farms that have already diversified their land use, for example dairy, sheep and beef, forestry, horticulture and/or tree crops. Research will begin by identifying baseline land utilisation, GHG and nutrient emissions, and the productivity and profitability model of each farm. The team will then work with the owners to explore and model systems improvements, mitigation strategies and land use change options.
Through this process, the researchers will distill the factors that made these farmers decide to diversify. Tanira says, "We hope to show how land use diversification can produce high value and low emission farming and show the farming community why they should consider it for their own benefit."
A Māori farming perspective
The project is collaborating with the Federation of Māori Authorities and Te Tumu Paeroa to share the learnings and findings with the wider Māori agribusiness community. As intergenerational landowners, Māori are more willing to look at significant long-term investments or changes that will benefit future generations and be more likely to invest in schemes like planting for ecosystem values, rather than wood harvest revenue.
Tanira says that while this study was carried out on Māori-owned farms, it is relevant to the whole industry. "In New Zealand the majority of farms are either drystock or dairy and fewer farmers have forestry plantings. But if we want to curb our greenhouse gas emissions then we need to show how farms can be transitioned to a low-emission operation that includes diversification without compromising farmers' livelihoods."