Timber design awards showcase NZ excellence
21 September 2018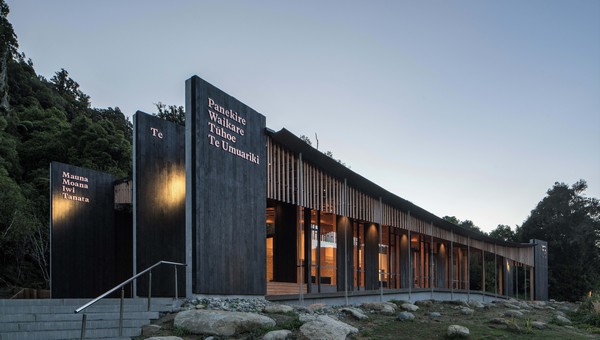 Finalists of the NZ Wood Resene Timber Design Awards gathered in Auckland for a gala dinner on 20 September, celebrating the incredibly high calibre of this years' award entries.

The Scion-sponsored Wood and Fibre Creativity Award went to Abodo Wood for Te Wharehou o Waikaremoana.

Te Wharehou o Waikaremoana is the Ngā Tūhoe building that sits serenely between the trees and the water at Lake Waikaremoana, just over an hour west of Wairoa in Te Urewera forest.

Scion's sustainable architect Andrea Stocchero, sat on the judging panel for all of the awards. He said "The judging process has been amazingly pleasant but challenging with so many quality projects showcasing the incredible potential for timber and engineered wood products to contribute to future architecture in New Zealand and internationally."

"Te Wharehou o Waikaremoana was a particularly good example of a wood treatment being used creatively to deliver cultural, aesthetic and sustainable values."

The building is clad in timber that has been charred on the outer layer. This traditional Japanese custom adds a level of weathering durability to wood. The timber cladding is a combination of the recycled timber from the old Te Urewera Visitor Centre, and tōtara from the grounds where the building now stands.

The interior has also used modern New Zealand technology with engineered wood products for structural purposes, and precast concrete panels.

Studio Pacific Architecture won the Supreme Award for He Tohu, the document centre in Wellington's National Library.
Read more on the award winners.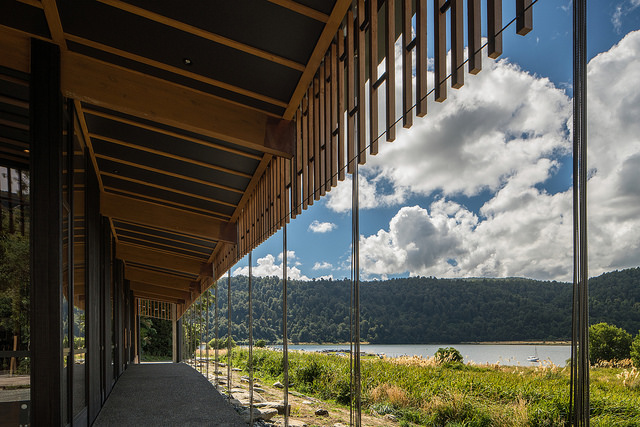 Te Wharehou Waikaremoana - Tennent Brown Architects, Abodo Wood Ltd
Source: © NZ Wood - www.nzwood.co.nz