Scion's new innovation hub is taking shape
6 August 2019
Scion's new three-storey building is rising up as the massive timber components, assembled into diagonal grids, are secured in place.
Diagonal grids (diagrids) are an efficient way to provide strength and stiffness and require less material than traditional structures.
Ready-to-assemble diagrid components arrived on site 26 July 2019. A specialist team started putting all the pieces together on Monday 29 and the building is coming along in leaps and bounds. Completing the structure expected to take four to six weeks.
Scion's diagrid is unusual as it utilises timber. The diagrid wall frames and floor/roof beams have been manufactured by TimberLab from precision cut laminated veneer lumber. The diamond and triangle diagrid sections were prefabricated and delivered complete with fittings to the site. TimberLab is also suppling the Glulam and cross laminated timber entry canopies.
To make sure the diagrid was up to the job, the strength of the components was tested at Scion. An apex portion was subjected to 45 tonnes of downward pressure then pulled upward by a 31.5 tonne force. A node section, where diagrid components are integrated with a horizontal member, was subjected to 20 tonnes of compression to try to twist the horizontal component.
Doug Gaunt, Science Leader for Wood Processing at Scion, says all the pieces tested passed with flying colours. "Both the elements tested comfortably performed even at the maximum design loads the engineers had calculated."
Irving Smith Architects, RTA Studio and Dunning Thornton Consultants have collaborated in the design of the building, which features a three storey timber diagrid with central atrium and wrap-around diagonal curtain-wall cladding. The ground floor will be open to the public and showcase not only the innovative structure, but also Scion's research across the forest and biomass value chain.
Construction is expected to be completed by end of April, followed by internal fit out and open for business mid-2020.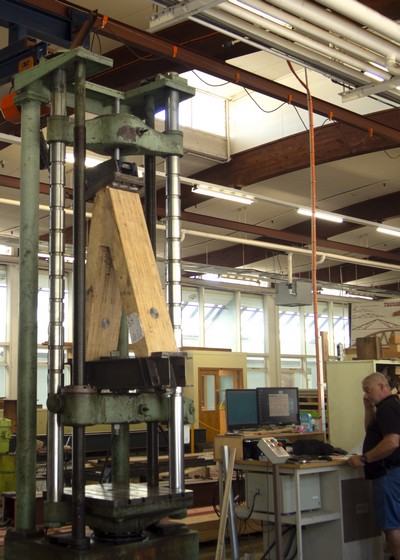 Testing the diagrid strength.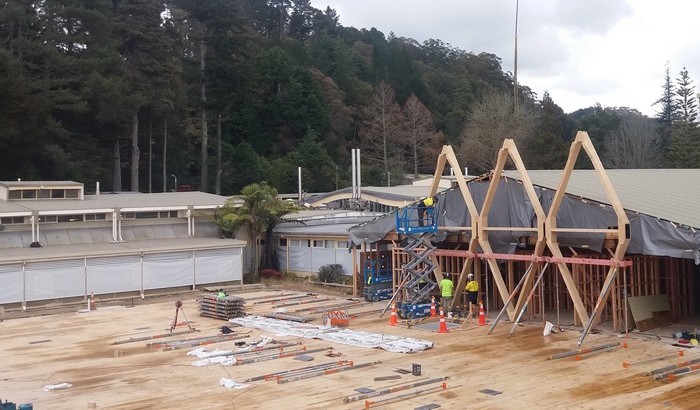 Monday 29 July 2019.