Learning about fire from Mt Iron and Queenstown locals
For immediate release
30 November 2020
Local knowledge around fire awareness and preparedness in the northern Wānaka and Albert Town area is being sought by fire researchers to help residents, Fire and Emergency New Zealand and local government plan for future wildfires.
Central Otago is growing rapidly. New subdivisions spreading out into the countryside extend the fringe area where urban meets rural. People living in rural-urban interfaces (RUI) can be especially vulnerable to wildfire, as the recent Lake Ōhau, Nelson-Tasman and Port Hills fires have shown.
Fire researchers from the Crown research institute Scion are investigating what residents of northern Wānaka and Albert Town know about wildfire risk and how to prepare for it. The research is being funded by Resilience to Nature's Challenges National Science Challenge.
Lisa Langer, who is leading the research, says we want to find out what people who live in the rural/-urban interface and suburban areas of northern Wānaka and Albert Town know and understand about wildfire.
"We want to understand current wildfire risk awareness and preparedness and explore means of encouraging better wildfire preparations for the future," says Ms Langer.
"The work is just starting," says Ms Langer. "The research team was in Queenstown and Wānaka last week (23-27 November). They are conducting a series of interviews and focus groups, with residents. Conversations are planned with holiday homeowners who live outside the Wanaka area. A survey to capture an insight of the wider community is planned for December. A summary of findings and recommendations will be available at the end of September next year."
The Queenstown Red Zone (to the immediate west and north of Queenstown) is another high wildfire risk area. Scion's Rural Fire Research team is collaborating with Fire and Emergency NZ to help engage the community around wildfire risks and mitigation methods. This component of the research is funded by. the Ministry for Primary Industries Sustainable Land Management and Climate Change (SLMACC) programme.
"From this base, we will make recommendations to agencies to refine methods to engage with RUI and rural landowners to help them be better prepared for future wildfires," says Ms Langer.
The work in Otago is being carried out in conjunction with agencies such as Fire and Emergency NZ, the Queenstown Lakes District Council and Civil Defence and Emergency Management. and the Department of Conservation.
-ends-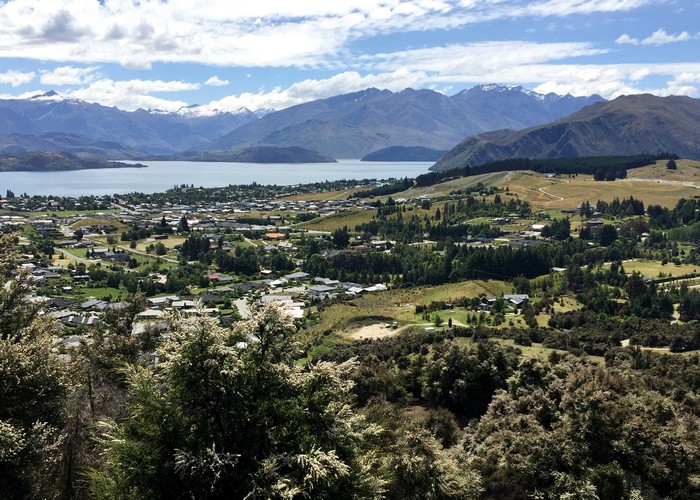 View of Lake Wānaka from Mt Iron.