Dr Brian Richardson receives Plant Protection Medal
18 August 2022
Scion warmly congratulates Principal Researcher Brian Richardson who has been awarded the New Zealand Plant Protection Society's highest honour.
At the society's 75th anniversary celebrations and conference in Christchurch last week, Dr Richardson was presented with the New Zealand Plant Protection Medal for championing forest protection over nearly four decades. During that time, he has made significant contributions to New Zealand's biosecurity responses, weed science and research relating to aerial pesticide applications.
His early research in weed/tree competition and dose response models helped define the forest industry's best practice approach to vegetation management and supported the ongoing use of herbicides – work that delivered cost-effective management methods for the establishment of radiata pine. More recently, Dr Richardson's expertise in pesticide application was applied to wilding conifers, where he helped to generate guidelines for effective aerial spraying for their eradication. These guidelines now underpin the Wilding Conifer Control Programme.
Dr Richardson's expertise also led to the development of internationally recognised spray drift models, now widely used in the science and regulatory community to support risk assessments ahead of pesticide applications.
Successive leadership roles during his career spanning 39 years have led to involvement in various sector-wide forest biosecurity initiatives, many of which continue to underpin strategic interactions between science, industry and government. Most notably, he played a primary role in establishing the Stakeholders in Methyl Bromide Reduction Group and the Forest Biosecurity Council, and he has served as a board member on many research programmes, including Better Border Biosecurity, BioProtection Research Centre, and Frontline Biosecurity.
Passionate about the role that science can play in protecting New Zealand's flora, he has contributed to technical advisory groups convened to address significant biosecurity incursions from pests, such as the brown marmorated stink bug and painted apple moth.
While holding various leadership roles at Scion, Dr Richardson has also never wavered in his support and mentoring for young scientists, propelling them into successful careers in forest protection.
Despite exhaustive contributions to management and governance, Dr Richardson has continued to maintain an outstanding publication record in forest protection, which is testament to his commitment to the science of plant protection.
Scion scientists Drs Justin Nairn and Toni Withers nominated their colleague Dr Brian Richardson for the New Zealand Plant Protection medal.
"This medal recognises outstanding contributions to plant protection science in New Zealand," says Dr Withers.
"We are proud of the international renown Brian has brought to our forest protection science teams at Scion.
"We are delighted Brian's lifetime contributions to plant protection and biosecurity research have been recognised. He is a very humble but worthy medal recipient."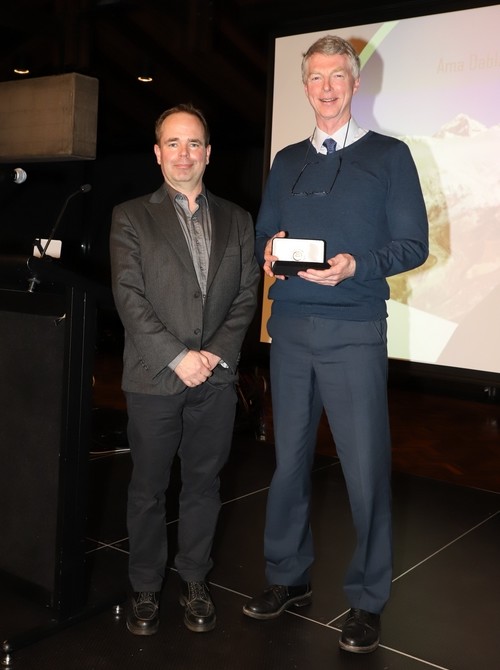 Dr Mike Cripps, New Zealand Plant Protection Society President, presents the New Zealand Plant Protection Medal to Dr Brian Richardson.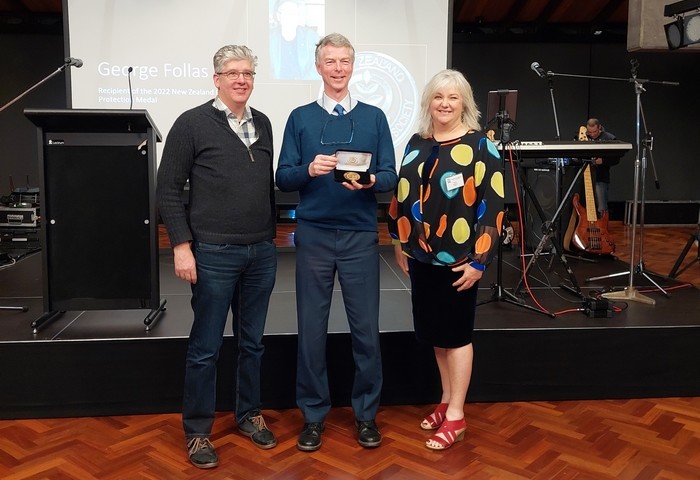 Dr Justin Nairn (left) and Dr Toni Withers (right) from Scion nominated Dr Brian Richardson (centre) for the New Zealand Plant Protection medal which he received last week at the New Zealand Plant Protection Society conference dinner.