Australian High Commissioner visits Scion
24 January 2023
Scion had the pleasure of hosting Australian High Commissioner Her Excellency Harinder Sidhu in Rotorua this month.
During her first visit to Rotorua, Ms Sidhu took the opportunity to visit our building, Te Whare Nui o Tuteata, to learn how Scion scientists are leading the way in New Zealand with research exploring the circular bioeconomy.
She also discovered how our research strategy is aligned with the goals of Ngā Hapū e Toru as tangata whenua of the land where Scion has its headquarters at the Te Papa Tipu Innovation Park.
With partnerships important to both Scion and Australia, Scion's general manager for Forests to Biobased Products Florian Graichen explained how our scientists have built collaborative relationships across the Tasman and around the world to advance research internationally. He also highlighted the opportunities for businesses to benefit from Scion's research, innovation and technology.
Ms Sidhu explored Scion's exhibition space and discovered examples of how Scion's research is contributing to efforts aimed at reducing waste and New Zealand's reliance on products made from fossil fuels.
She says the visit to Scion was a highlight of her time in Rotorua. "Scion is an impressive example of cutting-edge research and innovation in New Zealand. I'm delighted to learn of the many collaborations between Scion and Australian universities and institutions."
Dr Graichen says it was a privilege and pleasure to host and meet with Her Excellency the High Commissioner Harinder Sidhu and discuss challenges and opportunities that a transition to circular bioeconomies could bring for Australia and New Zealand.
"It is one of the most exciting parts of my role to have the opportunity to share the exciting work that our Scion staff are doing."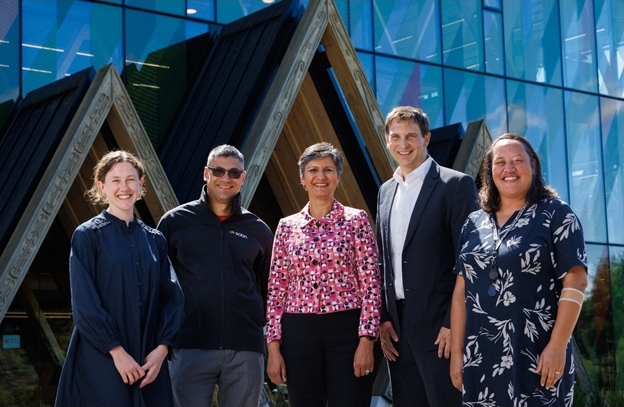 The visit to Scion came during a busy itinerary of engagements in Rotorua that included meetings with the Te Arawa Lakes Trust, iwi representatives, Rotorua mayor Tania Tapsell and Destination Rotorua.