Designing forests with purpose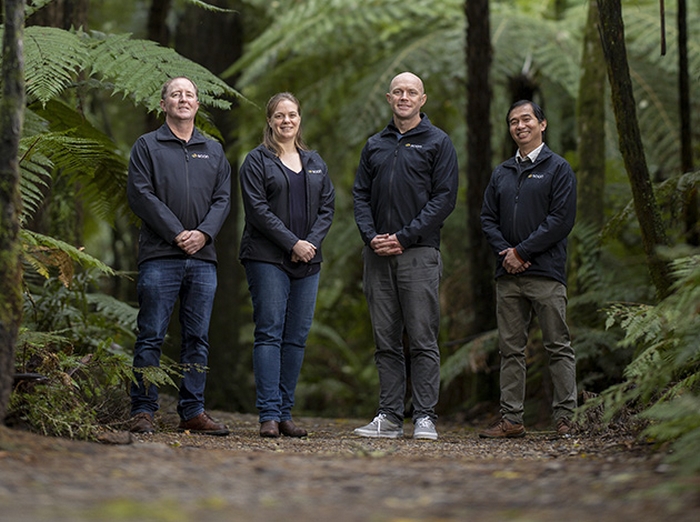 Thought-provoking new research is challenging New Zealand to re-think how we design, manage and value our forests. And if we get the transition right – we can be world leaders.
Working from an office with Whakarewarewa Forest on your backdoor, it's not hard to be inspired.
Although it is primarily a commercial forest and managed for its export quality radiata pine, the forest still features a range of indigenous plants and other exotic tree species. Over many decades, the likes of Douglas-fir, Tasmanian blackwood, European larch, Japanese cedar and Californian redwood have grown to provide an upper canopy of exotic tree species that shelters a kaleidoscope of ferns, shrubs and fungi. The understory of mostly native plants is an integral part of the forest ecosystem and adds to the scenic value of the forest.
Its value as a mountain biking mecca is also well-documented. Many economic impact studies have highlighted the value of Whakarewarewa Forest to Rotorua's economy, with the most recent report commissioned by RotoruaNZ showing that more than $103m was spent in the city by visitors who came for the sole purpose of exploring its mountain biking trails in 2021.
The contribution of mountain biking to the Rotorua Lakes economy by Benje Patterson (Aug 2022) suggests the total spend by mountain biking will increase to more than $213m in 2026 when international visitors are expected to arrive in greater numbers as their appetite for travelling resumes following the global pandemic.
The forest's popularity and value as a mountain biking destination almost overshadows its value for commercial timber production. But the fact that Whakarewarewa Forest can be managed in such a way that it serves recreational users, a citizen scientist pest control community, iwi relationships and the planted forestry industry at the same time illustrates how forests can simultaneously deliver multiple benefits.
For Scion scientist Alan Jones, Whakarewarewa Forest is proof that a mixed use, mixed species, mixed age forestry model works well.
"Looking out my window, the forest is a useful case study and is an example of the range of values that we could attach to New Zealand's forestry landscapes in the future."
It's a view shared by 10 other researchers at Scion who have combined their thinking in a paper, Transitional forestry in New Zealand: re-evaluating the design and management of forest systems through the lens of forest purpose.
"There's a lot of work being done on how to transition existing plantation forests to native species forests, but there's still a lot to learn about forest dynamics and species interactions." - Alan Jones
It reappraises what forests are for and how they are being used, suggesting New Zealand could benefit from a shift away from the current binary management focus of production or conservation. As well as these two extremes, Jones and his colleagues are proposing that we also think about the opportunities 'in the middle.' In other words, as a country looking to plant more trees to lock in carbon and meet our net-zero emissions goals by 2050, researchers are challenging us to not be so black and white in our approach. Because, according to Jones and his colleagues, there's a lot to be gained by thinking about the grey.
Realising forestry's potential
The concept of transitional forestry has been a topic of discussion among forestry researchers for some time. The Scion paper explores the opportunities of adopting a transitional forestry model in New Zealand - a country that has created an excellent productive and exotic forestry system but may not be fully realising its potential to develop forests that generate a full range of benefits for society and the environment.
Their research touches on the challenges involved in transitioning existing monoculture forestry into something more diverse, and the need to better understand forest dynamics and how species interact. The idea of ecological forestry, which proposes using the benefits of sympathetic relationships between different species in a productive commercial forestry setting, is also discussed.
Continuous cover forestry is another model touted as a lower impact type of forestry that could be increasingly adopted in the future. This is where individual trees are selectively harvested over time from a mixed species plantation and a certain percentage of tree canopy is always left intact.
Of course, any kind of change to the status quo has its challenges and there is still a lot to learn about how to manage a range of different species mixed in one forest.
For Jones, who is the lead author, the research reinforces how New Zealand has the chance to lead the way in demonstrating how to transition existing plantation forests to indigenous species forests – while still being able to maintain forests for their economic, conservation and biodiversity values simultaneously.
"In New Zealand, our forests tend to have been designed with one goal in mind. The management of our native species has tended to focus on only a few objectives and looking at landscapes more broadly, whether they're used for agriculture, horticulture or forestry, we've always managed them for maximum productivity," Jones says.
"There are benefits on multiple levels if we were to value our planted forests or conservation estates for more than one purpose because, right now, they aren't delivering all the benefits that they could be by virtue of the limitations that a single-minded approach has."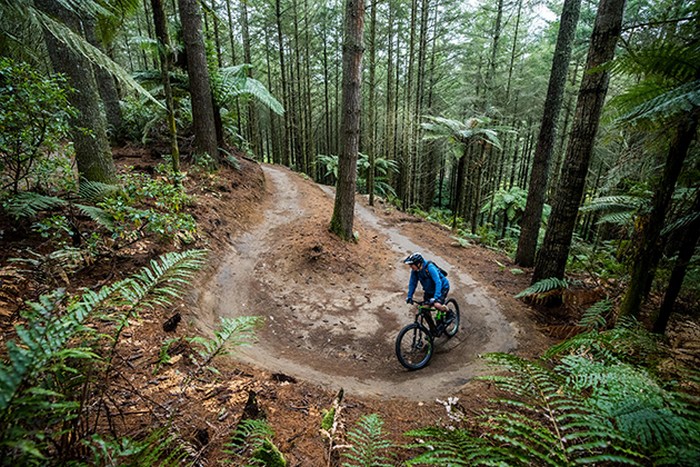 A time for change
While thought-provoking, the research is also timely. Despite demonstrated economic and social benefits for regional communities, and the ability for planted pine forests to sequester carbon and reduce erosion, there are growing calls for New Zealand's forestry sector to become less reliant on Pinus radiata for revenue.
And in an uncertain climate future, particularly alongside wildfire risks and rising biosecurity concerns due to expanding international trade and travel, there's recognition that the industry needs to diversify.
"Climate change or biosecurity impacts may eventually necessitate rapid changes away from a Pinus radiata-focused model," Jones says. "There will always be a place for highly productive pine forests, but more forest diversification may be a beneficial de-risking strategy, providing resilience to climate change while maintaining the important functions of productive forests to protect timber yields as well as develop their recreation, cultural and economic values."
The research also reflects discussions happening between forest scientists around the world about the best ways to design new forests. There's a push internationally to see more landscapes, especially degraded landscapes, planted with trees; the Bonn Challenge is a global initiative to have 350 million hectares planted in trees by 2030. In 2018, the New Zealand government launched its One Billion Trees scheme, directly offering subsidies for tree planting. And in 2021, our Climate Change Commission recommended that New Zealand should aim to reforest 680,000 hectares, including both exotic and native species, as part of efforts to meet our net-zero emissions targets.
Jones argues this momentum for afforestation is an opportunity to move away from the traditional business as usual fixed models of forest management towards integrated forested landscapes with greater functionality.
Designing forests from the start with better public infrastructure to support accessibility for recreation, community-led pest management or citizen science-type surveillance work, for example, could also help achieve greater public buy-in as these new forests become established.
For anyone looking for a circuit-breaker or reasons to do things differently, climate change and social licence are it.
Managers can't afford to wait decades for scientists to resolve all of the knowledge gaps before they take action, but we can work together to learn iteratively as we go. - Yvette Dickinson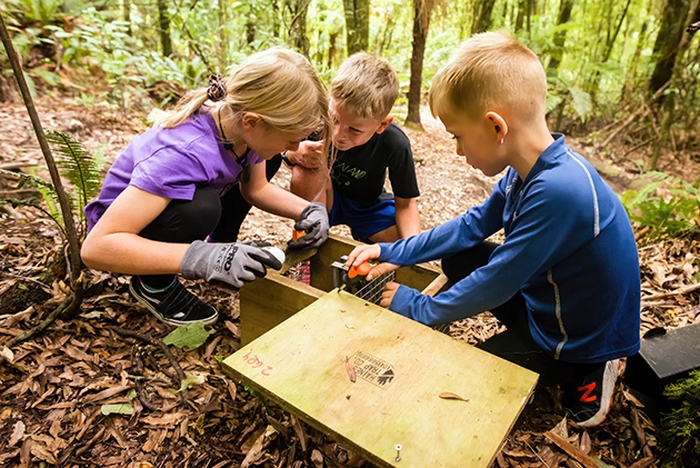 Building knowledge and expertise
So, if there's recognition that change is needed, what are the options and how can we adopt them?
Jones and his co-authors agree that, currently, there are significant challenges in implementing transitional forestry approaches that may take several decades to resolve.
For example, transitioning even-aged monoculture pine forestry stands to uneven aged stands that feature both a mix of exotic and native species would take multiple harvest rotations and several decades for successful establishment, potentially with initial reductions to timber yields.
Technically, New Zealand is still learning how to make these transitions, Jones says.
"There's a lot of work being done on how to transition existing plantation forests to native species forests, but there's still a lot to learn about forest dynamics and species interactions.
"If we want to encourage native species to establish within an existing plantation forest, we need to understand what sort of conditions they are going to flourish in. That's factoring in things like light availability, what's the speed of their growth during that transition, and what's the window of establishment within that system for those native species."
Supporting the forestry sector to overcome large research gaps is silviculture scientist and portfolio leader for Designing Forests – Mahi Tahi Whaihua Yvette Dickinson. A co-author on the paper, she has been advocating for an adaptive forest management approach where scientists collaborate with land managers.
"Managers can't afford to wait decades for scientists to resolve all of the knowledge gaps before they take action, but we can work together to learn iteratively as we go," she says.
"By applying management that is informed by the best available science and closely monitoring the outcomes, we can learn from our actions. When we can apply the lessons we learn to future management actions, our land stewardship should improve over time."
The learning process is also factoring in international research which supports the idea that within a planted commercial forest, foresters can get increased timber productivity from having companion planting.
"We know that increased productivity happens with some combinations of species but not others," Dickinson says. "But we don't yet have enough knowledge about why overyielding occurs to be able to reliably predict when it will happen."
Researchers are also still developing their understanding about how to manage a range of species in one plantation, how to harvest them and then process that timber.
Expanding forest access for conservation
In New Zealand, about 8.6 million hectares of New Zealand's land area is managed specifically for conservation by the Department of Conservation (DOC). Representing 33% of New Zealand's land area, the country has one of the highest proportions of conservation land worldwide.
All forest conservation within New Zealand is subject to the devastating and ongoing impacts of invasive pests and weeds, with DOC spending $73.5 million each year on pest control alone – around 20% of its 2015 revenue.
Climate change brings new burdens to the already limited resources of capital, labour and materials available for conservation practice. As climatic conditions negatively impact native flora, the spread of tree diseases, invasive pests and weeds will accelerate.
Due to a combination of their remote geographic locations and relatively low level of funding to maintain infrastructure, including trails and roading access, Scion researchers say the public has very limited access to large areas of DOC-managed forests. They argue there's a strong case for opening them up to enable better public engagement for pest trapping and weed management.
"We know the public already has a strong appetite for conservation work – more than 600 community groups are involved with voluntary pest and weed control, together with tree planting," Jones says.
"We believe there's a huge opportunity to support the conservation management of our native forests in the future by making it even easier for citizen scientists to engage, with further resourcing for support of mana whenua in kaitiakitanga (land guardianship)."
DOC management could be supported by 'app'-based citizen science monitoring schemes that can provide early warning of biosecurity incursions, such as the Kauri Dieback App.
"Increased engagement and greater access to our existing and emerging native forests will only stimulate further investment in activities to preserve their value," he says.
Increased engagement and greater access to our existing and emerging native forests will only stimulate further investment in activities to preserve their value. - Alan Jones
Harnessing data
But what about commercial planted forests? And, with the Forestry and Wood Processing Industry Transformation Plan (ITP) outlining a future where we grow and process more logs to increase the production of value-added wood products, how does it align with a transitional forestry model where economics aren't the only driver?
Very easily, according to Jones. "Within this paper we're not saying highly productive forests aren't needed. In fact, we see a future where production efficiencies will be enhanced with the increasing adoption of precision forestry techniques – think data-gathering technologies and automation.
"These will be necessary to support silviculture management and harvesting decisions."
Production-focused transitional forestry systems would use data to increase productivity and build ecological resistance to climate risks. In this way, some areas of planted forest could be optimised for generating timber yields at a high intensity while freeing up land for other uses such as forest conservation or recreation.
"Using smart technologies, we'll understand at a greater level how the forests are growing and responding to different environmental conditions. Then we can optimise our management and planning to increase our productivity of those forests. This will enable us to increase production for short rotation crops grown, for example, as a feedstock for bioenergy."
Published as a discussion document, Jones and his colleagues hope the paper will stimulate further debate across the industry and government, and spark conversation about how a transitional forestry model could be supported by changes to the Emissions Trading Scheme (ETS).
"Right now, the scheme rewards landowners for carbon storage. But perhaps we could modify the ETS so that it recognises other values, so built into it are values for biodiversity or payments for specific habitat types or species mixes.
"We have a huge opportunity in New Zealand to do things differently and address major environmental, economic and social challenges, as well as create landscapes that people want to be surrounded by."
Research paper authors: Alan Jones, Andrew Cridge, Stuart Fraser, Lania Holt, Sebastian Klinger, Kirsty McGregor, Thomas Paul, Tim Payn, Matthew Scott, Richard Yao and Yvette Dickinson. Their paper is freely available here: https://onlinelibrary.wiley.com/doi/10.1111/brv.12941#